Mdm Faraliza Zainal and Mr. Mohammad Ali Dawood just started Ashraf's Cafe. They have a simple wish – to provide a safe space for their students with special needs to experience a real working environment.
The cafe is named after their first child, Mohd Ashraf Mohd Ali, who is diagnosed with tuberous sclerosis and Asperger syndrome, a form of autism.
Ms. Fara said,
"My goal is to empower our students from MIJ (My Inspiring Journey) Special Education Hub and hopefully, make it easier for them to get jobs after they have graduated."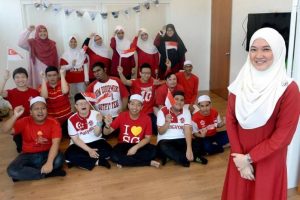 Mdm Fara and her beloved students from MIJ Special Education Hub
"You would think that we've taught these children a lot but the truth is, they are the ones who have taught us so much more."
Mdm Fara's welcoming speech mentioned the objective and the social cause of Ashraf's Cafe, when she said:
"It all began with a simple intention of providing an education for our son, Ashraf. Our goal for him at the end of the day was to be employed and be a contributing member of society. The road we journeyed on was not easy, but looking at Ashraf and his friends today, as they reach another phase of their adulthood, it was worth every bit of hurdle and challenges that my husband and I went through as partners in building MIJ and Ashraf's Café. Behind us, we have a strong pool of dedicated teachers, staff, volunteers, and supporters who trust and envision the same hope and dreams for these special individuals."
"It is not self-pity or sympathy that we seek but the audacity of hope and faith that this good cause will not be in vain but can create another milestone that is beneficial to our students, their families and ultimately the society. "
Mr. Ali and Mdm Fara, you are inspirations to us all.
If you would like to contribute funds to this cafe, do visit their Lauchgood page here.