Who wouldn't want a holiday tucked away in a peaceful and secluded location where privacy and nature compliments a stunning Thai environment? The Bell Pool Villas, situated in lively Phuket, is a chic boutique hotel that offers guests a private getaway to unwind and relax in complete serenity.
Offering 16 Indo-chic villas, all which have been furnished and decorated to emphasize the many beauties Thailand has to offer, plus the breezy alfresco spaces and slinky ink-black private pools, are the perfect additions to a relaxing stay.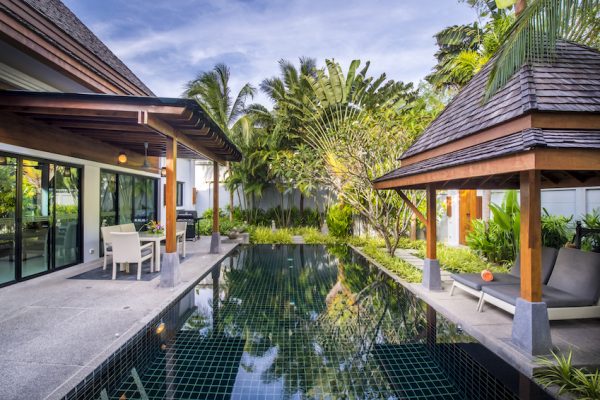 The Bell Pool Villas are just a 2-minute free shuttle drive to Kamala Beach, a stunning beach front with swaying palm trees, soft golden sands and a pleasant sea breeze. Guests at the Bell Pool Villas can enjoy complimentary access to the beach, where they can enjoy hours under the sun before retreating to their hotel to relax and unwind. For those who are more active, complimentary use of the hotel's bicycles will allow you to explore the island in more depth. Your travels will let you engage with and meet welcoming locals, or take you on a mouth watering culinary discovery where you'll discover delicious Thai dishes available at almost every corner.
Choosing your Bell Pool villa, and having your every need anticipated allows you to experience the ultimate luxury stay. Round the clock private butlers are always on hand, and the extra home-from-home luxuries such as lavish in-villa dining and spa sessions on tap will make your stay unforgettable. Surrounded by beautiful scenery and relaxing views, the refreshing natural environment and sea breeze give you your very own private paradise, with everything you need close by.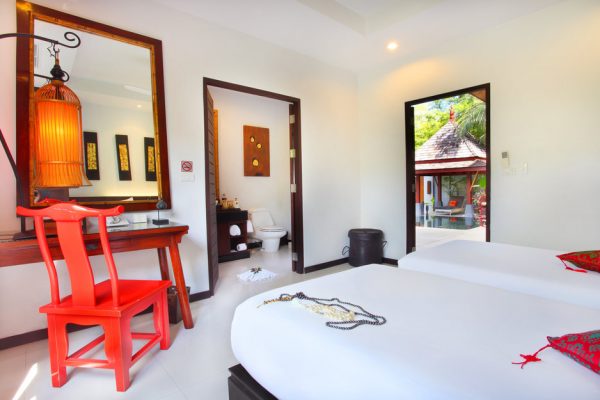 The Bell Pool Villas are a halal friendly hotel and provides halal food as a standard. All non-halal items are labeled and prepared separately, ensuring Muslim travellers can enjoy a relaxing halal holiday. Female only butlers are also available upon request, and those who seek in-room private spa treatments can unwind as their mind, body and soul relaxes in the comfort of their lavish villa.
Ensuring privacy, comfort, and the relaxation you seek is one of the many things the Bell Pool Villas does best. This halal friendly hotel aims to provide all their guests with the complete holiday package, with the staff always willing to go of their way to ensure your holiday is full of impeccable Thai hospitality.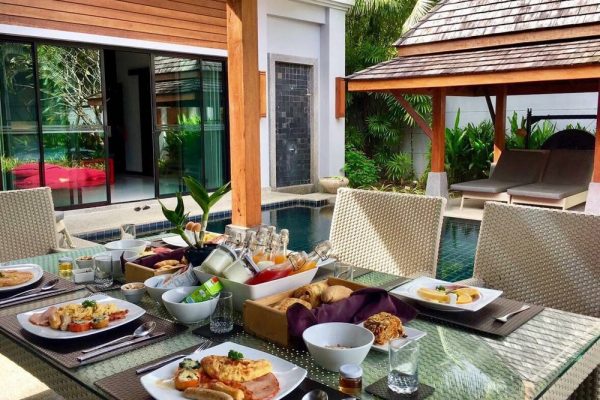 Despite being ideal for Muslim honeymooners or couples looking for a romantic getaway, families with children will enjoy the special services the Bell Pool Villas have carefully provided. A children's menu is now available to treat the younger ones to their favourite foods, while Netflix is ready to keep your children entertained with some movie magic. Let the little ones relax as they laze around in the comfort of your villa, or let them take a dip in your private pool where they can safely and privately enjoy hours of water games and fun.
At the Bell Pool Villas, guests can enjoy the quality time as a couple, family or group of friends in the lap of luxury. From relaxing scenery to luxurious in- and out-door villa comforts, and the very best in halal friendly services, the Bell Pool Villas should be top of the list for those looking to enjoy a small piece of Phuket's paradise with privacy in mind, but still have the comfort of exploring and engaging in the islands many must-do experiences.