Empower a mother and you empower a generation.
Maa (Maternal Aid Association) was an idea born in 2014 when the founder witnessed a tragic birth in Bangladesh which resulted in the death of both the mother and the baby.
Maa, mother, ammi.
In whichever variation, this was probably your first word. Mothers are an integral part of our lives, yet hundreds of thousands of women and babies die on the day of birth, and millions more are left with serious illnesses across the world (European Commission). According to the World Health Organisation, 99% of maternal deaths occur in developing countries, most of which are preventable. UNICEF estimates just under 6million children die before their 5th birthday, where almost half of those are newborn babies.
Maa is a grassroots student-led charity which aims to bring about safe, effective and high-quality maternal health care in resource-poor settings. To ensure the long-term sustainability of the work, Maa partners with medical schools and local healthcare providers in countries such as Bangladesh. Students and healthcare workers from the UK are able to make a direct impact by travelling to rural parts of Bangladesh, where they work in partnership with local healthcare teams. #JourneyMaa is the flagship project. Maa volunteers run antenatal health screening camps in rural villages, and educational workshops for mothers, traditional birth attendants and students of secondary school age and beyond. The educational workshops are an innovative evidence-based intervention which has great potential to improve the long-term outcomes for the women of Bangladesh.
---
---
This summer #JourneyMaa took place for the second year since its inception. It impacted the lives of many mothers who would otherwise have no access or very limited access to even the most basic healthcare.
One of the student volunteers had this to say: 'The team were surrounded by children of all ages from the surrounding households and the majority of mothers who attended today were young girls aged between 16-20yrs old. For most of them, it was probably the first time they sat in a classroom environment being taught anything. There was hope in their eyes and the willingness to make a change. I know some of that knowledge from the workshops will be passed onto their children.'
For the mothers of today and the mothers of tomorrow, Maa is empowering women to take control of their health whilst also improving access to healthcare. The goal of the charity is not just to provide health camps which are effective for short-term care, rather, it is to tactfully improve the health of women, and the healthcare system they have access to in the long-term. Maa is working to ultimately revolutionise maternal healthcare one village at a time, and the impact is widespread.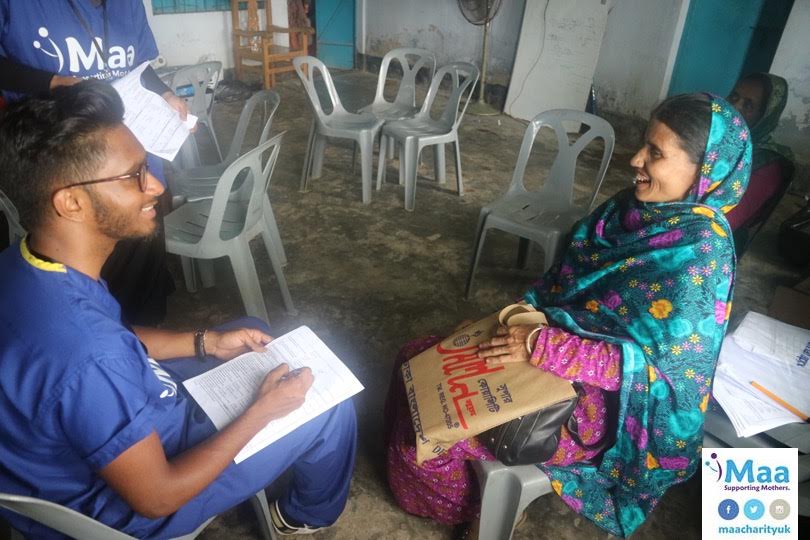 'Today I heard the story of a mother that I will never forget (in my professional or personal life). Her name was Ruhena and she had trekked 4 hours, by boat, rickshaw and on foot, to see us at the MAA clinic. Ruhena was trying to do everything within her capabilities, as a mother- braving the floods, heat and travel, to do better for her new child's health. Despite her poignant story, Ruhena was the most joyful person I had met today, with a smile always on her face. To me, her story of determination, self-awareness and bravery is an inspiration. The purpose of Maa's trip to Bangladesh is epitomised by this woman.' (Tafsir, Maa Volunteer).
Empower a mother and you empower a generation.
---
Follow Maa's journey here:
Snapchat: maacharityuk
Instagram: @themaacharity
Facebook: Maa UK