The forgotten crisis in Somaliland: Yusuf's heartbreaking story
Crisis in Somalia – through the eyes of one orphan child.
Crisis in Somalia – through the eyes of one orphan child.
Muhammed Yusuf is an 11-year-old orphan child. His home is the remnants of the Somaliland drought, sand, soil and barren cactus trees. For orphans like Yusuf, home is a place that has no road signs, it is off road, in the middle of the barren wasteland, surrounded by sand and dust. The closest human being is, at best, a 30 minute off road drive away. But for Yusuf, life just got a little bit harder.
Somalians are at risk of slipping back into famine, the United Nations said on Tuesday January 17th. As worsening drought has left millions of people without food, water or healthcare, in a country crippled by decades of war. Somaliland is struggling on toxic drought with extreme climate conditions, where in the last two years, below average and unpredictable rainfall provoked severe droughts.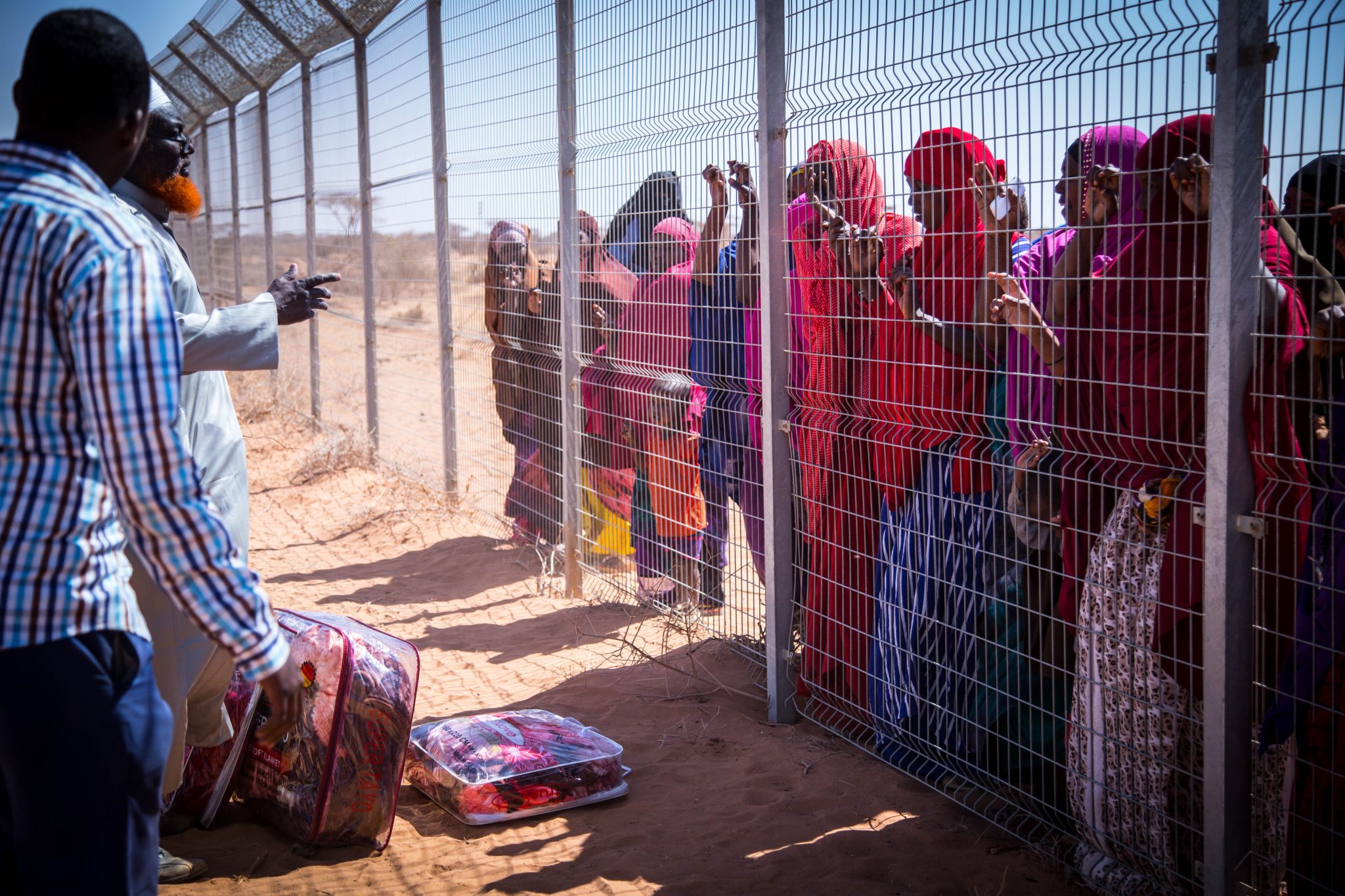 The Somaliland Drought is in disaster situation particularly the eastern regions of the country, the drought has caused shortages of water and pasture, leading to the death of livestock – a lifeline for the pastoralist communities.
Yusuf now has an illness, a direct result of the decaying dead animals that lay scattered across Somaliland, victims to the drought. Yusuf must stay 20 metres away from his orphan siblings. He must do so, because of his illness which is contagious and can pass on through contact. Below, a video shows the moment Shaykh Adam Hassan, chairman of EWADA break down in tears when asked to explain Yusuf's circumstances.
The orphan's guardian had the following to say:
"He does not know what is happening or why this is happening. Look at him, he has to sit here by himself every day, he is waiting for death. But we cannot afford to take him to get treatment. We have no water, we have no food, my animal, I raised the animal since it was small but now it has died. What do we do now? We have no chance, the rain is not coming." (Translated from Somalian)
The drought has become severe over the last year, with the area not seeing any rain for over 6 months. The grass has disappeared, and the animals have started to die. Goats, cattle, cows and camels – each alike, starving from thirst and hunger. Yusuf's illness is one caught from dead animals lying nearby. In comparison to the day, the nights are harder for Yusuf – he sleeps alone, under the stars, his stomach empty, his thirst unquenched and his eyes filled with tears.
Zain Miah recently visited the region, with partners TV ONE UK and EWADA (East Africa Welfare and Development Association) to carry out emergency aid response. Visits to some of the most remote areas, which was documented on Zain's Facebook, allowed many whom had only read about the situation, to see a first-hand account of the conditions of hundreds of Somalians.
(Click here to donate to EWADA to help its efforts in East Africa)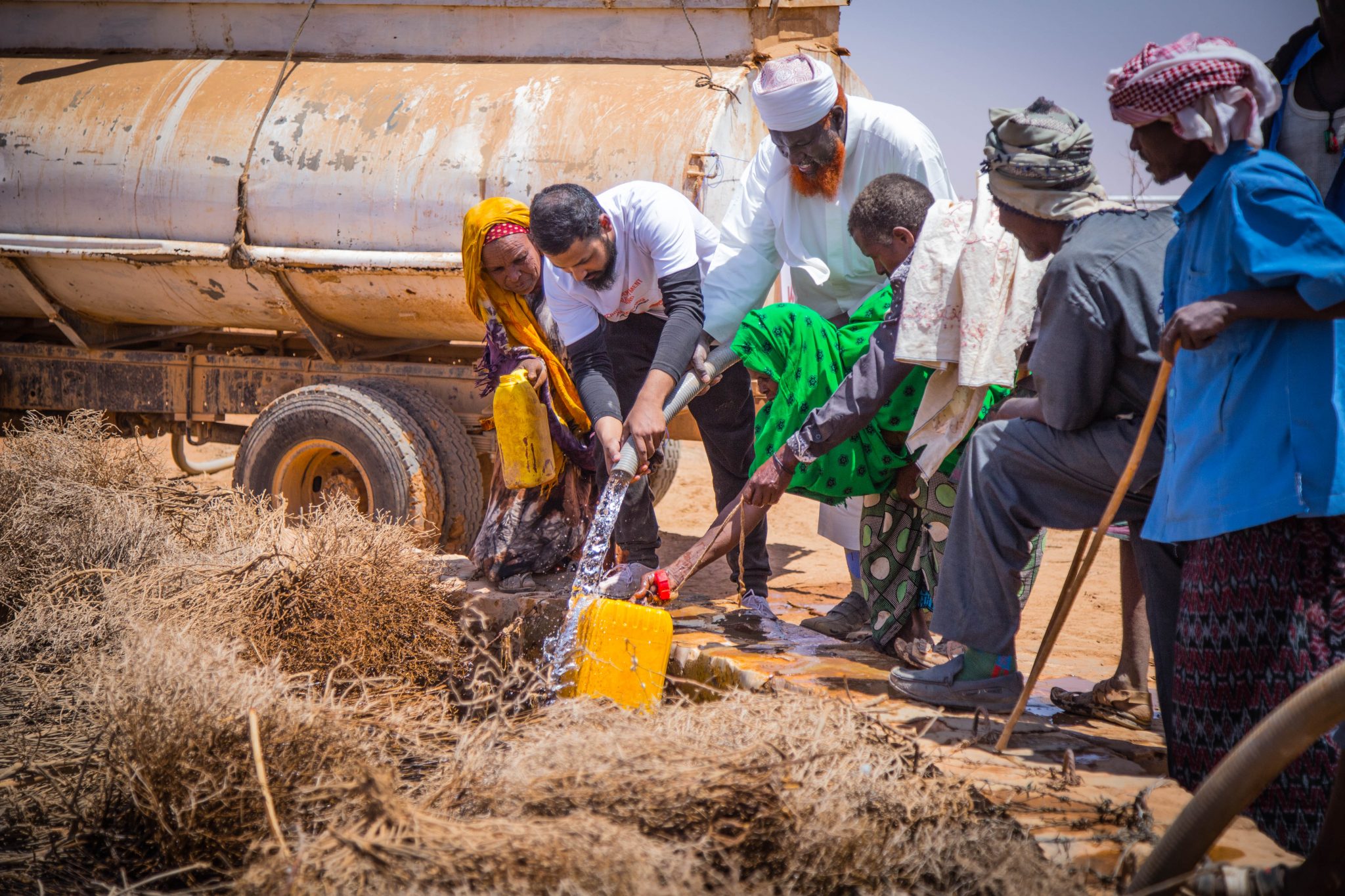 On the third day of their trip, hundreds of refugee-like families could be seen standing behind a fence outside Bur 'O' airport (pictured above). Shaykh Adam Hassan, founder and chairman of EWADA had organised a food distribution as part of TV ONE's aid deployment. However, hundreds of families were unfortunately turned away due to a lack of food packs available. For the elderly and those fortunate enough to receive a food pack on the day, the question was now: how do they carry it home?
Zain Miah, who saw all this first hand, had the following to say: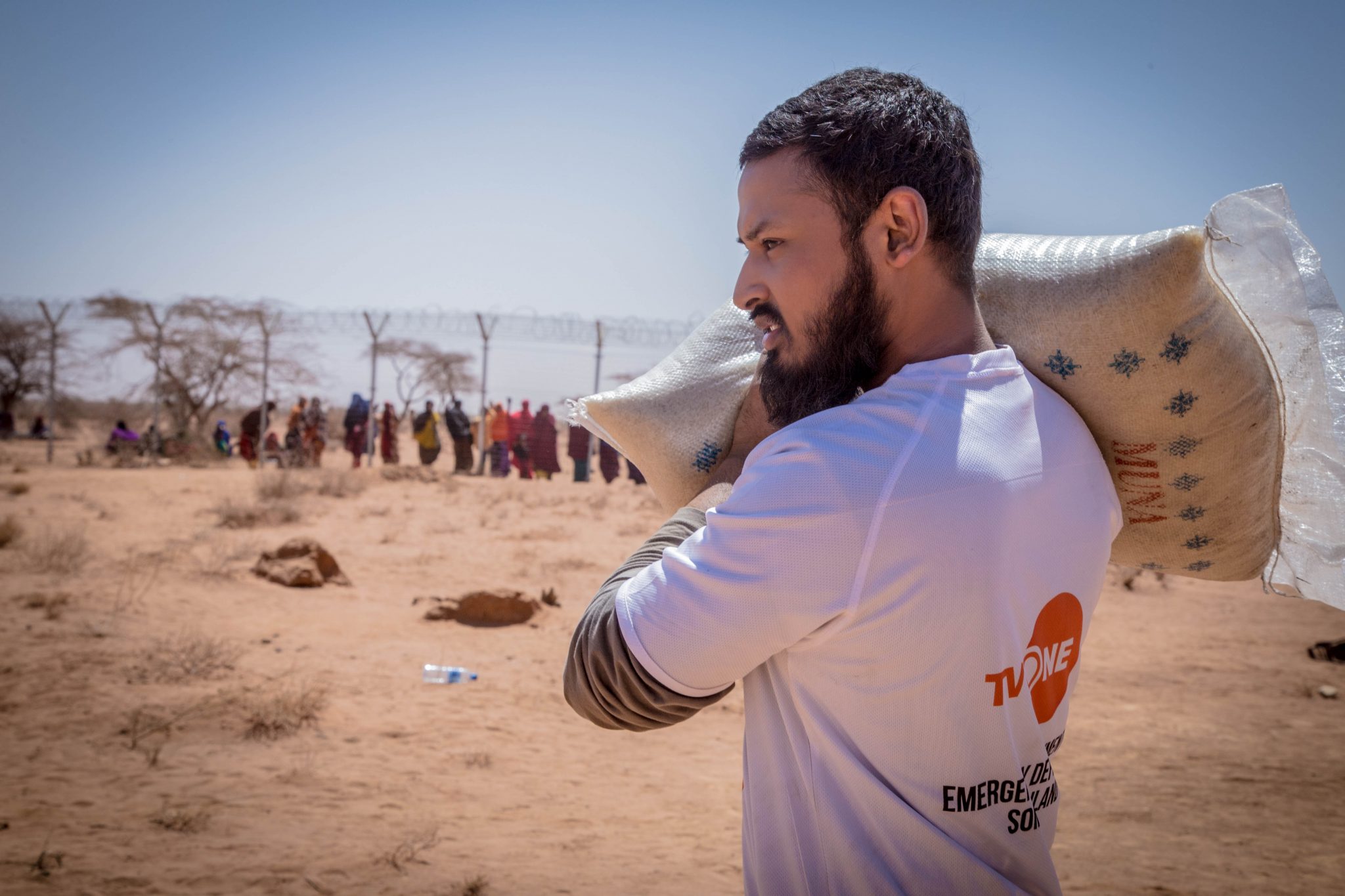 "During one of my visits to a remote village, I met a woman who asked me if I have children. I proceeded to say 'no'. She then proceeded to tell me how her baby had been eaten by a wild boar. 'They never come near the humans', she said, 'the wild boars, they always stay away from us. But now they need water, and they thought they could find it in the stomach of my baby, so it killed my baby'.
The situation across the East of Africa is one that requires the attention of the Muslim Ummah. It is horrifying to think that there are people in our world who have to travel over 50KM to get a jerry can of water. What's even more heartbreaking, as that when they reach the station for water, they need to ask themselves: 'will this dry up before I get home?'"
Click here to donate to EWADA to help its efforts in East Africa