A journey of lovers. The longest dining table in the world. An all-inclusive resort in the midst of the arid, scorching Iraqi desert. These are just some of the descriptions attributed to the mesmerising walk from the cities of Najaf to Karbala to mark the occasion of Arba'een (the fortieth).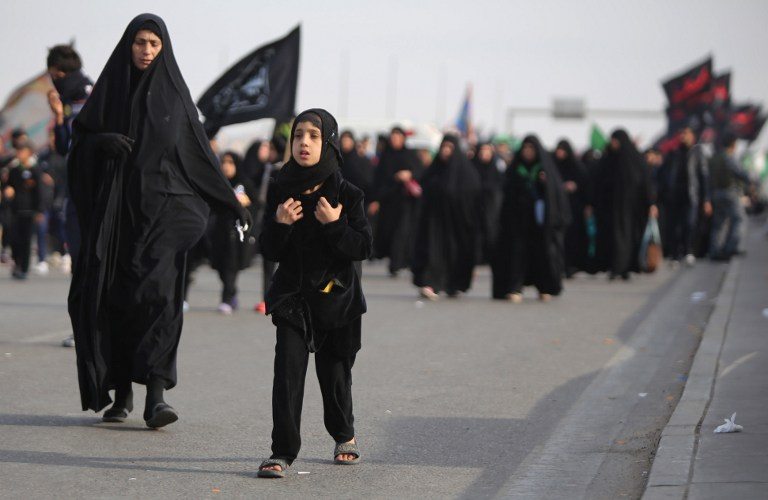 For Muslims and non-Muslims across the world, Hussain (grandson of Prophet Muhammad, and son of Ali and Fatima) serves as a saintly figure who constantly reminds them to better themselves and try to positively influence society. Millions commemorate the fortieth day after his death anniversary every year by flocking to his shrine in Karbala. This pilgrimage, widely recognised as the single largest annual peaceful gathering in the world, is one where swarms of people walk united, to pay allegiance to a man who left an everlasting legacy 1400 years ago – one that would inspire many generations after his death. Children waddle with parents, the elderly venture in wheelchairs – even the disabled hobble along, step-by-step, supported by nothing but crutches and an iron will to voyage to salute Hussain. In the case of one aged lady from southern Iraq, she hopped into a wheel-barrow and called on people to push her along until they got tired. She knew that she'd make it to Karbala nine or so days later to visit Hussain – and she wasn't going to have it any other way.
Leaving the holy city of Najaf, where Hussain's father and guide, Ali ibn Abu Talib is buried, you then begin a three day journey on foot that is guaranteed to change your life. At first, particularly as a Westerner, you feel disorientated by the thought of walking for days on end, through a desert in war-torn Iraq, but this feeling of anxiety quickly fades at the sight of the million-strong crowd (if not more) of fellow walkers.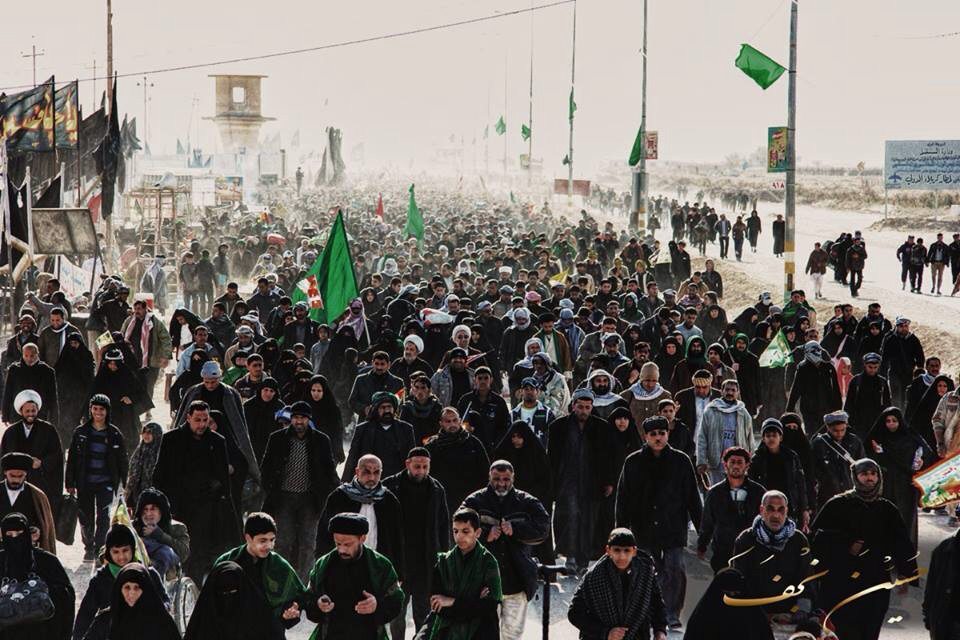 2013 was my first visit to Iraq. For some time I had vowed that the first time I visited Hussain it would be after having done this walk. As advised I packed a small rucksack with a couple of spare clothes, deodorant, some snacks and thermal wear – I was warned about how cold it could get in the night! Alas there was no need to pack anything. Along the entire journey one finds tents (called mawqibs) established by the locals to serve the visitors of Hussain (known as zuwar) with an abundance of facilities and amenities.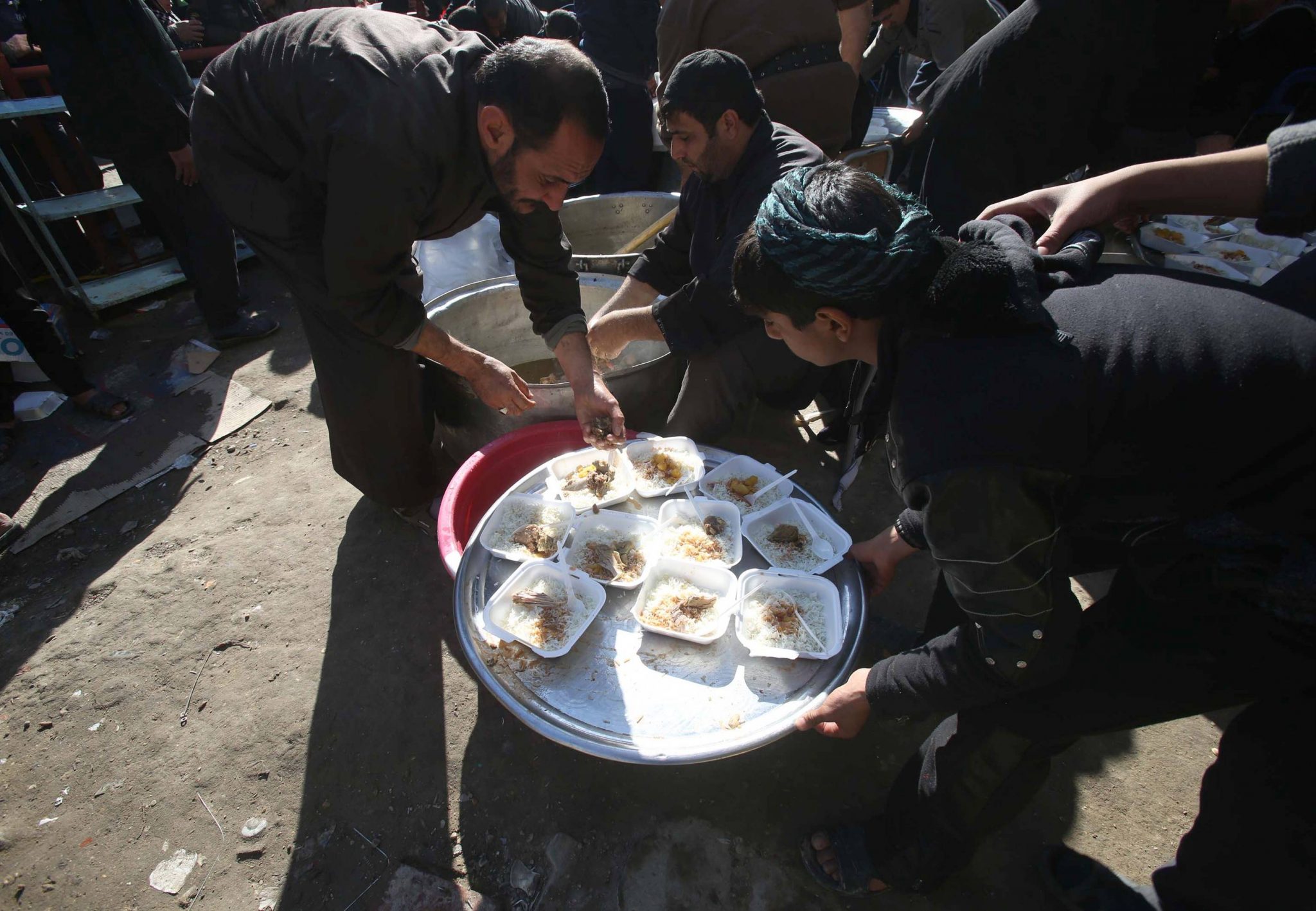 The menu typically includes soup, falafel (served best with a tangy orange sauce), rice dishes and plenty of fruit. Water is in endless supply, and every minute you will find a stand serving the renowned "chai abu Ali" – fresh, sweet, hot tea to keep energy levels high (it's really a case of how much tea you want to take with your sugar, rather than the other way around!). Furthermore, there are people on hand to massage your feet and legs, buildings where you can rest and charge up your phone, people to fix your pram or Zimmer frame, fresh clothes provided if needed, places to shower and, of course, lots of public toilets. Once sunset nears, the 'people-motorway' quietens down, and there are numerous tents to sleep in. At these hostels you are provided with a mattress, pillow and very cosy blankets.
So how much money should you take with you to pay for this wonderful hospitality? None. The currency on this walk is servitude and kind-heartedness. Every single volunteer you encounter will be more grateful to the visitor than vice-versa, for it is the biggest honour to aid and attend to the guests that make this journey. Once you realise this, your heart will melt and you appreciate the Godly values of peace and harmony Hussain's legacy has left.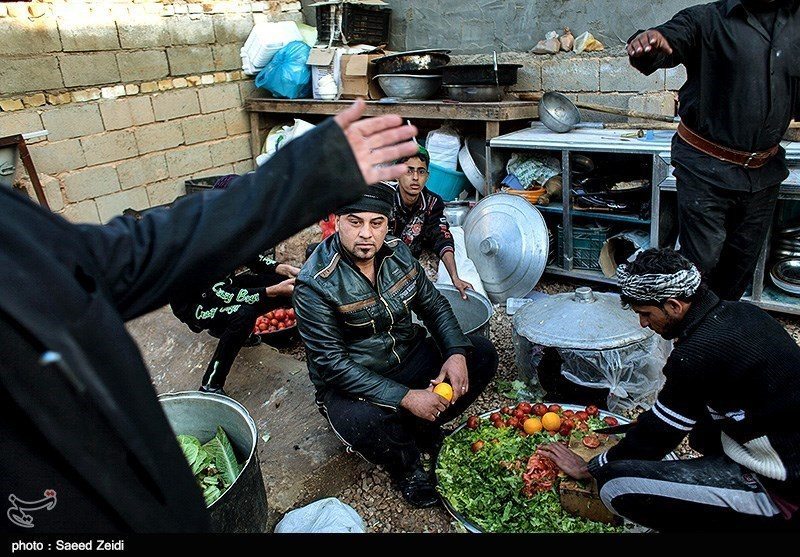 Everyone who has been on this walk will have a story to tell you, so allow me to share with you mine. As I got split up from my group and I neared Karbala, admittedly I was tiring and perhaps it was showing, a stocky Iraqi man grabbed me from the crowd and sat me on a bench. Speaking in a local dialect which I couldn't understand, he began removing my shoes and socks for me. I was startled. I noticed what looked like a metal trough, in which there was a thick, soapy-looking water. The man gently caressed warm water on my feet whilst massaging them, as I sat speechless and embarrassed that an elder would do this for me. As I watched him smile and thank God for allowing him to wash my feet, I could only well up with tears and kiss his forehead, thanking God for letting me be able to partake in this mesmerising trip.
Only a few kilometres later and I began to wonder the time, and when and where to stop for afternoon prayers. A man was shepherding people into a building for supplication and welcomed me in with a gleaming, warm smile. Greetings of peace, smiles which reached our eyes and contentment were enough to communicate with the Iranian man I prayed next to. Both of us knew we were only half an hour away from the glorious destination of the shrines of Hussain and his brother Abbas. After praying I looked to make a swift exit from the hall, but was quickly made to sit down again. It was lunchtime. Having eaten a falafel only an hour or so ago, food was the last thing I wanted. The initial brother who welcomed me in stood near me and urged me to eat. There were five volunteers and about two hundred people, yet his attention was solely on me. Some of the local volunteers looked at me wondering if I was someone special (with my thick British accent and Nike joggers, I must have looked a fair bit off the beaten track). I insisted I couldn't eat the tray of food given to me, and agreed to have the orange and water. Not feeling content that he'd served me enough, the man now offered me accommodation in Karbala. After I politely declined, he offered me financial help – which again I respectfully declined. Finally, he gestured to get me a fresh T-shirt – he felt honour-bound to fulfil some act of compassion or service to me so that his role as a host would be fulfilled.
Now, I don't know what the word for this behaviour is – but generosity doesn't seem quite to cut it. Where else on the planet does one find such selflessness (and to a stranger no less)? What I do know is that the three-day journey is filled with moments like this, whereby there is absolutely no doubt that Hussain is a man that warms every heart, and inspires people to new heights of compassion.
Approximately 80km, three days and hundreds of cups of tea later, with tired legs, and a heart bursting with emotion, my eyes fell on the illustrious, golden dome of Hussain's shrine. Joy, sadness, humility and honour all amalgamate into a stream of tears, for paradise on earth had been reached.
To find out more about Hussain ibn Ali, please visit: www.whoishussain.org