This American teen used her time in hospital to reduce waste and save animal lives, and you could do the same
You too can make a difference in the world.
You too can make a difference in the world.
Back in 2015, Amina Youssef tore her ACL muscle. After a few months in the hospital and a few surgeries, she started observing some sad realities: unused boxes of gloves, partly used gauze, things near to their expiration date and half opened single-use product packages; so many usable things were thrown away. Was that really waste? Surely someone could use that stuff still? Amina then started to think of a plan.
After talking with her family, she sent an email to an animal organisation her brother had volunteered with. She convinced the nurses, doctors and hospitals to stop throwing away perfectly good items and instead sent it to the organisation, who agreed to reroute it to a charity they worked with in Thailand. Her first medical haul was given to a dog shelter and was used in the surgeries for 27 dogs and puppies, and with it created Amina's charity, 27 Heartbeats.
It only took Amina one request email, but she helped animals who otherwise may not have gotten care. "That's where the name 27 Heartbeats comes from," Amina says. "I just kept thinking that each of those dog's lives may have ended, but was saved by what was otherwise going to be garbage."
Hospitals in America produce over 5 million tons of garbage every year.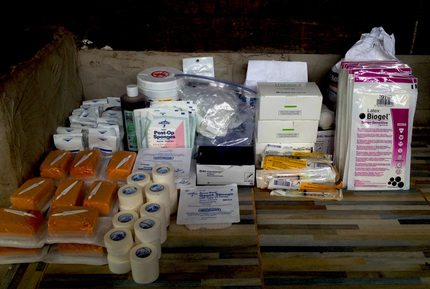 This doesn't even include clinics, dentists, veterinary clinics, or other medical outlets. Amina took this this was an opportunity for her to create a better world, now urging people to help her donate it to animal clinics.
She is now on her 5th donation drive and has lost count of the number of animals helped, strongly believing that being positive, having faith and taking initiative is the key to changing something wrong. Now, Amina is asking for help from everyone, including the Muslim community regardless of location, and will work with anyone who wants to help to help keep medical waste out of landfills and get it where it can save lives.
How can you help?
Reach out and ask your doctor, dentist, orthodontist, hospital, vet, or 

other medical offices 

to give you the usable items that would otherwise be trashed.
Reach out to 27 Heartbeats and they can help you get items into the hands of an animal or human clinics around the world that is in desperate need of those items.
Share this article or the 27 Heartbeats website.
Start a chapter at your school, university, workplace.
View our wish list and let us know if there is something you can help us get hold of!
Working with Loop Aboard to make a real change
Right now, they are working with
 Loop Abroad
 and the Wildlife and Animal Welfare Institute (WAWI) to help bring all donations to Thailand for use in animal shelters, veterinary clinics, and hill tribe village clinics and schools. Because Loop Abroad sends hundreds of students to Thailand each year, they can transport donations in the extra checked baggage allowance provided to students and staff. Donations can be shipped directly to the Loop Abroad office and from there will be processed, packed into suitcases, and brought to Thailand on the next available Loop Abroad program.
Donations can be mailed directly to the Loop Abroad office at:
Loop Abroad
28 Cocasset St.
Foxboro, MA 02035
Somewhere, that spare pair of sterile gloves, sample of heart-worm medicine, or open pack of gauze could save a life, and you can be the one to make a real difference.