MINNEAPOLIS – Minneapolis Police are investigating a double shooting in the Dinkytown area early Wednesday morning as a hate crime against two Muslim men.
A group of five young men, all dressed in traditional Muslim robes, were in a car headed to Ramadan overnight prayers when they were confronted by the gunman at the intersection of 14th Ave. S.E. and 6th Street S.E.. at 2:00 a.m.
Hussein Gelle, one of two victims recovering from bullet wounds to their legs, told KARE the gunman fired at those who fled the vehicle, and then ordered Gelle and another passenger to stay in the backseat.
"He was standing about 10 feet away from the car, and I thought it was over. But then he started shooting again and got both of us in the backseat, shot us in the legs."
The driver of the car then sped away, and took Gelle and the other man to the University of Minnesota Medical Center for treatment. The attacker remains at large, but Minneapolis police are asking for witnesses to come forward.
The Council on American Islamic Relations of Minnesota, or CAIR-MN, thanked police for treating the attack as a bias crime and getting the word out to the public.
"They did not antagonize," Jaylani Hussein, CAIR-MN's executive director, told reporters Thursday. "This was literally a clear profiling of them, harassing them and shooting at them."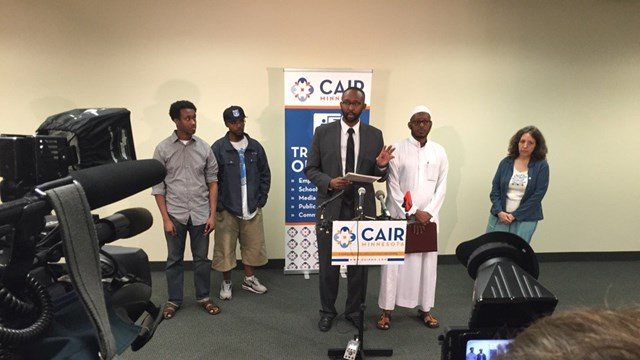 Disparaging remarks
Gelle said he and his friends were getting into their vehicle when one said he overheard a "very drunk young man" making disparaging remarks about Muslims. He said they spotted the man in question at the next intersection, and the driver of the car asked the man why he'd been saying those things.
"The man said, 'I didn't say those things. I know a lot of Muslims. I have Muslim friends' and we said, 'That's great!' and so we thought it was over," Gelle recalled.
"But his friend came up and said, 'What if I said (expletive) Muslims? What would you do if I said (expletive) Muslims?' And we told him it was over."
Gelle said that's when the man pulled out his handgun and added, "Well I am saying it! I am saying it, and there's nothing you can do about it!"
That's when the shooting began.
Gelled described the suspect as a white man, college-aged, with dark hair, standing about 5'8″ and weighing 150 to 160 pounds.
"I grew up in this country and I never thought something like this would happen. It's pretty gruesome," Gelle remarked.
CAIR MN and affiliated groups say incidents like this strike fear into Muslim families, who are often more visible during Ramadan because of an enhanced prayer schedule and other activities.
"The whole family, their family, and the Muslim community and faith leaders – everyone is traumatized. We are actually in a state of shock," said Imam Hassan Jama, Executive Director Islamic Association of North America.
Police are asking anyone with information on the shooting to text anonymous tips to 847411 (TIP411). You can also call 612-692-TIPS (8477) or CrimeStoppers at 1-800-222-TIPS (8477).
(Source)