Youth are told to follow their passion, but not told how to find it.
We are living in a time of intense change and transformation, and it is now, more than ever, that we need to direct ourselves in the right path without losing focus. We are also more confused than ever before and are paralyzed with the increased amount of options available to us, mostly at the tip of our fingers.
I am very passionate about working with youth, and helping them come up with solutions and answers to help them prosper and succeed. They are, after all, our leaders of tomorrow. The majority tell me they do not know what they want to do in Life. They are told to follow their passion, but not told how to find it. The constant bombardment from the media with stories of fear, and this wave of change is truly overwhelming, especially when everyone seems to be doing so well and deep down it feels like you're the only one struggling.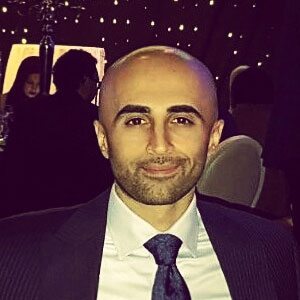 I recently met Vajid Khan, who is a successful Radiologist, philanthropist, social activist, a practicing and proud Muslim; he's very social and fun loving, and a huge fan of the Ottawa Senators (Go Senators!) It is refreshing when you meet someone who is not only accomplished, but is also giving back to the community in ways that are truly heartwarming.
He is the president of the Muslim Medical Association of Canada and currently trying to establish it as a non-profit organization so as to delve into issues like international medical relief work and meeting the medical needs of the local community. MMAC also helped establish a free clinic for refugees and patients without OHIP – Doctors take shifts to work in those clinics. Initially it was spear headed by Vajid and his team, and currently they have merged with the Muslim Welfare Center.
Based out of Oakville, he founded Fungama, a local charity picnic, games day and amateur volleyball tournament held in the summer which raises funds to sponsor 25 orphans from Muslim countries on an annual basis. He also supports Naseeha, which is a free, anonymous Muslim Youth Helpline in Canada and the United states. This service assists callers on issues including advice on drugs and alcohol, religion, mental health, relationships. All Naseeha counsellors are young, practicing Muslims. He is not Superman, because Superman wears glasses when in civilian dressing. Right?
Vajid is giving away a $10,000 Medical Scholarship through the MAX Gala in honor of his parents, eligible for any self-identifying Muslim enrolled or accepted into any Canadian Medical school.
The deadline to apply is 31 March 2017. You can find more information on this here.
---
Early life
I was born in the UK and then my family moved to Ottawa, Canada where I was brought up. In the latter part of high school, I decided to go into medicine for several reasons – helping people was one of the biggest motivating factors, but I was also interested in the sciences. I did my undergrad at Queens University and completed Medical School at the University of Western Ontario. I have been all over Ontario for training; McMaster University for residency, University of Toronto for my Fellowship, and I have worked in different places including Hamilton, Timmins and London, Ontario. Currently I practice out of Sarnia – Bluewater Health as a Radiologist but live in Oakville as I'm able to work from home most of the time.
On being efficient, and living a purposeful life
We are limited by how busy we are. We don't know how much time we have left and anyone can pass away at any time. I try to be efficient with my time. For example, I watch movies, but I don't watch TV – not anymore at least. Allah (swt) will one day ask me as to what I did with all the time and talent He bestowed upon me; I don't want to say I spent it watching every episode of Breaking Bad for example, though I don't judge others for doing so. I want to do something productive with what Allah gave me. I try to multi task, stack things as much as I can. I am also very organized; it is difficult yet very possible to do a lot at once. It is rare for me to not have the energy to keep on going, unless I've had an unusually rough day at work.
I am also very self-motivated. I take breaks, and try to maintain a healthy life style by eating right and lifting weights. The secret is to find what motivates you in life and use that to fuel whatever you want to do. In the simplest of terms, life is a bit like a video game where you're trying to score as many "heaven points" as possible by doing good deeds, obeying God and being a good person, though one should ideally want to do these things for the internal rewards as well. I would like, for me, to do as much good as I can with the time and blessings God has given me.
MMAC is where the party at..
MMAC started in 2007 and it has grown from there. A lot of MMAC members are current trainees, medical students, residents, fellows, or newly practicing doctors, like myself. We are trying to recruit seasoned Doctors to join, so that they can guide us with their experience, and knowledge. However, it is a challenge largely because of the generational gap with respect to communication; we use social media and e-mail heavily and some of the more seasoned physicians in the community do not use these tools as much.
The MMAC, apart from helping undergraduate students get into medical school, also has a vision of building an Islamic teaching hospital. The idea behind this is so we can bring about unity between Muslims and non-Muslims, and have a greater impact on our communities, helping to fill the gaps in healthcare for all Canadians. Individually, we can do good things, but together we will do great thing, InshaAllah.
Fear is the Grinch that stole Christmas
There are so many teachings in Islam regarding fear and how to overcome it. The only thing you should have fear in is God, not human beings. Having said that, God is all loving and all Merciful, and we should focus on pleasing Him, while keeping that fear in mind. Love, fear and hope in God can all co-exist. There are many types of fears; fear of success, fear of failure, fear of change,  but what keeps one strong is faith in God.
Self-dialogue and self-reflection on a regular basis are very important to keep one grounded, and keeping fear at bay. One must always reflect on one's actions and the intention and motivation behind them. Life is like a dream, and will disappear in the blink of an eye. What matters is what you do in this life, as that is what decides your fate in the next life. This life is simply a test and like all suffering, ultimately temporary.
My dear 15 year old Vajid
Looking back, I would tell my 15 yr old self, please care less about what people think of you. Believe in yourself, and trust yourself. Study hard, make priorities, and cultivate your hobbies. Don't listen to the naysayers. Follow your dreams passionately and courageously. Figure out what you care about… and then care about it.
There is so much I want to tell my teenage brothers and sisters. Despite what the world says, Islam has so much to offer and turn to it in times of need. Trust in Allah (swt) and don't idolize people, because everyone has flaws. Take the best things from everyone and leave behind the rest, but do not try to copy the entirety of a specific role model as you might copy their flaws too.
Stay away from things that are harmful to you mind, body and spirit – drugs, alcohol, bad habits, and bad company. Cultivate good habits. Strive for perfection for if you fail, you'll at least achieve excellence. Keep your ego in check, and always do your best. Do not doubt yourself. Everyone has different talents and passions so do the (halal) things you are most passionate about. If you are passionate about something, chances are you'll become very good at it and that is where success and happiness in a career come from. Don't let people hold you back because only Allah (swt) knows the extent of your talent. How could people ever know? So do your best and leave the rest to Him.
Make sure you take care of your parents and your family, and always give back to your community and the people that helped you along the way. It is the responsibility of those with much to give back to their communities and those with less. I feel that whatever I have given away has come back to me ten-fold. Don't give with the intention of receiving something in return, just give. Because what comes around, goes around, either in this life or the next.
---
I'd like to thank Vajid for sharing his journey, and I hope it inspires everyone who comes across it. We pray for his continued strength, and immense success.
by Zaheeda Hamza