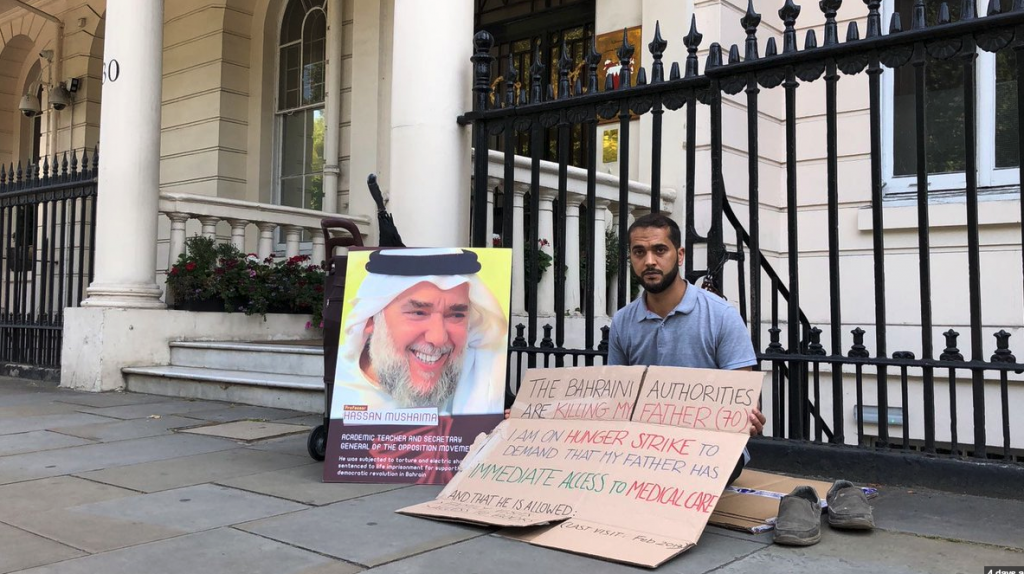 Bahraini Activist Undergoes Hunger Strike To Protest Father's Denial of Medical Care By Authorities
Bahraini activist Ali Mushaima is currently on a hunger strike to protest his father being denied medical care by Bahraini authorities.
His father, Bahrani political leader Hassan Mushaima, aged 70, is serving a life sentence for protesting against the government in Jau Prison, Bahrain.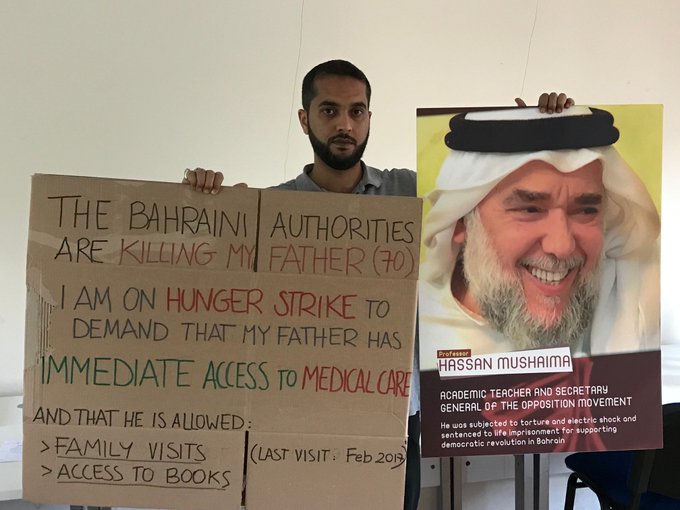 6 days into the hunger strike, Ali's body weight has dropped by five kilograms. His protest outside of the Bahraini embassy in London is taking place while a heatwave grips the country.
Ali had already sent letters to several MPs who failed to take any action.
Hassan Mushaima was a founding member of the political party Al-Wefaq from 2002-2006, thereafter he established the Haq movement until his imprisonment in March 2011. Mushaima suffers from high blood pressure, diabetes, gout and a unirary tract infection. He is also a former lymphoma cancer patient.
Alongside being denied medical treatment for over a year, Mushaima has been denied family visitations and reading material, including the Holy Quran.
Lynn Maalouf, Middle East Research Director at Amnesty International, while calling for their unconditional release, said:
"That anyone can bring themselves to treat people with such cruelty is unbelievable. These men are elderly, frail and suffering the severe debilitations that come with serious chronic illnesses such as hypertension and diabetes."
Other imprisoned political leaders who have been denied medical treatment include Abdulwahab Husain, Dr. AbdulJalil Alsingace and Sheikh Abduljalil Almuqdad.
Amnesty International have issued a statement condemning the Bahraini authorities' actions. Human Rights Watch have also issued a condemnation while the United Nations have called for his release.
You can help Ali by writing a letter to your MP to raise his father's case with Bahraini authorities. You can also visit Ali at the Bahraini embassy and Tweet using #MedicalCare4Mushaima.
---
Also published on Medium.