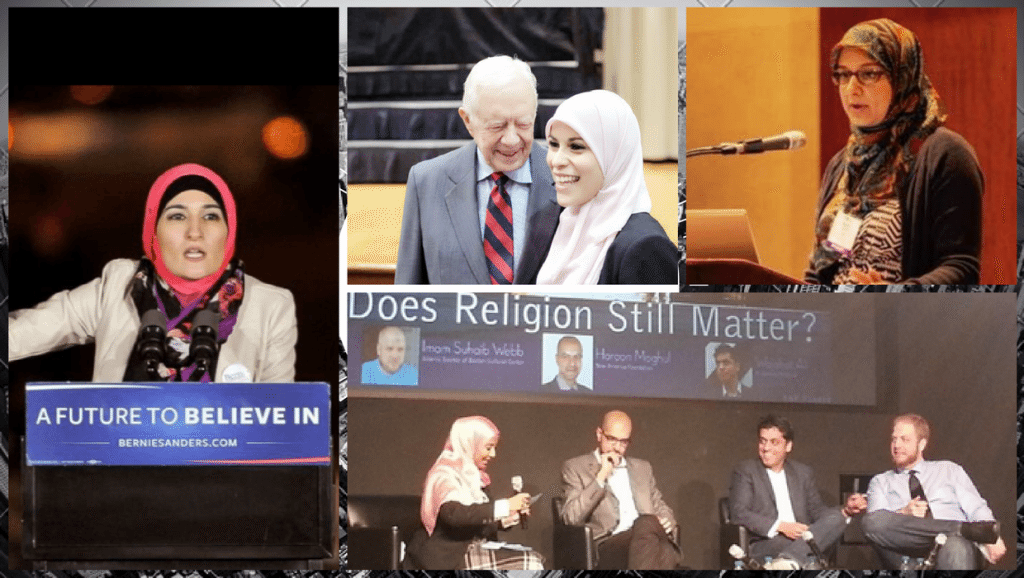 Muslim American women hit back at Donald Trump: The best of the #CanYouHearUsNow hashtag
After all this time, it seems that the Republican Presidential candidate, Donald Trump, is actually good at one thing, and it's showing off his ignorance and in turn, offending people left, right and centre. This time around, it's Muslim American women who have taken it upon themselves to talk back.
In an interview on ABC News, Trump had plenty to say on the mother of fallen soldier, Humayun Khan, Ghazala Khan, who stood beside her husband Khizr Khan as he appeared at the Democratic National Convention. Rather than addressing the points raised by Khizr Khan about Trump never needing to sacrifice for his country as they have, Trump took a jab at Ghazala, claiming that she probably "wasn't allowed" to speak. "She probably – maybe she wasn't allowed to have anything to say. You tell me," Trump said.
And so, the Muslim women of America decided to 'tell him,' flooding Twitter with the hashtag #CanYouHearUsNow in response to his statements. This came after encouragement from The Council on American-Islamic Relations, who asked Muslim women to tweet about who they are and how they speak out. Here are some of the best from the hashtag:
Please don't project what goes on in your own household onto us! @realDonaldTrump #CanYouHearUsNow pic.twitter.com/61IfzInDMr

— Malika Dee (@MalikaDee33) August 1, 2016
I train young peace activists on effective advocacy using storytelling, media & social media #CanYouHearUsNow pic.twitter.com/6e7GWq3vG6

— rabia O'chaudry (@rabiasquared) August 1, 2016
Leading these Muslim men in a discussion about religion, atheism, & Muslim Identities #CanYouHearUsNow pic.twitter.com/PSTv0XrCXc

— Hind Makki (@HindMakki) August 1, 2016
I've spoken at the Pentagon, the State Department, at 10 Downing Street, at NORAD – where has Trump been speaking? #CanYouHearUsNow

— Dr. Ingrid Mattson (@IngridMattson) August 1, 2016
Muslim women "not allowed to speak?" I gave a @TEDTalks and got a standing ovation. #CanYouHearUsNow https://t.co/iggExDBXzD

— Dalia Mogahed (@DMogahed) August 1, 2016
Hey D. I spend my time creating solutions w presidents & the like (so I guess we'll never meet) #CanYouHearUsNow pic.twitter.com/lwl0CiTSJl

— Alaa Murabit (@almmura) August 1, 2016
Muslim women led orgs like @HEART_wg work to make our country free from sexual violence. How's that beauty pageant going? #CanYouHearUsNow

— samar kaukab (@samarkaukab) August 1, 2016
I was a national surrogate for @berniesanders spreading a message of respect & equality for all. #CanYouHearUsNow pic.twitter.com/bfRjoMwQWE

— Linda Sarsour (@lsarsour) August 1, 2016
.@realDonaldTrump This is me, giving a talk at @Georgetown. Do I look oppressed to you? #CanYouHearUsNow pic.twitter.com/NVVMJDbnlJ

— Rim-Sarah Alouane (@RimSarah) August 1, 2016
Trust me, we are anything but silent. Here I am – a Muslim woman, speaking at RNA conference #CanYouHearUsNow pic.twitter.com/r4iXGVoBWf

— Dilshad D. Ali (@DilshadDAli) August 1, 2016
Hey @realDonaldTrump. I'm a public high school history teacher. I educate the future of our country. I'm a Muslim woman. #CanYouHearUsNow

— ZS (@zaysal) August 1, 2016
My name is Tamara Gray. My ancestors came over w the Mayflower. #CanYouHearUsNow @realDonaldTrump

— Tamara Gray (@tamaralgray) August 1, 2016
Frmr. public servant, media expert, defending civil liberties of ALL Americans, proud Muslim woman. #CanYouHearUsNow pic.twitter.com/Q4pPO3gShC

— Zainab Chaudary (@chaudary_zainab) August 1, 2016
Mr. Trump, I won a White House Correspondent's award in the same event that you walked out of. #CanYouHearUsNow pic.twitter.com/cjww4CMoq2

— Haia Radwan (@Haia_Radwan) August 1, 2016
I can't remember a time where I was told not to speak. I just heard it from Trump. Seems we live in different worlds #CanYouHearUsNow

— Mona Kay (@MonaKayYal) August 1, 2016
Sometimes Muslim women want to speak in public. Sometimes we don't. Both are excellent choices. #CanYouHearUsNow pic.twitter.com/vTCxr3rPoa

— Shireen Footybedsheets Ahmed (@_shireenahmed_) August 1, 2016