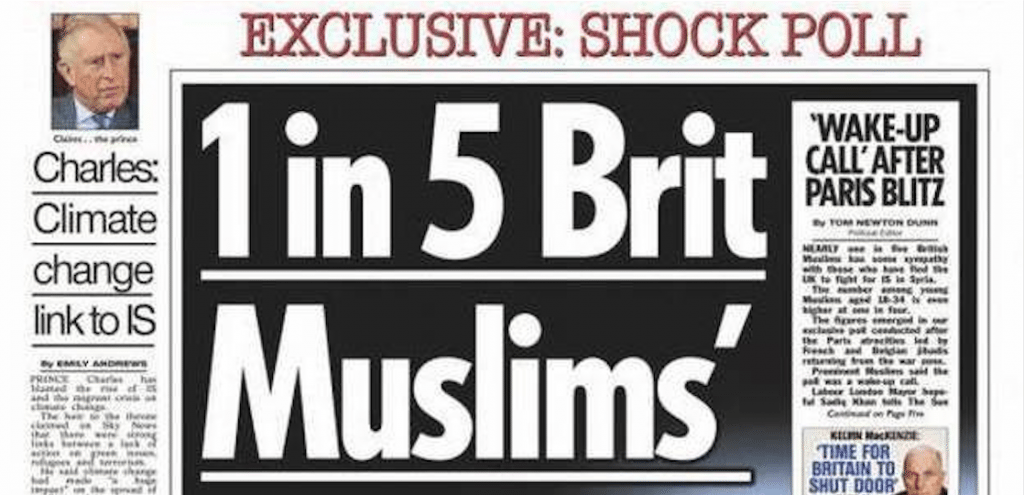 The best Tweets from the #1In5Muslims hashtag
On Monday morning, the front-page of British tabloid The Sun read, "1 in 5 British Muslims' sympathy for jihadis". Several major news outlets have since come out and exposed the 'very big problems' with the story.
In typical fashion, British Muslims have taken to Twitter with a humorous slant on the story with the hashtag #1In5Muslims.
Here are some of the best:
https://twitter.com/mehreenkasana/status/668895381883904001
#1in5Muslims think if only @Adele said Salaam instead of Hello the dude would be forced to reply!!

— Dr Bilal Hassam (@bilalhassam) November 23, 2015
https://twitter.com/aishagani/status/668882851115507712
#1in5Muslims force religion onto pets pic.twitter.com/2gtQs0CCPA

— Arsxlan (@prxncer_c) November 23, 2015
https://twitter.com/farazzz_/status/668932237707100160
Only #1in5Muslims find this show remotely funny, the rest hate it pic.twitter.com/PbqFdqCrL6

— Arsxlan (@prxncer_c) November 23, 2015
#1in5Muslims wash their feet more than you wash your face.

— Nadeem Sayeed (@NadeemSayeed) November 23, 2015
#1in5muslims think Ross and Rachel were on a break

— Judy Moncada (@LiberatedSoul_) November 23, 2015
https://twitter.com/EnamHaque3/status/668884632331505664
If you feel The Sun headline on

#

1in5Muslims

is offensive and misleading, sign this petition demanding a public apology:

http://

chn.ge/1NosAqg