I was preparing for my annual journey to Iraq, for the pilgrimage to the Holy City of Karbala for Arbaeen. This year, it happened that Arbaeen coincided with the school holidays, and the majority of my Hyderi Islamic Centre's U14 football team were to attend the pilgrimage with me.
It dawned upon me that we are going to a country where children of the same age as my football team suffer through immense poverty and destruction caused by wars. We decided as a group that we would do our best to bring a smile back to the faces of some of these boys, those who have suffered the loss of their fathers at a young age due to the devastation caused by groups like ISIS in Iraq.
These boys, just like my own team of boys, and probably almost every kid in the world, love this game of football – it is for sure a universal celebration of joy.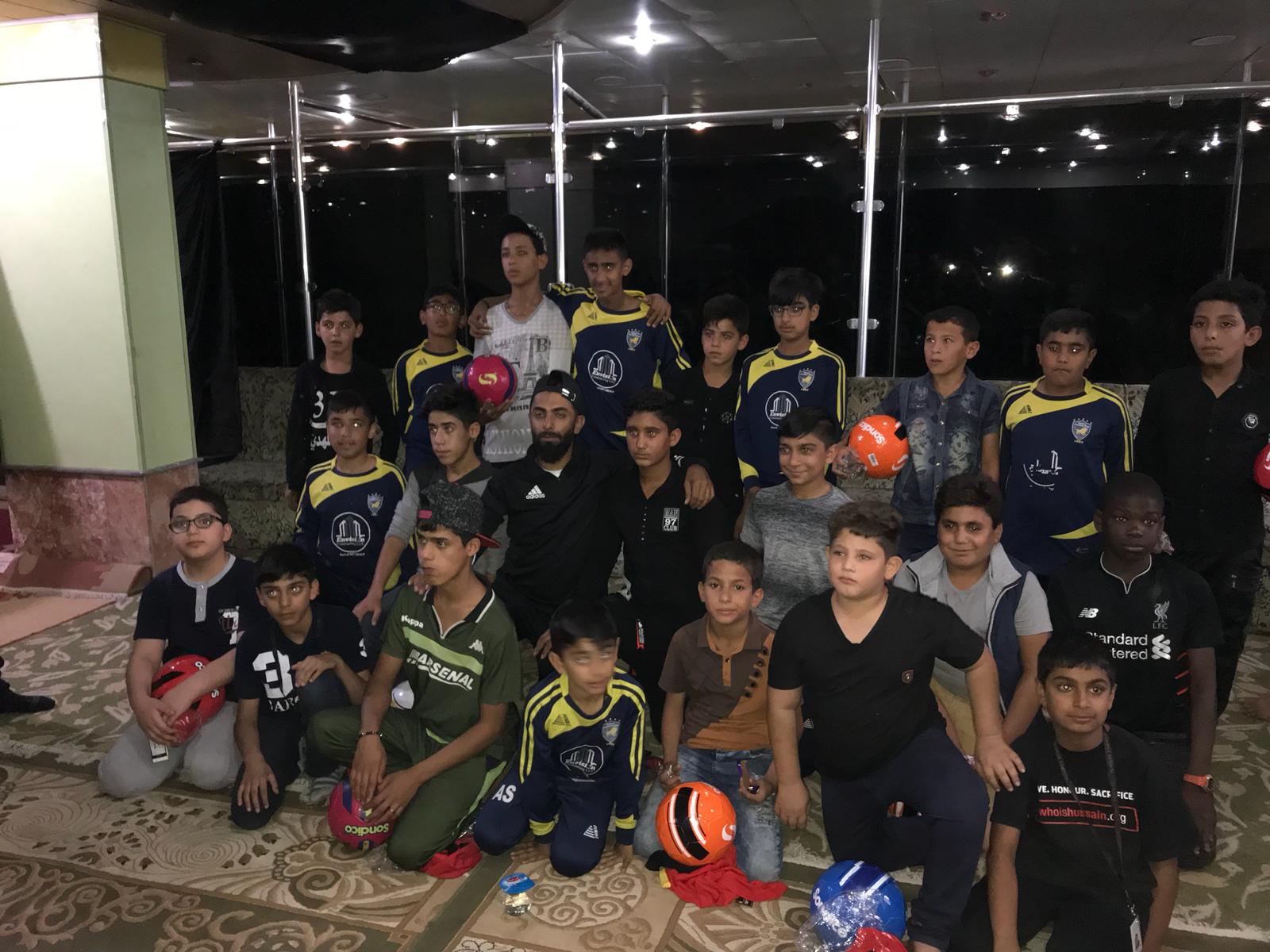 On previous visits, I have seen these kids in Karbala wearing Liverpool, Barcelona, and Madrid football jerseys, all with different names on the back. Many of these children have been given these jerseys and t-shirts via charity drives, with second-hand clothes that people like us pack and drop at local centers. When I spoke to these kids, they told me when new charity clothes come in what they look for first are the football jerseys.
We don't realise how small things make such a big difference to a child's life. Next time you are throwing away a football top, stop to think about these boys and instead make the effort to drop it off at a charity collection or drive – you really never know where it will end up and how big a smile it may bring to someone.
Back to my own football team, it is important to mention here that these Hyderi players are not just average footballers, but boys who play at a very very high level and are extremely talented and able to train other kids. We, therefore, decided that we would arrange a training session in Karbala for orphans who are looked after by the Zahra Trust (for more on the Zahra Trust, click here).
With such an opportunity it seemed unfair to just train them, so we decided to take footballs, football kits, and trainers with us to hand out to the children who participated. The reaction from the children was amazing, the boys were elated and so thankful. I also saw firsthand how the boys, both from my own football team and from the Zahra Trust, bonded through this beautiful game.
The saddest thing for us as a group was when we realised how they cherished such a seemingly small thing like a football, or how they chose trainers that were bigger than their size, so they would last longer and the boys could wear them even if they grew a size bigger. Unlike our own boys, they can't just get mum or dad to buy a new pair of trainers.
We found ourselves in a place where boys do not have footballs. I couldn't imagine growing up without a football – and I found myself completely heartbroken. We all realised that these boys can not just go and have a kick about when they feel like it, and this really bought a new level of reality to us about how fortunate we really are.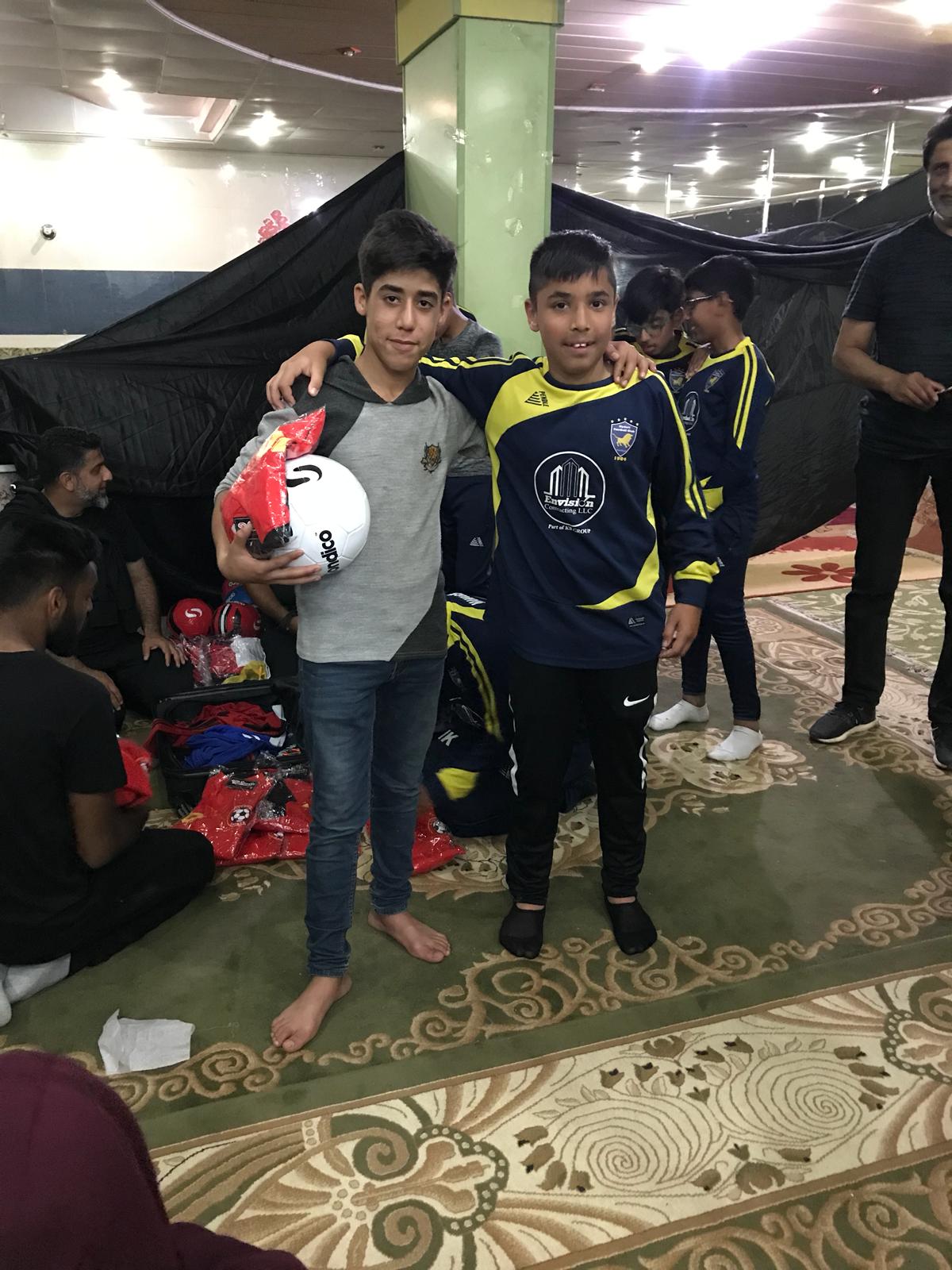 The bonding didn't stop with the football, and my team decided that history would be our teacher. Just like when the Holy Prophet (PBUH) migrated and asked the people of the City of Medina to take in the Muslims, who had been pushed out of the Holy City of Mecca, as brothers, we felt that history had guided us. So each boy from my Hyderi football team decided to take one of the orphan boys as his brother.
It's been a few weeks since our return, and my players still remember their Iraqi brother's names, they ask about their well being, and have already asked me to send tracksuits and gifts that they have purchased for their new brothers.
Kids make friends with others irrelevant of their social statuses, and these actions are a testimony to that.
These children have built a friendship with those Iraqi children, who now have friends who will hopefully assist them one day in winning not only on a football pitch, but also in life.
Participants with ages:
Abu Shahbaaz (Team Manager)
Aqeel Khan (14)
Hasan Kara (13)
Sajjad Lalji(12)
Shakeel Alidina (12)
Mehdi Molu (11)
Ali Mahdi Kara(8)
Qassim Lalji (15)