It was, according to The Rock, a "historic night" in Hollywood as Mohammed bin Salman rubbed shoulders with a string of A-listers on his trip to Tinseltown. But his newfound celebrity friend let something else slip: tequila was served, and the crown prince of Saudi Arabia would be getting more on a return leg to Riyadh.
The revealing Instagram post threatened to derail the latest public relations drive by Saudi Arabia's de facto leader, and a shaken The Rock was stirred into action to edit. The star, real name Dwayne Johnson, changed content riffing on many a slammer slammed and the offer to take tequila to Saudi Arabia to "Luckily, I brought my own tequila".
The visit on Wednesday evening was part of bin Salman's two-week tour of the United States and ostensibly focused on securing deals in Hollywood to complement his liberalisation of the cinema industry back home. But the focus of media attention was on who he was seen with during a party at the home of media mogul Rupert Murdoch – including The Rock, Morgan Freeman, director James Cameron – and what he did.
I look forward to my first visit to Saudi Arabia. I'll be sure to bring my finest tequila to share with his Royal Highness and family.
The Rock on Instagram
And the hasty editing by The Rock left a sour taste in the mouths of many concerned with the party prince's proclivities. Alcohol is strictly prohibited in Saudi Arabia, and its possession punishable by hundreds of lashes.
The Rock posted on Instagram on Wednesday about his encounter with the Saudi royal, calling it a "historic night", during which bin Salman spoke of "his deep-rooted, yet modern views on the world and certainly the positive growth of his country".
He initially concluded his post stating that he was looking forward "to my first visit soon to Saudi Arabia", when, he said, he would "be sure to bring my finest tequila to share with the Royal Highness and family".
Johnson later amended his message to read "Luckily, I brought my own tequila", in a possible attempt to dispel suspicions that bin Salman might have partaken during the evening.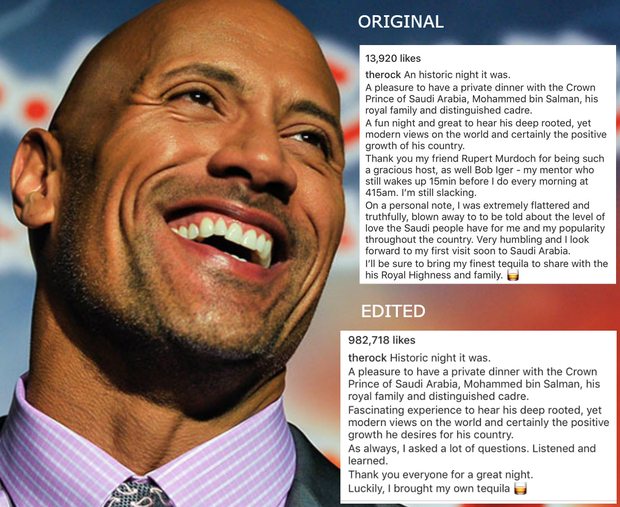 His post on Facebook remained in its original form, however.
Bin Salman has reportedly reached a slew of deals during his US visit, including a partnership between Saudi Aramco, the largest oil company in the world, and Google on cloud computing, and an agreement between the Saudi energy giant and defence giant Raytheon.
But Saudi Arabia's planned softening of restrictions over entertainment is what has piqued Hollywood's interest, as industry magnates have reportedly been eager to cash in on an untapped Saudi market filled with consumers with high purchasing power.
According to the Los Angeles Times, bin Salman was notably meeting Ari Emanuel, the chief executive of William Morris Endeavor entertainment and media agency, Walt Disney's chief Bob Iger, and Murdoch while in Los Angeles.
Saudi Arabia's Public Investment Fund is reportedly set to buy a 10 percent stake in William Morris Endeavor valued at $400m. The Gulf country is also actively seeking deals with entertainment companies, two weeks before the kingdom is set to open its first cinema in 35 years.
AMC Entertainment has been granted the first licence to operate cinemas, including the first movie theatre in Riyadh on 18 April, with the US giant announcing it expected to open 100 cinemas across 25 Saudi cities by 2030, the Los Angeles Times reported on Wednesday.
Meanwhile, Cirque du Soleil announced this week that it would perform for the first time in Saudi Arabia in September.
Bin Salman is credited with leading a series of social reforms, such as allowing women to drive and lifting the 35-year ban on cinemas as he attempts to move Saudi Arabia towards a more "moderate" form of Islam.
However, observers and rights groups say Saudi Arabia still has a dire human rights record and is involved in a devastating conflict in Yemen. Not everyone saw Bin Salman's Hollywood tour kindly, as social media users notably blasted The Rock for cosying up to the royal.
"This reads like a paid propaganda post funded by the Saudi royal family," one commenter wrote on Instagram, while another said: "Rock, I thought you (were) a man of character, yet, (you) have a private dinner with one of the world's most oppressive regimes."
Anti-war organisation Code Pink has staged protests in Los Angeles to denounce Saudi policies, notably in Yemen.
On Thursday, the US approved a contract to sell Saudi Arabia 180 self-propelled artillery systems for $1.31bn, in the latest stage of perhaps the world's biggest arms deal.
In announcing the weapons package, the US State Department described the kingdom as "a leading contributor of political stability and economic progress in the Middle East."
"The best PR machine in the world cannot gloss over Saudi Arabia's dismal human rights record," Samah Hadid, Amnesty International's Middle East director of campaigns said last month.
"If Crown Prince Mohammed bin Salman is truly intent on being a 'reformer', he must end the systematic repression of women, minorities and human rights defenders, order the immediate and unconditional release of all prisoners of conscience, and end the use of the death penalty."
Saudi Arabia has experienced a slight thaw on women's rights in recent years, aligned with the crown prince's plans to present a more open face to the international community; however, the execution rate has doubled since bin Salman was appointed crown prince in 2017, according to rights group Reprieve.
The kingdom has also been accused of using draconian terrorism legislation to target peaceful campaigners and pro-democracy bloggers. Bin Salman's visit to London in March saw activists stress the case of Raif Badawi, a Saudi blogger sentenced to 1,000 lashes and 10 years in prison for "insulting Islam" online, an issue that was then raised by Prime Minister Theresa May.
Saudi Arabia also stands accused of killing thousands of civilians in Yemen, where its air force has been targeting Houthi rebels for the past three years.
---
This article was originally posted here on the Middle Eastern Eye.