"It's impossible to hate someone, whose story you know."
Over the past ten years, Salma Hasan Ali has written personal essays, reflections, op-eds, profiles, and a blog called '30days30deeds.com' — all with the intention of helping us understand each other better. You can find many of these articles on her website. During her work, she has been asked to share the stories she writes and features at schools, conferences, interfaith gatherings, and international events, including at the United Nations.
Her most recent project is called 30 Days, 30 Refugee Stories and during the Holy Month of Ramadan, she aims to share the stories of refugees across the globe, their struggles, journeys and where they are now. You can follow the stories of two refugees below, and find more on the website.
---
---
'Fish's Mouth'
There were trays and trays full of baklava in different shapes and with various fillings. We got the grand tour – 'lady's fingers', shaped, well, like lady's fingers; small round ones with hollow centers called 'grandmother's bracelet'; many layered open triangles overflowing with pistachios called 'fish's mouth'; and trays of traditional Syrian sweets such as kunafa, basbousa and warbat. For 22 years, Mohamad Noor Alghazzawi owned a factory specialising in Syrian desserts in Damascus. He used to export his speciality baklavas to Turkey, Saudi Arabia, even the U.S.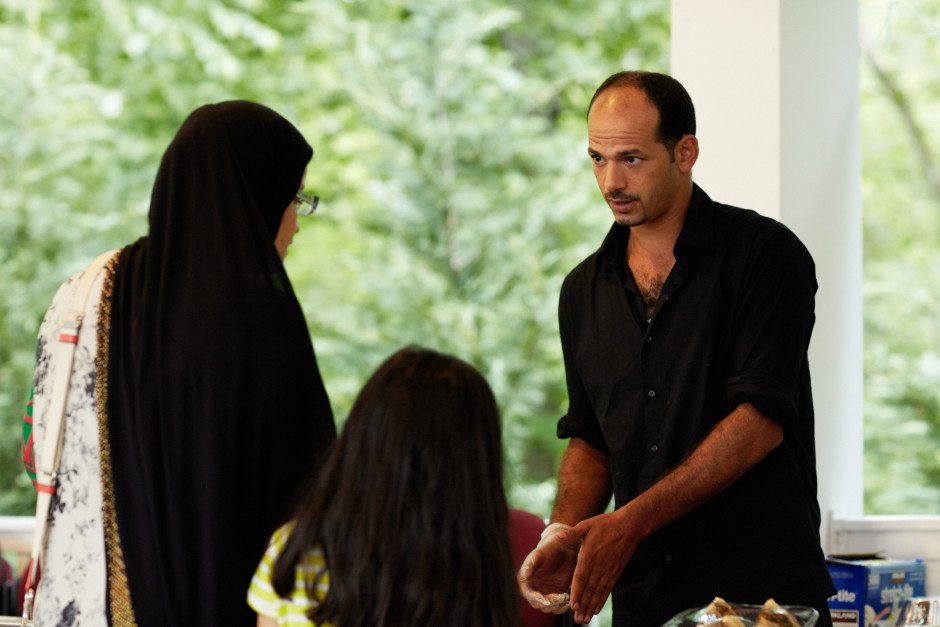 I asked him for his recipe for the 'fish's mouth' baklava: flour, water, salt, ghee. (Wait, no store bought phyllo pastry sheets?) No, you make the dough, and roll out each layer by hand, with cornstarch so it doesn't stick; cut it into squares, and fold one corner to another, and put it in the oven at 350 degrees for an hour. For the filling, toast pistachios and grind by hand; add lemon blossom water, a little sugar, some syrup, and mix. Then stuff the fish's mouth. Mohammad was not clear about measurements and quantities; I suppose after 22 years, his hands hold the recipes.
Mohammad now works in a car wash and lives in Landover, MD with his wife and two kids, 8 and 3. His dream is to own a bakery, have a house, and be able to take care of his children. In the meantime, he loves making desserts and selling them at bazaars, like the ADAMS pre-Ramadan bazaar we were attending or catering for parties. My friend and I bought two pieces of warbat oozing with sweet cheese. Mohammad didn't want to take our money; we insisted; he finally obliged.
It amazes me that this soft-spoken man baked all day so that he could earn a little extra money to support his family, but would so much rather share his treats for free with new found friends. It's a generosity I've seen repeated over and over.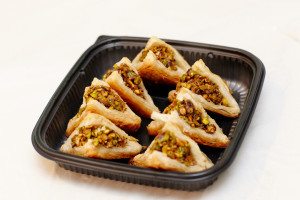 Before I left the bazaar I came back to Mohammad to ask him if he would wrap my warbat plate in cellophane so I could take it home; he did, but not before he tucked in a few extra pieces of baklava.
To support Mohammad's efforts and others like him, please donate to the nonprofit Mozaic who is helping refugees set up their businesses and connect them to clients: http://www.mozaicinc.org
---
'See You Tomorrow'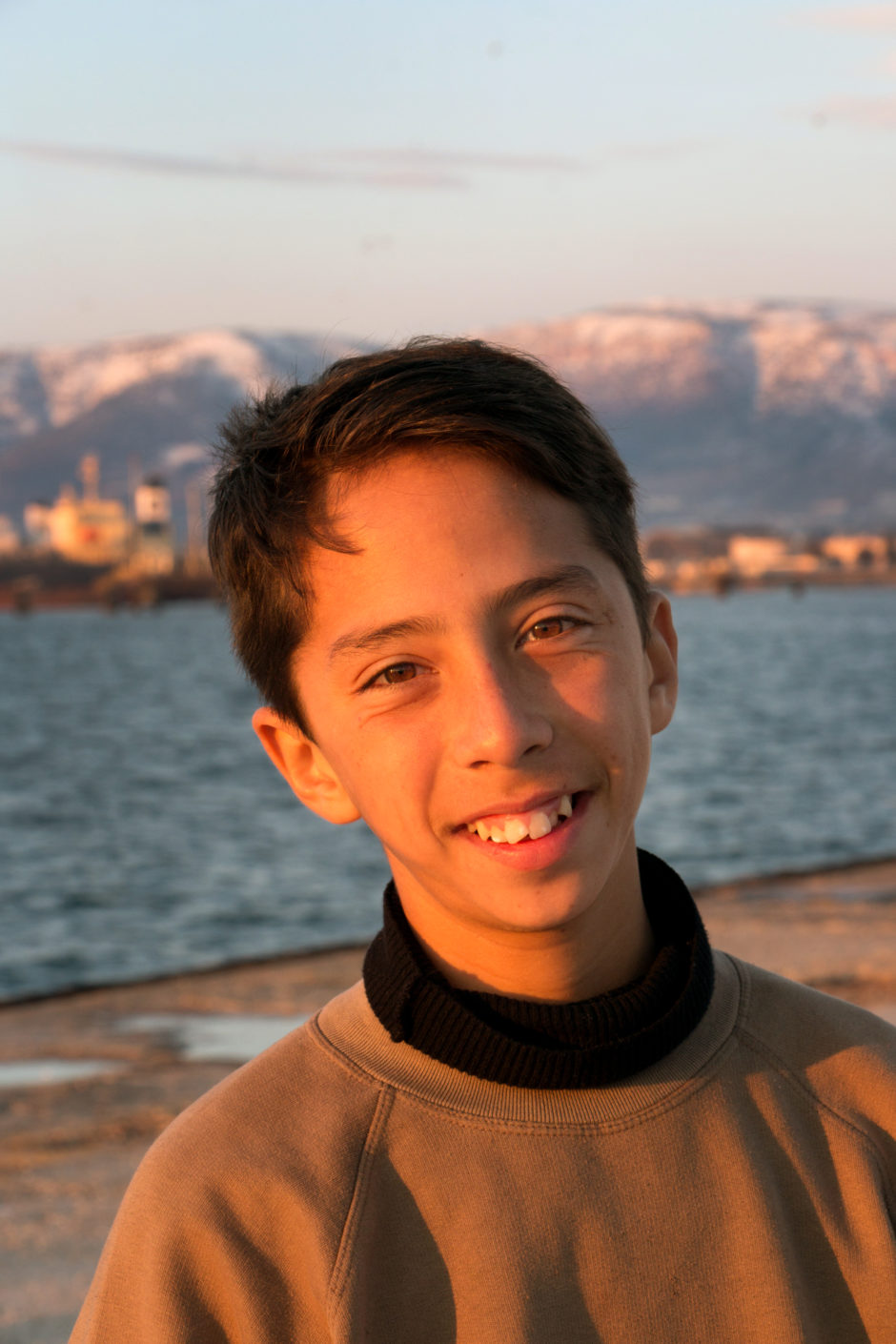 Meet one of the young boys at the refugee camp who simply captured our hearts. He came straight up to us, shook our hands and said 'nice to meet you', with a smile so sweet and a personality so endearing. We met on our first day at Skaramangas when we played soccer together. Saanya was filming a few kids asking them about life in the camps and their journeys to get there. This young boy said, "I can't talk about that." Instead Saanya asked him about his favorite movie (Fast and Furious), his favorite soccer player (Ronaldo), his favorite food (his mom's cooking), what he wants to do when he grows up (fly planes), and all the things that kids should think about when they're 10 and 12.
When we left the camp that evening, the young boy shouted out "see you tomorrow", willing that we would return. We had to. The next day was New Year's day; Saanya asked several of the kids their wishes for the new year and filmed it. Poya talked about going to Germany.
At the end of the day, the boy again shouted out, "see you tomorrow". We had to tell him we were leaving for Lesbos the next day, and then back to America, that we wouldn't be able to see him tomorrow. He looked sad, and just said "see you next week … maybe." We left it at that. It turned out that we shortened our trip in Lesbos by a day so we could spend an extra day at Skaramangas camp before heading back to the US. You should have seen the boys face when he saw us at camp again; he ran over with a big hug.
At the end of the day, we had to say goodbye again, this time for real. Without skipping a beat, he asked, "Facebook?" We nodded; he said "Ok, see you on the mobile!", and ran off to play soccer.
---
'Falafel Inc.'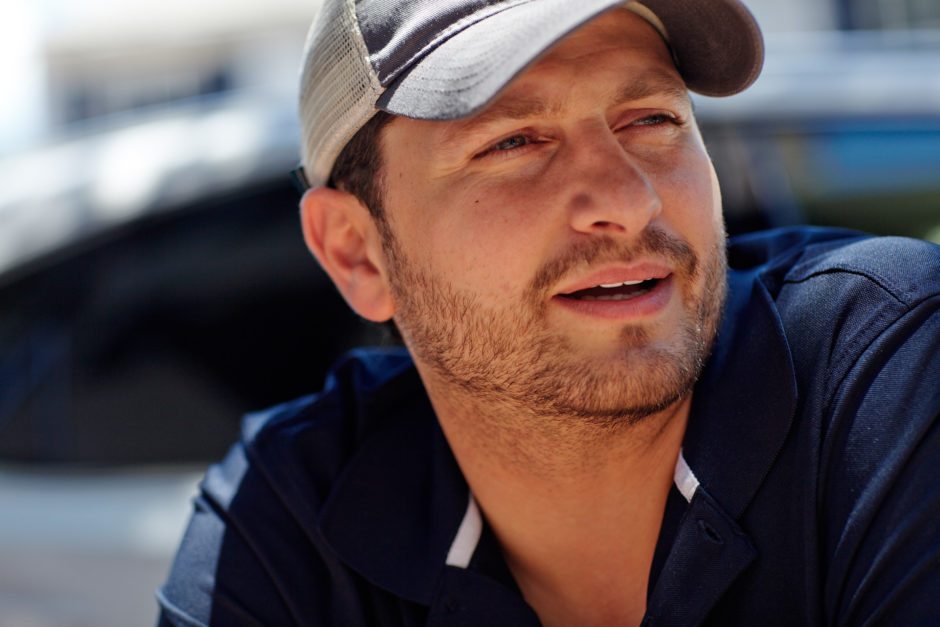 The walls are covered in the plywood type material used in falafel stands in refugee camps around the world, photos of refugees line one wall, the other has a list of common recipe ingredients, from garbanzo to parsley to cumin. The tiny 800 square foot Falafel Inc. in Georgetown was packed with lunchers yesterday afternoon, eager for their $3 falafel sandwiches. I was intrigued to meet founder Ahmad Ashkar and learn about his commitment to supporting refugees through this business; we grabbed a table outside and spoke about the inspiration behind the idea and his business model.
"The falafel is 100% my mom's recipe," Ahmad tells me with a smile. He was born and raised in Kansas City, where there were no falafel shops at the time; he grew up eating his mom's falafel, based on a family recipe perfected through generations. "We were famous growing up in high school for having the mom who made the best food," he says. "Mrs Ashkar's cooking, you know if you got an invitation for that, you were on cloud nine."
Ahmad decided to take his love for food and combine it with his passion for social entrepreneurship. His day job is as Founder and CEO of the Hult Prize, which launches startups that help solve some of the world's most pressing problems, such as food security and water access. University students team up to compete for the highly competitive $1 million prize; they've received 50,000 entries this year alone and are down to the final six. Bill Clinton comes up with the annual theme; this year's focus is the refugee crisis.
"I was so compelled to create my own social enterprise around this issue, practice what I preach," Ahmad says. "I combined it with a childhood love of food, and specifically my mom's falafel and hummus, and the result is Falafel Inc."
Falafels are a common food in refugee camps because they are cheap and easy to make. Ahmad is from Palestine and says he knows the refugee crisis first hand. He recently came back from Zaatari camp in Jordan and has visited camps in Greece, including Skaramangas, where many of the stories on this blog are based.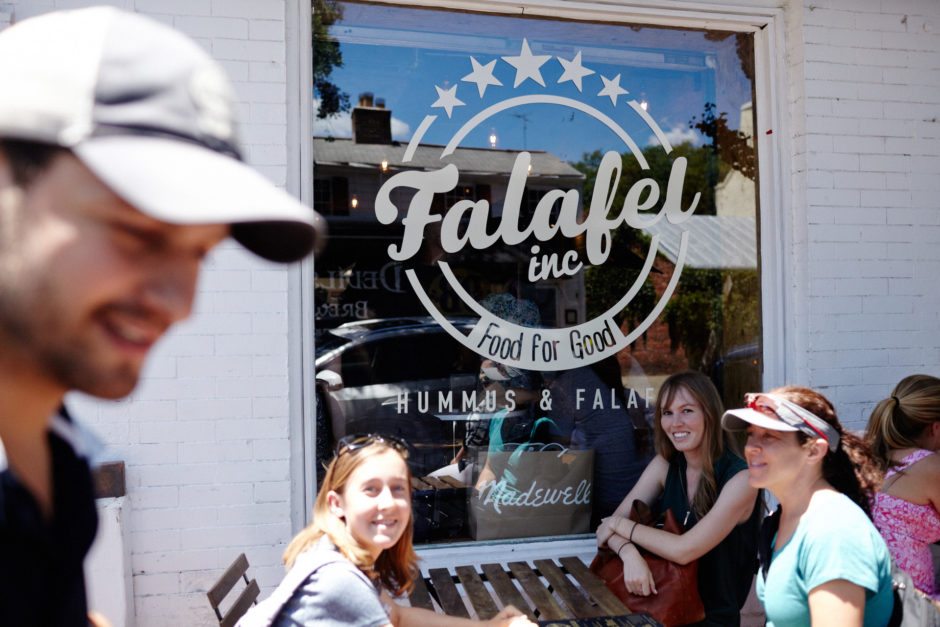 Ahmad's business model is straightforward – he wants to average $10 a ticket between a falafel, drink and side; for every $10, he donates enough to feed one refugee for a day (about 50 cents) through the World Food Program.
Ahmad has big plans for Falafel Inc. and for the 'food for good' concept in general. He wants to build a community of 100 stores around the world, which will result in feeding 1,000,000 refugees a year. A store in Boston is next, he's looking at real estate in Rio de Janiero, and hopes to have a Jerusalem location by next summer.
Given the buzz yesterday afternoon, business seems good. "They come for the food, they hear it's great falafel, they come back because the social mission is so strong," Ahmad says. He reminds his staff about that mission every day. "We're here to serve humanity, and restore the rights and dignity to refugees. As long as our employees know that, the food tastes great, the service is great, the ambience is great, and inshAllah business is great."
---
For more great stories, check out Salma's blog here.