Australians have taken to Twitter to express solidarity with fellow Muslim citizens who may fear an Islamophobic backlash, in light of the Sydney Siege. A gunman has taken 13 hostages (some suggestions of up to 40) in a Lindt Cafe in Sydney, Martin Place. Australia has recently witnessed a rise in anti-Islamic attacks against Muslim citizens, as well as an increased effort by Australian police to crackdown on terrorism.
On Monday, an Australian posted a heartfelt story on her Facebook of an encounter she had with a Muslim woman that day (presumably in response and in fear of an Islamophobic backlash):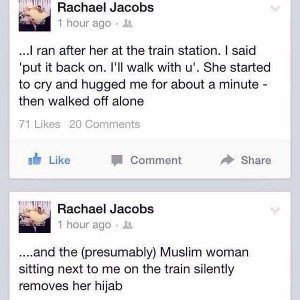 The story then made its way to twitter, and one Australian offered to assist Muslims using public transport and symbol of solidarity.
If you reg take the #373 bus b/w Coogee/MartinPl, wear religious attire, & don't feel safe alone: I'll ride with you. @ me for schedule

— Sir Tessa (@sirtessa) December 15, 2014
Which then led to the #illridewithyou hashtag:
Maybe start a hashtag? What's in #illridewithyou?

— Sir Tessa (@sirtessa) December 15, 2014
The #illridewithyou hashtag amassed hundreds and thousands of tweets, as Australians took a stand against anti-Muslim sentiment in the wake of the Martin Place siege. Here are our favourites so far:
We all felt fear today. Let's not allow our Muslim brothers and sisters to have another reason to be afraid tomorrow #illridewithyou

— Jessica Tovey (@jessieliz) December 15, 2014
#illridewithyou reminds me:
Muslim Woman Covers the Yellow Star of Her Jewish Neighbor with Her Veil. (Sarajev, 1941) pic.twitter.com/LTKBsMxk5N

— Ken Sekiya (@ki_sekiya) December 15, 2014
Practical thing: I've made a temporary sticker for my bag so people who need me can spot me #illridewithyou pic.twitter.com/aVldEn9wVU

— Kristen Boschma (@Kristen_Boschma) December 15, 2014
How do you defeat Intolerance? With Unity and Humanity…..Great work tweeters ✌️#illridewithyou

— Daniel MacPherson (@DanMacPherson) December 15, 2014
If you wear religious attire, & need to get from #Adelaide's westsuburbs to the city on Tues but don't want to travel alone #illridewithyou"

— Clara Collin (@msclaracollin) December 15, 2014
Beautiful: An Imam, a Rabbi and a priest hold joint prayer session for hostages – via @tomsteinfort http://t.co/Taf9E9EYiA #illridewithyou

— Kon Karapanagiotidis (@Kon__K) December 15, 2014
https://twitter.com/Atozai/status/544418089249406976
https://twitter.com/MifrahMahroof/status/544427268714397696
https://twitter.com/anggerwitasari/status/544454734812176384
"People are of two kinds, either your brothers in faith or equals in humanity" – Ali ibn Abu Talib #illridewithyou pic.twitter.com/oVzhkJ7pmi

— The Muslim Vibe (@themuslimvibe) December 15, 2014