She donated everything to help her people.
Some have dubbed her the modern day Muslim Mother Theresa, but who is the woman who has changed the lives of thousands in Africa? Ismail is the former Foreign Minister of Somaliland Republic and since leaving politics, she has founded the Edna Adan Maternity Hospital in Hargeisa, Somaliland. She works hard for the abolition of female genital mutilation (FGM) and is also the President of the Organisation for Victims of Torture.
Early life
Born in British Somaliland in 1937, Ismail's life was a privileged one. She was the daughter of the 'Father of Health Care in Somaliland' and her mother was the daughter of the Postmaster General of British Somaliland Protectorate. Both her parents were educated in Aden, Yemen and so her early years saw her never being short of reading material.
She was sent to Djibouti to attend school there since there were no schools for girls in Somaliland (the first was opened in 1953). Annually, the British would hold exams to select the top students for scholarships. She became the first girl to win the scholarship which then took her to London to study nursing.
The Edna Adan Maternity Hospital
In 2002, Ismail decided to set up a non-profit charity hospital. The aim behind this was to provide better health care to people who had been traumatised by war and above all else, to provide training for nurses, midwives and other health workers, in an attempt to create safer childbirth conditions for women in the region.
Being the previous First Lady of Somaliland, (as she had at one point been married to the President of Somaliland, Mohammed Haji Ibrahim Egal) she donated her UN pension and all other personal assets to build the hospital. Despite this, she needed land on which she could start her project and was then granted 9600 square meters near the city centre from the government.
Click the image below to watch the video
[facebook id="10154894844200229″]
The abolition of FGM in the region
Female genital mutilation (or circumcision) is oft practiced by tribes in Africa, Asia and some areas in the Middle East; it is the ritual removal of some or all of the external female genitalia, in an attempt to control women's sexuality, under the pretext of purity, modesty and beauty. In an interview, Ismail suggests that she became an advocate for ending it because she is "a woman and I was myself affected by FGM and from that very moment, as a child, I felt that it was unjust."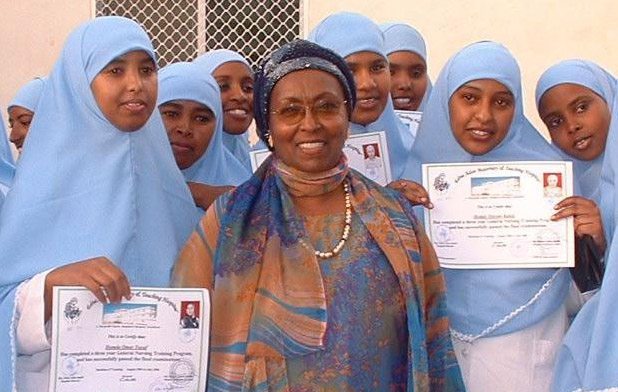 As a midwife herself, she was exposed to a multitude of cases where women suffered during childbirth and "the difficulties that I saw women facing gave me a revulsion. I saw the problems that were the result of FGM and saw the pain that women faced."
Research conducted by the Norwegian government and headed by Ismail suggested that out of the 4000 women who participated in the research on prenatal health, 97% of them had experienced FGM and with this, she swore to work harder to end this, especially through the passing of legislation and health care in the form of her own hospital. Further to this, she needed to liaise with religious leaders to reaffirm that such a practice was not on par with Islamic teachings, and to move them to make this clear to their own congregations.
Awards
• Honorary Doctoral Degree from Clark University in Massachusetts, USA, (2002)
• Entered to Medical Mission Hall of Fame, University of Ohio, USA (2007)
• Honorary Fellow, Cardiff University School of Nursing (2008)
• Chancellor's Gold Medal for Human Rights, University of Pretoria, South Africa (2010)
• Inaugural recipient of the Renfield Award for Global Health, University of Pennsylvania, USA (2010)
• Knighted by President Sarkozy 'Chevalier dans l'ordre Nationale de la Legion d'Honneur' of France (2010)
• Honorary Doctor of Science Degree from Ahfad University for women in the Sudan (2013)
• Entered to Hall of Fame, Women in Emergency Situation, Florida (2013)
• One 100 most influential people in Africa (2013)
• Honorary Doctor of Science Degree, University of Pennsylvania, USA, May (2014)