"I wish you could provide us with heating fuel. I plead to the world and all humanitarian organizations to answer our calls."
"No one leaves home unless home is the mouth of a shark," are the heartbreaking words of a refugee written by Warsan Shire, a poet who has gathered the collective refugee experience through her own family. As her own family can attest when they fled Somalia, refugees only leave home when home becomes too dangerous to live in anymore. Unfortunately, this is now the experience of countless Syrians. 
The Syrian refugee crisis doesn't have an end in sight
Almost a decade of war is the sad reality for millions of Syrian citizens. From the start of the Syrian civil war in 2011 until now, there are an estimated 5.6 million refugees and another 6.2 million internally displaced refugees. 
Syrian refugees now make up the most refugees in the world, many of them children who have never known a life except as refugees.
What kind of childhood can a kid have living in a refugee camp?
It's childhood unlike any other. Syrian refugee children have lower rates of access to formal schooling. Half of the Syrian children in Turkey, Jordan, and Lebanon don't have access to education. Why? Syrian children face barriers such as child labor, enrollment requirements, challenges with language, and more.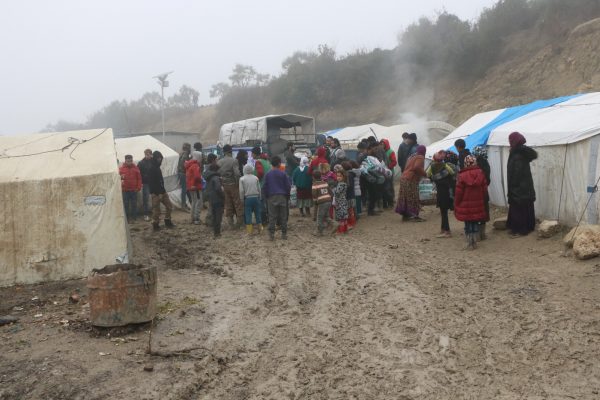 How can children learn when their basic needs aren't being met?
A majority of Syrian refugees live in refugee camps made of paper-thin tents. These tents offer little to no protection from the sun's harsh natural elements in the summer or the cold in the winter. In the winter, children in refugee camps have to walk in freezing mud with no shoes.
If they are lucky, they have ill-fitted sandals that do not protect them from frostbite. They brave the cold to pick through piles of garbage to carry back to their tents to burn.
In Lebanon, our team took the time to talk to Lynn, a Syrian refugee child, about what she truly needed. Here is what she had to say:
"I wish you could provide us with heating fuel. I plead to the world and all humanitarian organizations to answer our calls."
How can you help Syrian refugees this winter?
This year is worse than most. With the COVID-19 pandemic, Syrian refugees face peril due to overcrowding, close quarters, and lack of access to sanitary conditions. Zakat Foundation of America will be distributing one million tons of coal, thanks to God's grace, to help keep refugee families warm all winter long.
The goal is to ensure every child in the camps of Lebanon, Syria, and Turkey can stay safely warm for the winter. You can help. 
For just $150, you can warm an entire refugee family all winter. Can you imagine warming little toes and fingers? The hope you can bring to a family just by giving them fuel for the winter? Imagine a child being spared from having to walk in freezing conditions to find garbage to burn to stay warm. 
Give a child hope this winter. Warm a family today.