Despite all the efforts to erase the Palestinian identity, the women preserved their identity by storytelling non-fictional history, designing embroidery art, and preparing fine cuisine.
Palestinian women have faced struggle after struggle and continue sacrificing and fighting daily for freedom, opposing humiliation and resisting Israeli occupation. Through their struggle, they have woven myths of bravery towards freedom.
Palestinian women have played a key role in several key revolutions and uprisings, from the 1936 revolution to the Boycott Divestment and Sanctions (BDS) movement in 2005. According to The Palestinian Information Center, at least 370 Palestinian females were arrested by the Israeli Occupation Forces (IOF) since the second uprising (Al Aqsa Intifada) in 2000. Hundreds of thousands of Palestinian women suffered and were displaced from their homeland during the wars of 1948 and 1967.
Palestinian women have transcended all traditional barriers and have been civically engaged in political life and uniting the dispersed family. Despite all the efforts to erase the Palestinian identity, these women preserved their identity by storytelling, designing embroidery art, and preparing fine cuisine.
Here I would like to unveil the stories of five Palestinian women scattered around the world, from Ramallah to Tulkarem. Mahmoud Darwish, a Palestinian poet, summed up Palestinian women with the beautiful words:
"Mother, I will not name you a woman, I will name you everything".
Tasaheel Burnat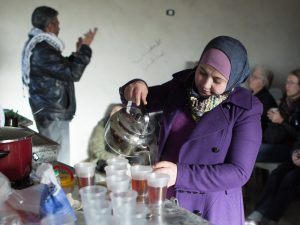 Tasaheel is a 37-year-old Palestinian activist from the village of Bilin near Ramallah in the West Bank. Together with her husband Iyad Burnat and their five children, they are considered conductors of the popular resistance in Bilin. In 2004, the occupation confiscated 60% of t village land in order to build the Separation Wall, which led farmers losing their crops and removing their olive trees. Tasaheel said, "since 2005, Bilin residents have been engaging in weekly Friday demonstrations with international peace activists from all over the world".  Tasaheel was subjected to violence many a time and her husband jailed on several occasions. Three of her sons were arrested when they were under the age of eighteen. Her son Majid was injured and is currently receiving medical treatment in Turkey; Abed Al Khaliq was harmed and is in prison, and Muhammad was attacked and jailed until he was released after paying a fine. Mayar and Mohee Aldeen are very young and have grown up with their family and villagers protesting against the occupation. They view the resistance as part of the Burnat family life and like many other families, their house is being targeted nightly by Israeli Soldiers. Tasaheel has witnessed her family jailed and harmed several times and has sacrificed everything for the Palestinians to get their land and life back.
---
Hiba Al-Jindawi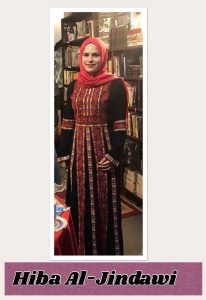 Hiba is journalist living in the Hilalia Area near Sida in Lebanon. Her grandparents were refugees from Nazareth during the war of 1948, and fled to Lebanon where she grew up and studied journalism at Al-Beirut Arab university. She is an activist in National Student Campaigns including the International Campaign for the Preservation of Palestinian Identity. Palestinians living in Lebanon refuse to give up their identity, and dream of a return to Palestine where they can enjoy the fruits of their homeland. In 2017, Hiba was involved in a program that collected stories and documented the accomplishments of Palestinians in the diaspora. She hopes of one day returning back and revealing the beauty of her homeland.
---
Farah Akef Hamouda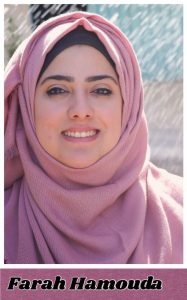 Farah was born in 1994 in the city of Tulkarem. She adored art at a young age and dreamt of becoming a famous artist.  She earned her bachelors' and graduated in 2006, studying art from The Art College at An-Najah University. Farah chose art to serve her country by preserving the Palestinian identity. She believes that art brings people together and she one day hopes to be an international artist.  She likes to teach children that art is the language of nations and the language of freedom.
---
Rola Khalid Ghanem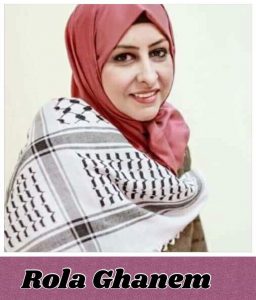 Rola is a novelist and lecturer who teaches literature. She was born in the city of Tulkarem in the West Bank. Rola earned her bachelor's degree in Arabic literature at An-Najah University and she is currently preparing her doctorate at Tanta University in Egypt.  Her influential stories containing many tales about life in Palestine during the uprising have won many competitions. She considers herself a rebellion novelist and an ambassador of Palestinian women in the Arab world. Her desire is to use the power of words to eloquently speak the truth and to show the world that despite the tragic circumstances of the occupation, creativity and beauty is born from the womb of suffering. She has published two novels: "The Green Line" and "Feelings out of the Law".
---
Rana Bishara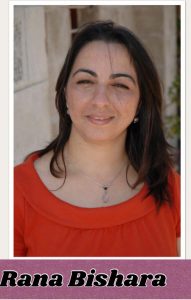 Rana is an artist, born in the Palestinian village of Tarshiha in the Upper Galilee. She studied Fine Arts and graduated from New York University and is one of the most active Palestinian artists of the land of 1948. Rana organized many exhibitions locally and internationally and wants to draw more attention to the story of Palestine and with her art. She is raising awareness about Palestine, its people and its history. Despite the occupation, her message has become stronger than art and has the power to break many barriers.
---
Palestinian women with their contributions and accomplishments highlight the history of Palestinian resistance.  Palestinian women are activists, martyrs, prisoners, teachers, writers, poets, and artists.  They are moving history forward, echoing our lives and fighting for freedom.