The book is a timely piece that reflects the prayers needed during this tumultuous time in our world.
Join Esa and his Mama as they thank God and say a prayer for people all around the world. With timeless and evocative imagery, this charming story will inspire your little ones to contemplate the world's wonders and think of others before they go to sleep. 
"Such a sweet poem to end the night with lifting the heart of the reader and the child listening into gratitude and care for the world and people around them." – Megan Wyatt, Coach and Author.
The book is a timely piece that reflects the prayers needed during this tumultuous time in our world.  It also features a disabled boy as the main character.
This book was written by sister duo Akila and Sukaina Dada. Akila is an Educator and a Child Life Specialist. She volunteers with SMILE Canada – Support Services as a team lead planning creative and educational events for children with disabilities and their families. Akila has a passion for traveling and learning about different cultures around the world.  She resides in Toronto, Ontario with her husband Faisal and son Esa.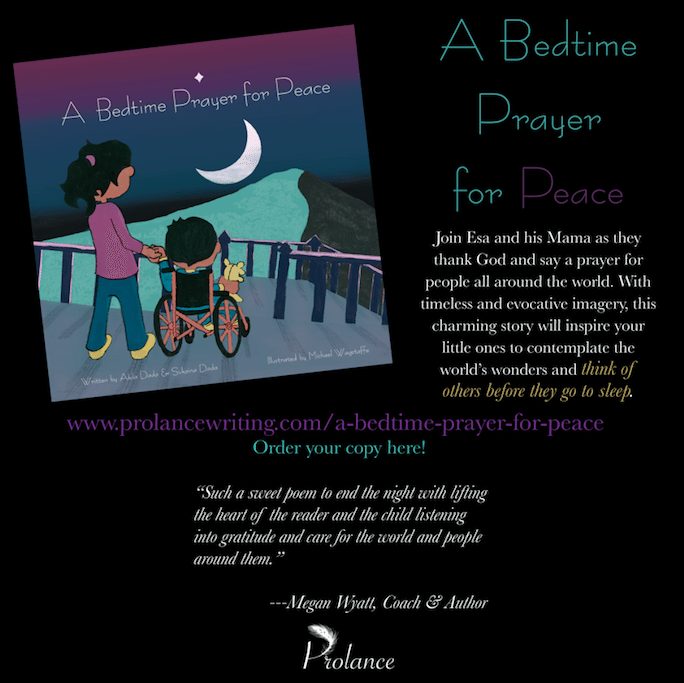 Sukaina Dada is the founder and president of SMILE Canada – Support Services, an organization dedicated to supporting children living with disabilities and their families. Sukaina works as a pediatric Occupational Therapist. She currently resides in Alexandria, Virginia with her husband Imraan and two kids Hamzah and Aayah. Sukaina is most passionate about working with children and helping communities become more inclusive and accessible.
This rhyming book is illustrated by Michael Wagstaffe who works in the Graphic Design and Packaging Management fields. He has been drawing all his life, at first inspired by nature and later from the works of Michelangelo and numerous contemporary artists. He lives and works in Hamilton with his wife Christie and their two children Lucas and Lyla.

The book is available for order at http://prolancewriting.com/a-bedtime-prayer-for-peace

---
About Prolance Publishers
Created in 2008, Prolance is a book publishing service. We focus on quality! By following each client's custom set of standards, design and artistic styles, Prolance will cater to your needs no matter how simple or complex. With an excellent grasp on the English language and its mechanics and with a great attention to detail, Prolance focuses on perfecting any project with fast service and at a low cost.
About the creator
Angie El Sherif graduated from California State University, Fullerton with a Bachelor of Arts in Communications with an emphasis on Print Journalism in 2007. She has been specializing in freelance writing since 2005; however, her writing and editing experiences date back to 2003. She has pursued her passion of literature through many media related projects, utilizing all aspects of writing and editing. Since 2010, Prolance has been a full-service book publisher, catering to local and international authors.