"Comedian" isn't a career Muslim parents have traditionally pushed their children towards. So it's no surprise there are few Muslim comedy icons. But, in Britain at least, all that could be about to change. London's New Acts of the Year Show has given its highest award to a Muslim comedian for the first time in its 30-year history. And many of the brightest new stars on the UK circuit have an Islamic upbringing.
We profile some of the Muslim pun-damentalists and ji-haha-hadis who'll soon be laughing all the way to the bank…
Bilal Zafar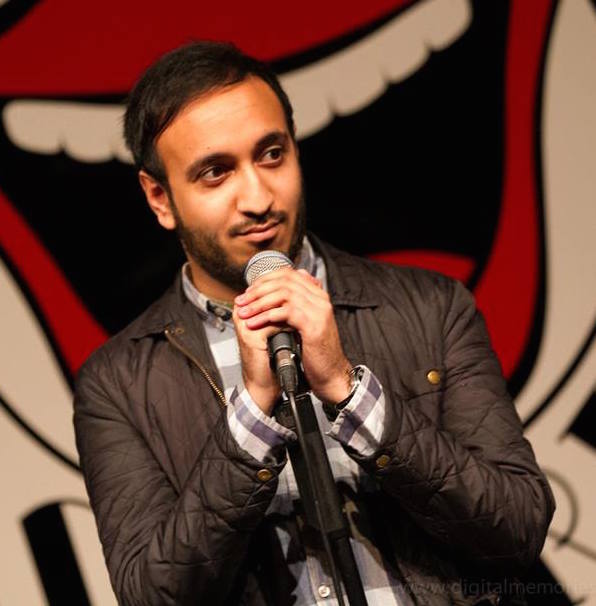 Age: 24.
Based: London.
Performing since: 2013.
Twitter: @ZafarCakes
Bilal is the fresh faced, softly spoken youngster enjoying big success in London's comedy competitions right now. He's the first Muslim winner of the New Acts of the Year Show and was runner up in the Leicester Square Theatre's New Act awards.
Young Mr. Zafar's humility is a huge part of his on-stage charm and, coupled with a story about the time he took on Muslim-hating trolls on Twitter, it's catapulted him into the limelight. He believes that the rise of Islamophobia means more people want to hear what he has to say.
The "Muslims-only cake shop" row he was inadvertently drawn into has become a rich source of material. "I found it upsetting at first but it's now become entertaining because the messages can be so stupid. I recently received an angry email telling me to go back to the Middle East. (I'm not Middle Eastern.)"
Bilal's comedy hero and the inspiration behind his career is the controversial satirist Chris Morris, whose work he started following at the age of 15.
Quote: "I developed the ambition of writing comedy as a teenager but I didn't think it was something I could ever actually get in to. Personally, I would love to be mainstream, while also being myself and not having to change anything. I do enjoy the feeling of breaking down barriers, like when I have a gig in front of an audience that most likely have nothing in common with me and I can bring them into my world, tell them things I've experienced. I would love to counter the negative stereotype of what a Muslim is in a lot of people's minds and show them that we're all the same."
Fun facts: Before he became a comedian, Bilal worked as the concierge in a high-end hotel. In his spare time he likes to make scented candles, but is a little embarrassed about having such an un-masculine hobby.
Tez Ilyas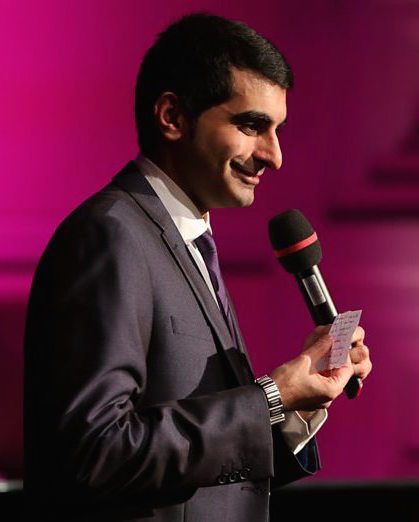 Age: 32.
Based: London.
Performing since: 2010.
Twitter: @TezIlyas
Lancastrian raconteur Tez Ilyas' cheeky personality and confident manner have propelled him to the brink of national prominence in record time. He started performing in 2010, and his unique brand of sardonic storytelling started appearing on BBC TV and radio just a few short years later. As a new act he made the finals of seven national comedy competitions. Nowadays he's working on shows for the biggest UK broadcasters.
Regarding comedy and religion, his position is very clear: "As a Muslim I am fully against mocking Islam, or any religious belief for that matter."
A fan of bad-taste sitcoms like Blackadder and South Park, the former civil servant's own comedy helps audiences understand the challenges of integration he faces as a British Muslim from a Pakistani family. It's a subject he could joke about for hours and was at the heart of the short Ramadan film he made for the BBC website, The Fast and The Fool.
Quotes: "I've always loved stand-up but never thought it would be something I could do, I come from a very insular community in Blackburn and the world of comedy or showbiz in general is a million miles away."
"I have found no bigger buzz in life than performing to an audience who love what you are doing. It's like riding a wave and you don't want to leave the stage. I take things that I am passionate about – be it religion, race or trivial things – and try and subvert them. I deliver things in a very deadpan way, as I like to keep the audience guessing as to whether I actually mean what I say."
Fun facts: Tez is a lifelong Blackburn Rovers fan and once wrote an open letter to the soccer club's owners demanding they apologize to fans for its decline in fortunes. Last year he took his mother for Hajj.
Sadia Azmat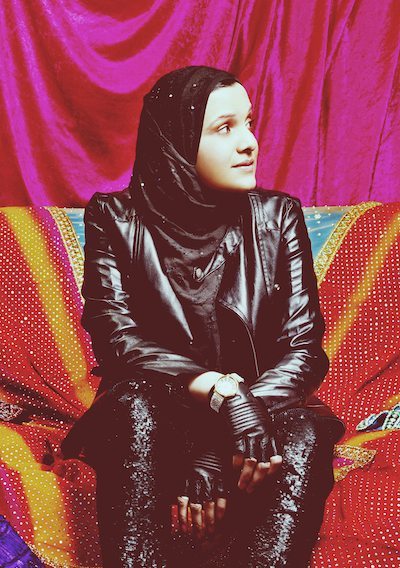 Age: "29-ish".
Based: London.
Performing since: 2010.
Twitter: @sadia_azmats_
One of only a handful of hijabi comedians, Essex girl Sadia is a former call-centre worker who was writing funny material long before she braved a stage for her first gig in 2010. A chance meeting at her workplace with a professional comedian gave her the push she needed to try her hand at stand-up.
Sadia did her first gig in front of an audience of 80 people. She remembers "that first laugh was a huge adrenaline rush. Really nerve-wracking but also the most rewarding experience in my life." And she hasn't looked back since.
In 2014 her first full length show, I am not Malala, ran for several weeks as part of the Free Festival in Edinburgh.
Sadia's career highlight so far is the short piece she made for the BBC website, Things I'm Asked As A British Muslim. Her identity as a young British Muslim runs through her comedy and she enjoys playing with and confounding her audience's preconceptions.
Quotes: "Currently stand-up is something I do part-time. It's my passion and creative outlet. I have a sensible job, which doesn't influence the material much. Although, that may be more to do with the secrecy clause in my contract rather than the lack of inspiration."
"I think, for Asian audiences, comedy has traditionally taken a backseat to education, marriage and paying bills. But as time goes on Muslims are coming around to the idea of letting their hair down and having a laugh – well it's cheaper than therapy! Currently, I would say there is more of a conservative taste in terms of content. However, I can see this shifting to a more liberal angle in time. After all they're just jokes. No one's gonna get killed(!)"
Fun fact: Sadia's kept her comedy performances totally secret from her parents!
Jay Islaam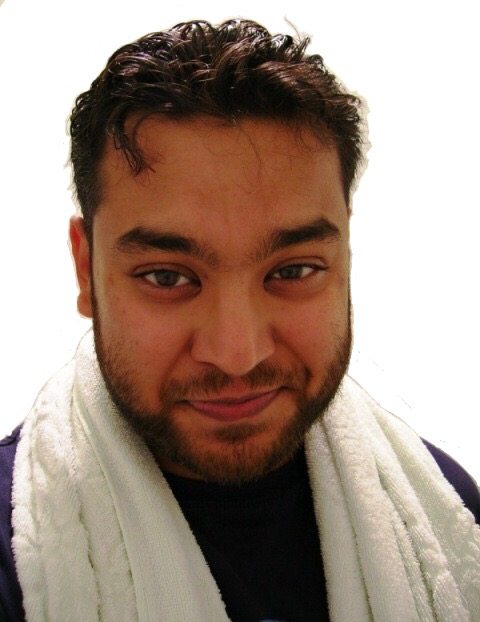 Age: 34.
Based: Cambridgeshire.
Performing since: 2013.
Twitter: @JayIslaam
Jay Islaam is unquestionably one of the bad boys of British comedy. While his sunnah-compliant desire for decorum keeps the actual profanity to a minimum, his comedy sets are brimming with innuendos and implied vulgarities.
Jay has certainly exploded onto the scene, winning 20 New Act competitions. Showered with high praise from reviewers and comedy clubs, he picked up a National Newcomer Award less than a year after his first gig, and is expected to collect several more this year too. But along with the very evident talent also comes a notoriety normally associated with rock stars.
Most comics claim George Carlin and Bill Hicks as personal heroes. But Jay is one of the very few who dare to attempt, and even successfully emulate, their boldness and sharp-tongued social commentary. While he's painfully polite and introverted in person, his on-stage and online personas can be controversial and deliberately provocative, offering highly intelligent and layered satire. It's won him more than 50,000 followers on social media but has also resulted in Jay being blacklisted by some of the smaller comedy clubs, who found his intellectually challenging comedy difficult to swallow.
Quotes: "I'm a comedian who also happens to be Muslim, and have no desire to exist in a manufactured cultural ghetto. "Muslim comedy" like "Christian Rock" will always be ridiculed as sanctimonious, and rightly so. Have you seen the "Muslim comedy" stuff the BBC has been doing? It's short on laughs and big on educating (i.e. preaching to) the audience, which is inevitably going to be Muslim anyway. No thanks!"
"The "safe space" bubble of Muslim-friendly right-on audiences is artistically worthless and for the cowardly. Give me a room full of drunken racists instead. Facing, and dominating, crowds like that takes courage that few can hope to possess."
Fun facts: Jay presents a weekly Arts and Culture show on Radio Peterborough. Before he was telling jokes for a living, Jay worked as a script editor for the main UK TV channels and, according to rumor, he's been romantically linked to a British soap actress but he's very tight-lipped about the subject.
Aatif Nawaz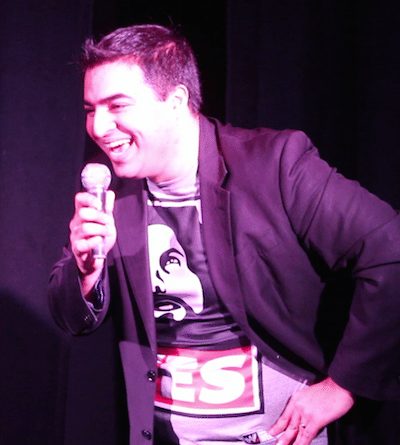 Age: 31.
Based: London.
Performing since: 2006.
Twitter: @AatifNawaz
Now a fixture on the UK's Islamic and British-Asian TV channels, Aatif Nawaz originally trained to be an actor. His transition into stand-up happened quite by accident when a musical malfunction at a Bollywood dance show forced him to take the mic and entertain a crowd with off the cuff banter for 45 minutes!
His career highlight so far has been the acclaimed solo show, Muslims Do it 5 Times A Day, he's performed to more than 2000 people at venues in London, and at the Edinburgh and Leicester Festivals. Aatif's comedy hero is Brit-Iranian funny man Omid Djalili. "His energy is infectious. He's everything I want to be… except bald!"
The ever-cheerful Punjabi entertainer's parents hail from Lahore, and he visits Pakistan at least once a year. Being fluent in both English and Urdu means Aatif can make every trip to his parents' birthplace a working holiday. Just a few months ago he was cracking jokes at a student gig on the University of Lahore's campus.
Quotes: "I think as a Muslim comic there is a tremendous pressure to acknowledge your Islamic identity on stage. Obviously, one can do this in a positive way, but the temptation to play into lazy stereotypes is one I've seen a lot of comics play into. I personally don't have an issue talking about Islam. I'm very happy doing it. The way I look at it, there aren't enough people like me in mainstream media, reflecting my opinion as a Muslim person. It's one of the main reasons my show 'Muslims Do It 5 Times A Day' had such a long run – it was something people were interested in and, I like to think, a point I made well."
"I think the most difficult moment of my comedy career was my first bad review – that first rejection. Over time you get past it and realize it's part of the job. The real challenge is to keep motivated. You do show after show and often times the lack of progress can be frustrating. You constantly have to prove yourself to a new batch of people. And all the time you spend away from your family and friends. But, of course, you do it. Because you love stand-up comedy."
Fun fact: Despite being a regular on Islamic TV, Aatif recently hosted a Christmas comedy show, in which Jay Islaam (above) also starred, on a Brit-Asian TV channel.
Steve Kandel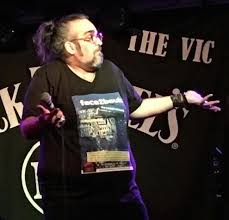 Age: "Forever 27".
Based: Egypt.
Performing since: 2002.
Twitter: @SaifadinAK
Steve Kandel – the stage name for Saif Abu-Kandil – is a Saudi-born British comedian with an American accent and Kurdish ancestry who is based in Egypt! With a colorful backstory like that he was always destined to be a humorist. A skilled impressionist, and sometimes musical comedian, Steve has recently started making waves on the Egyptian scene, where he operates the Ronin Comedy events company.
Steve has been to the Edinburgh Festival five times in the last decade, and last year he did a mini-tour of the UK performing his "12 Years A Stoner" showcase, talking candidly about drug use. However, his religious faith is important to him and shapes his on-stage identity. "If I say something that may anger God then I feel horrible afterwards or guilty. It's very easy to lose track of where I am or what I am saying, as adrenaline pumps and alters the brain waves that control my routine."
Steve's humor is inspired by classics like Monty Python, Marx Brothers, Abbott and Costello and only recently he was declared "one of Egypt's finest comedians". Regularly performing in both English and Arabic, he hopes to one day become "the next Russell Peters".
Quotes: "Even the Prophet, Peace Be Upon Him, was a fan of humour, laughter, and enjoyed the odd joke. We are on this earth for too short a period, make an echo that is heard down throughout the era, and live without fear or hate of yourself, for you are your own worst enemy.
"Being a comedian is hard work, and the surrounding environment has a lot of impact on what you can achieve, yet you can make the change you want to see around you occur. My hope is that we have solidarity, and never let ego or love of money destroy us."
Fun Facts: Growing up, Steve always wanted to be either an opera singer or an American homicide detective. He can also do the splits! Steve ran Egypt's first ever English-language comedy night back in 2004.