As we commemorate Martin Luther King Jr, and his non-violent activism against racial discrimination, we at KitaabWorld want to honor his legacy.  Dr. King called on us to live by our noblest ideals and brought hope and healing to a fractured nation. His dream of a colorblind, multicultural country welcoming of people of all races is a source of great inspiration especially in today's world.
"A Kitaab for a Cause: Counter Islamophobia through Stories" is our way to honor Dr. King and do our part to fight hate with knowledge.
---
Many of us are concerned with the acute increase in hate speech by the President Elect over the course of the election that normalized racist behavior, the vilification of entire communities with one single broad stroke, the visible rise in hate crimes and incidents of Islamophobia in the last few months and the appointment of an entire team to positions of power that sees Islam and its followers as evil.
A report by SAALT released last week has stated that the recent hate violence has reached historic levels mirroring the days post 9/11. Unfortunately, these hate crimes trickle down to children as well with increased bullying and isolation for children. The 2016 Noor Kids Muslim Children's Identity Study reported the effect of anti-Muslim rhetoric on Muslim kids with troubling results: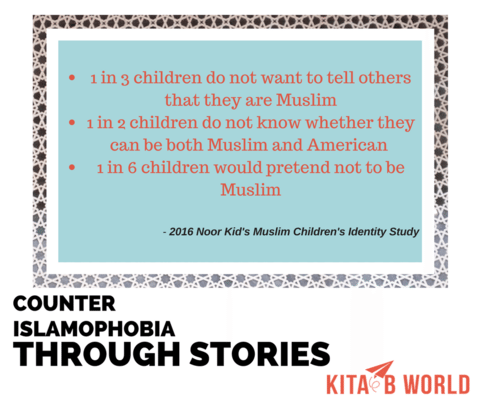 At KitaabWorld, we want to change the stories and misinformation about Muslims, especially for young and impressionable minds. Research indicates that exposure to other cultures should begin at an early age. Learning about our similarities, understanding our differences and sharing our stories goes a long way towards creating respect and acceptance of one another.
But can a book do all that? 
One book, even just one story can open windows to different worlds. It can, proverbially, put you in someone else's shoes – blisters and all.
Curated thematic book lists
There are over 1.5 billion of Muslims around the world, and so there are many stories. How do you break down a 1400 year old religion, culture and a way of life in a way that isn't overwhelming? We have curated our book lists on four different themes to provide you – parents, teachers, librarians and others –  with multiple opportunities to engage with these stories: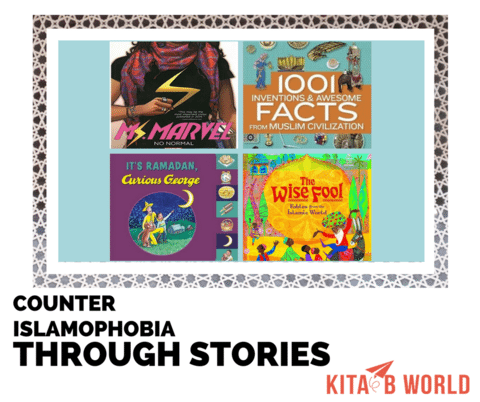 (i) Muslim Kids as Heroes: These picks feature stories that reflect positive stories of Muslim children their day to day experiences. For non-Muslim kids, these books create an understanding of our similarities and differences, not to mention these are fun stories you just want to gobble up!
(ii) Inspiring Muslim Leaders and Thinkers:  Did you know that over 1001 inventions by Muslims have contributed to the world today? This collection highlights books on the intertwined histories of the East and the West along with stories of inspiring Muslim thinkers, explorers and leaders from the past to the present.  
(iii) An Introduction to Islam: Being Muslim is a way of life that encompasses everything from food to etiquette, personal conduct, prayer, charity and more. This book list serves as an way to understand the diversity, history and celebrations of Islam.
(iv) Folktales from Islamic Traditions: Our collection of folktales from Islamic traditions, which are familiar to Muslims all over the world is sure to open up beloved stories and merge the old and new worlds!
Each week we will launch a book list, author interviews and personal stories related to the theme.
You can make a difference!
Support our 'Counter Islamophobia through Stories' campaign and help us make a difference.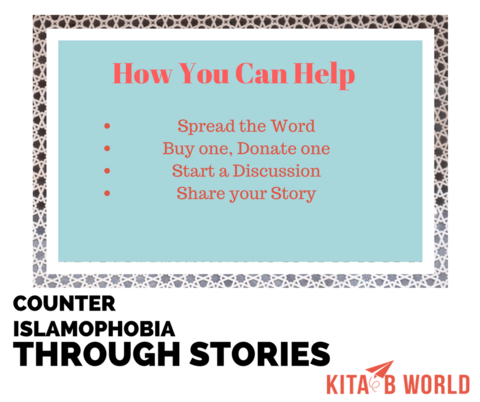 (i) Spread the Word: Share our booklists and author interviews with friends, teachers, librarians and parents. We will be posting new booklists every week.
Use hashtag #counterIslamophobiathroughstories. (For updates, follow us on Facebook | Twitter | Instagram.)
(ii) Buy One, Donate One: Get one or more of these books for your home, and/or donate them to schools and libraries around you.
We are offering a 20% discount on all books in our entire book collection titled "Counter Islamophobia Through Stories" Use code "KITAABWORLD20" to get 20% off anytime before February 28, 2017.
(iii) Start a Discussion with children in your community. Use our books coupled with lesson plans to move from stories to ideas to action.
(iv) Share Your Story about an inspiring experience or your attempts to counter Islamophobia, and get featured on KitaabWorld! Email us at contact@kitaabworld.com.
Join us to create a bridge of cultural understanding book by book, story by story.