Stanmore Jafferys Football Academy wins "The FA For All" award at the Asian Football Awards
Football really is a game for everyone!
Football really is a game for everyone!
Stanmore Jafferys Football Academy won "The FA For All" award at the fourth Asian Football Awards, held on 14th November 2017 at The Grange St Paul's Hotel in London.
---
This award is for an individual of Asian origin or for a project that is working with Asian communities, supporting The FA's objective of getting more Asian communities involved in the game. This is part of The FA's wider campaign to make sure everyone knows that football truly is 'For All' people from all backgrounds and in all areas of the game.
The basis for the nomination and award was the Salaam Cup in July this year, where SJFA extended Salaam (Peace) to communities and clubs across the UK, welcoming members and guests with the message of peace, unity, respect and harmony where 500+ players from 11 communities/clubs with 57 teams across represented various communities, clubs and faiths.
The Asian Football Awards (AFA) have been created to reward and recognise Asians in the football industry. The aim is to provide a platform for Asians to promote their skills whilst also showing the football world that coaches, volunteers, players, administrators and fans are Asians who simply love the game.
Stanmore Jafferys Football Academy (SJFA) was formed in October 2015 and two years on have:
more than 200 players on their registers, representing teams from U5's – U21's
obtained FA affiliation in November 2016
safeguarded and emergency-aid trained all their 30+ coaches, of which 18 are due to complete FA Level 1 Coach qualification in December 2017.
been nominated for a British Ethnic Diversity Sports Award (BEDSA 2017)
won the "The FA For All" award at the Asian Football Awards 2017
been awarded recognition from both Barnet FC and the Middlesex FA in relation to our community and grass-roots work
hosted Salaam Cup 2016 and 2017
participated in international community tournaments
regularly played external competitive and friendly games
launched and engaged in their Social Responsibility Programme with charity partners both in the UK and overseas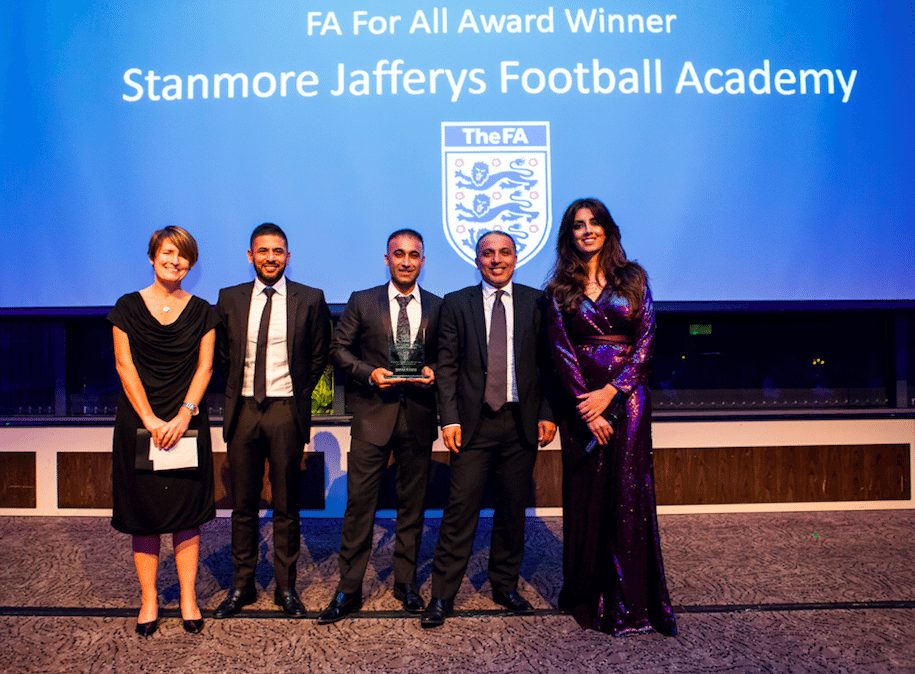 ---
For more information, please visit:
http://www.thefa.com/news/2017/nov/15/stanmore-jafferys-asian-football-awards-151117
http://sjfa.org.uk/2017/11/15/asian-football-awardsand-the-winner-is/