Mubeen Patel is the founder of the Canadian company North Accent, a brand that designs watches exclusively with Arabic-script numerals with a focus on reliable, quality watchmaking that speaks to modern fashion. North Accent was featured in GentlemanBox and at New York Fashion Week in 2018.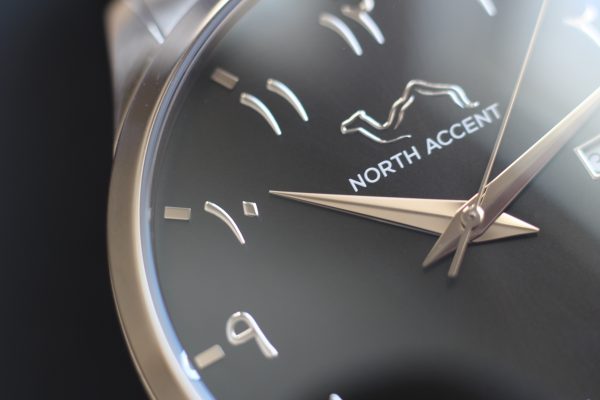 They currently have two collections of watches. Their debut Moment Collection is a stylish, versatile, everyday-watch with over 40 styles available for men and women. Their new Grand Collection is curated for those watch hobbyists and connoisseurs who appreciate the uniqueness of watch designs and for those who are looking to make a statement with their watch, while incorporating higher-end elements found in luxury watches. The Grand Collection comes packaged in a larger, matte box and gloss sleeve, creating a bold aura and presentation.
TMV spoke to Mubeen about his brand, and how its creating waves in the fashion industry and how we incorporate style with art & culture.
Tell us a little bit about North Accent, and how it started?
North Accent was created with a vision in mind to balance culture, fashion, art, history, and identity in a classy and sophisticated way. The goal was to seamlessly combine our present-day Western culture with the roots and historical impacts and relevance of the often-forgotten Arab-world, to display a harmonious merger of two different times and places.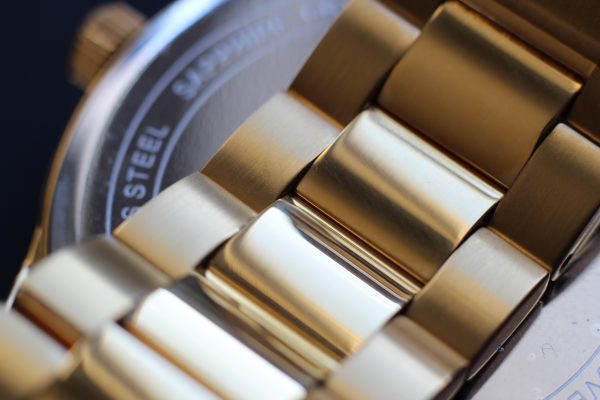 Wristwatches are a staple and timeless accessory, emanating a look of class. It brings together a person's outfit and is appropriate for any occasion, which is reflective of what North Accent stands for. It's a display of how anyone can incorporate culture, history, and identity into modern fashion. Similar to how Roman numerals have made their place into wristwatch fashion, stemming from the commemoration of the Roman times, our Arabic-numeral watches are designed to create the same feel and inspire the same awe.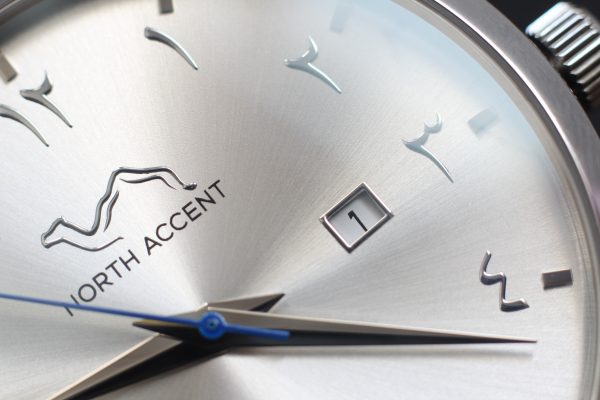 The Arabic language and the history of the world from the Middle-East have impacted life on earth in so many ways and has often been the center of education, innovation, and the language of top-level academia. Paying ode to these times and societies is what North Accent aims to accomplish.
What are the two different collections North Accent has? 
The first collection North Accent released was the Moment Collection, designed as a slim, classic, everyday watch, with a minimalistic look and variety of colour options. It's the perfect go-to for any kind of outfit and its very budget friendly while still maintaining high-quality standards. Many of our customers were first-time watch buyers, drawn in by its relevant style to modern fashion with the uniqueness of the Arabic dial. The slogan 'a moment in time' expresses how our everyday choices, gestures, actions, and intentions are the catalysts that bring about change on Earth. We see revolutionary brands displaying their impact on culture but, we forget that they too were once just a start-up idea that someone decided to take on. Like that, North Accent aims to create a mainstream watch fashion with its Arabic-numeral design, to bring about a societal change to how the world sees the Arabic language, religion, and culture.
The Grand Collection narrows in on the watch market with a line that's the only one of its kind in the world. North Accent curated a timepiece that was designed to make a statement with features often found in luxury watches. The Grand Collection is made with all stainless steel and uses Double-Domed Glass, Sapphire Crystal, Swiss Ronda movement, an Oyster watch band with brushed and polished links, features a 31-day date window, and the whole collection is made using a sunburst dial. It has a luxurious look and feel and can be fine-tuned for the perfect fit. It's an ideal everyday watch for those who like all-steel watches, for those looking for a high-quality statement piece, and it's perfect for gift-giving. It's also available in four different kinds of steel and an array of colours to choose from.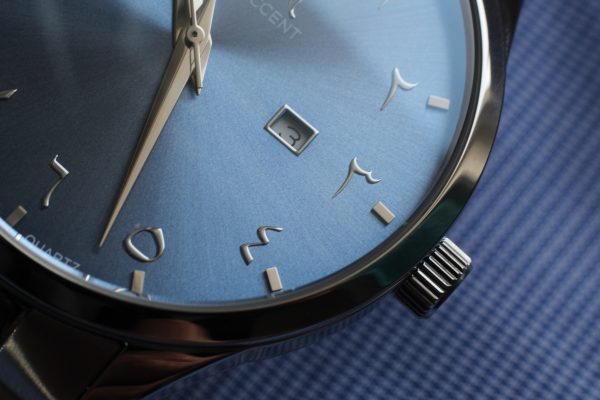 What are some of your goals with North Accent? 
In the past, brands like Rolex, Bvlgari, Patek, Seiko, IWC, and others have created exclusive and limited-edition watches featuring Arabic-numeral dials. Today, those same watches are highly-sought after, very rare, and are admired by watch hobbyists of all backgrounds and cultures. After our feature with GentlemansBox, we saw an overwhelming response from a demographic of customers that were mainly from non-Arab, non-Muslim customers. They were people who enjoyed fashion, appreciated innovation, and bought our watches for those very reasons. After seeing these patterns, we're confident that inshallah, there's a market for budget-friendly and accessible Arabic-numeral watches too.
The main goal for North Accent is to create a mainstream fashion statement with Arabic-numeral watches, as a celebration of a culture and of a history that's contributed so much to the modern world. Similar to how Roman numerals and European fashion has dominated the scene, there's no reason why Arabic-numerals can't hold a similar position. We have tons of mainstream celebrities with Arab and Muslim roots who are well-known and recognized in Western culture and yet, their backgrounds and often their religion are completely ignored. As we see people explore their cultures and backgrounds more and are less afraid to embrace themselves, it'll have an impact on all those who look up to them. Eventually, we really do believe our watches will find a place in mainstream fashion.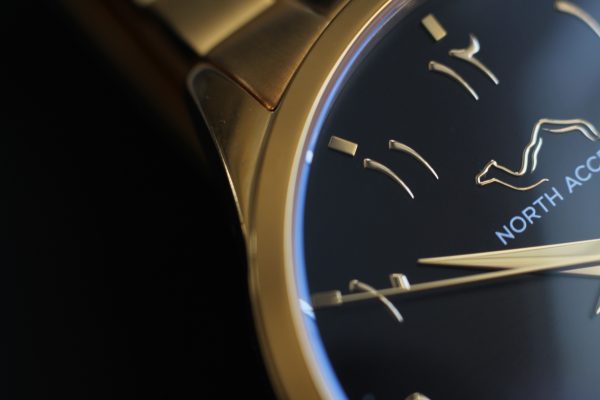 —
North Accent offer free shipped worldwide and using checkout code 'themuslimvibe' you can get an exclusive 10% discount on all their watches! Check out their full collection online on their website.
Follow them on Instagram @northaccent and like them on Facebook, to keep with their mission in changing how we view our own identities.