8 scrumptious desserts to make your family this eid!
Salaam everyone! This is Ayesha from mybigfathalalblog.com. Today I'm sharing 8 of my favourite dessert recipes with you that are perfect to make for Eid! I hope you like them :)
---
1. Knafeh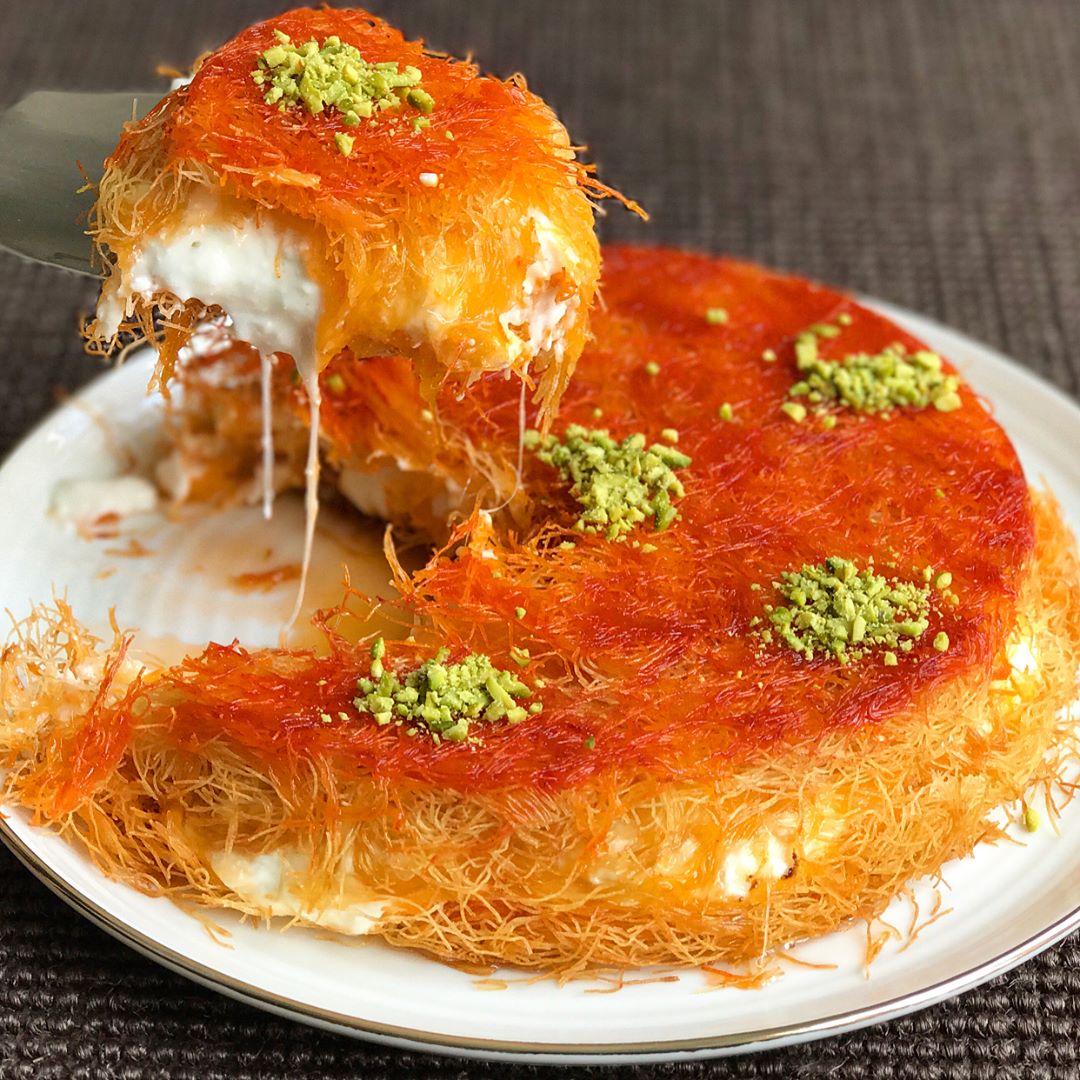 Ingredients
For the sugar syrup
-2 cups sugar
-1 cup water
-1 tsp lemon juice
-1 or 2 sticks cinnamon (optional)
-1 tsp rose water (optional)
For the Knafeh
– 1 packet of knafeh dough (you can find this at many Middle  Eastern grocery stores)
– 6 tbsps butter/ghee
-Orange powder food colouring (optional)
– 1 litre milk
-4 heaped tbsps corn flour250g Ricotta cheese
-250g Ricotta cheese
-200g Mozzarella
-Handful of pistachios
Instructions
1. Preheat your oven to 200°C
2. Begin by adding the ingredients for the syrup to a pan and heat over a medium flame for about 10-15mins. Set aside and leave in the fridge until later.
3. Add 4 tablespoons of butter/ghee to knafeh dough/pastry and mix with your hands so that the butter/ghee is spread evenly throughout the dough.
4. Divide the dough into 2 halves.
5. Spread 2 tablespoons of butter/ghee onto a 12" round baking tray. At this point, you can add the orange food colouring to the ghee so that the top of the knafeh has an orange colour (optional).
6. Spread half of the dough onto the tray and press it down firmly.
7. Place in the oven for 10-15mins until golden.For the cheese- heat 750ml milk in a non-stick pot and keep stirring so that it doesn't burn.
8. For the cheese- heat 750ml milk in a non-stick pot and keep stirring so that it doesn't burn.
9. Mix 4 heaped teaspoons of corn flour in a separate cup of 250ml cold milk until it dissolves and add this to the milk in the pot. Keep stirring until the milk thickens to a custard-like consistency (add more corn flour if needed).Once the milk has thickened, add 250g of ricotta cheese and 200g of mozzarella.
10. Once the milk has thickened, add 250g of ricotta cheese and 200g of mozzarella.Once the cheese has melted, use a hand held blender to smooth the mixture.
11. Once the cheese has melted, use a hand held blender to smooth the mixture.
12. Pour the cheese over the dough that was in the oven and leave the edges free of cheese to prevent burning.
13. Place the other half of the knafeh dough over the cheese and press down gently.
14. Put in the oven again for 15mins until golden.
15. Once done, pour the syrup over the knafeh and decorate with nuts of your choice – I used pistachios.
Notes
– You can find the knafeh dough and knafeh powder food colouring at Middle Eastern supermarkets.
---
2. Kalakand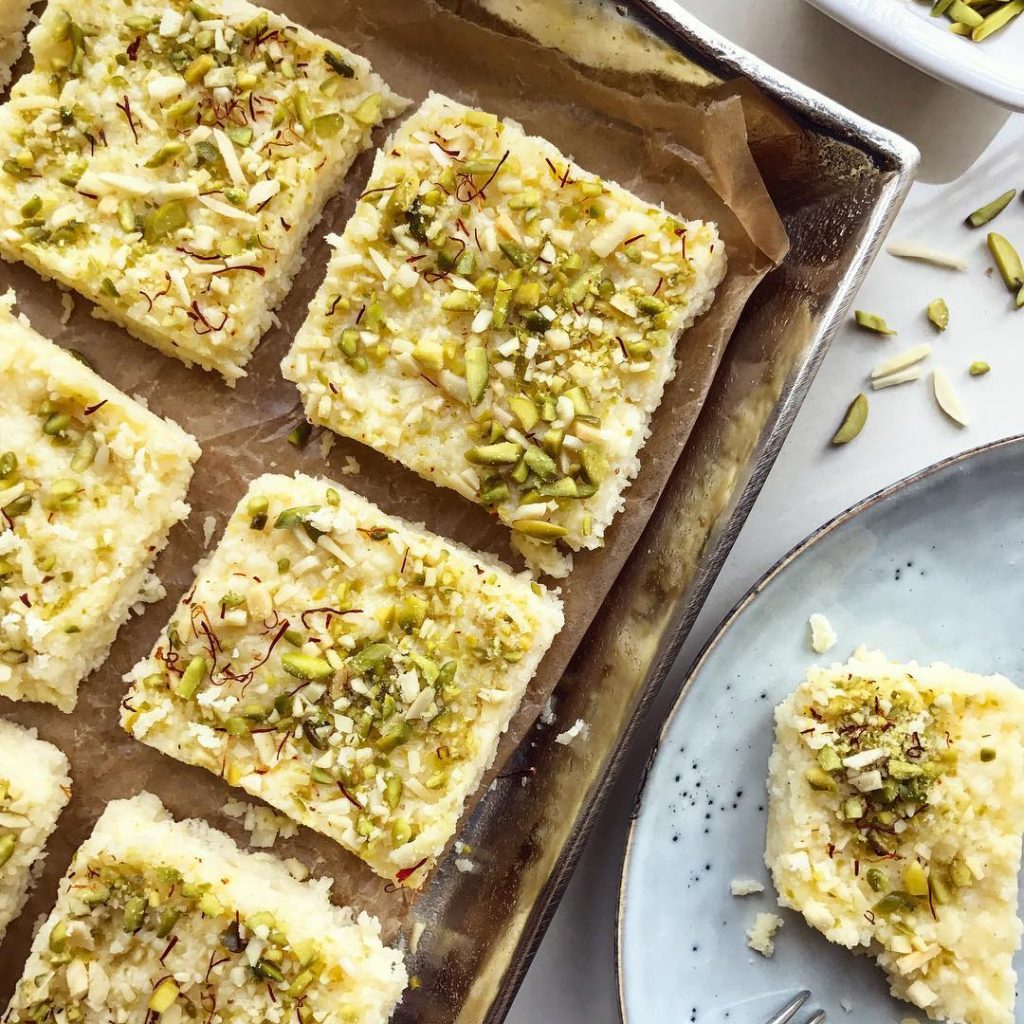 Ingredients
– 1 tin condensed milk
– 400g paneer
– 3/4 teaspoon cardamom powder
– 1 tbsp sugar (optional)
– Handful of chopped nuts to decorate – e.g almonds and pistachios
Instructions
1.Line a square baking tray with greaseproof paper and set aside.
2. Finely grate the paneer.
3. Add the grated paneer, condensed milk, cardamom powder and sugar to a pot and heat over a medium flame.
4. Mix constantly to prevent burning for about 7-10 mins. Once the liquid starts to reduce and the mixture moves away from the pot remove from heat immediately.
5. Pour the mixture into the baking tray and top with nuts.
6. Once cooled, place the tray in the fridge overnight to set.
7. The next day, cut the Kalakand into squares and serve.
Notes
– This recipe makes 12 large squares of Kalakand.
---
3. Strawberry Mousse Recipe

Ingredients 
– 1 tin condensed milk (400g)
– 1/4 cup lemon juice
– 2tbsp icing sugar
– 300g strawberries
– 250g cottage cheese
– 500ml whipping cream
– 1 tsp vanilla essence
Instructions
1. Blend the condensed milk, lemon juice, icing sugar, strawberries and cottage cheese together.
2. Add 1tsp of vanilla essence to the cream and whip until medium to stiff peaks form.
3. Fold about 2/3 of the cream into the strawberry mixture.
4. Divide the mixture into serving dishes.
5. Pipe the remaining 1/3 on top and decorate with strawberries. 
Notes
– This recipe makes 6-8 servings.
---
4. Frozen Rose Lassi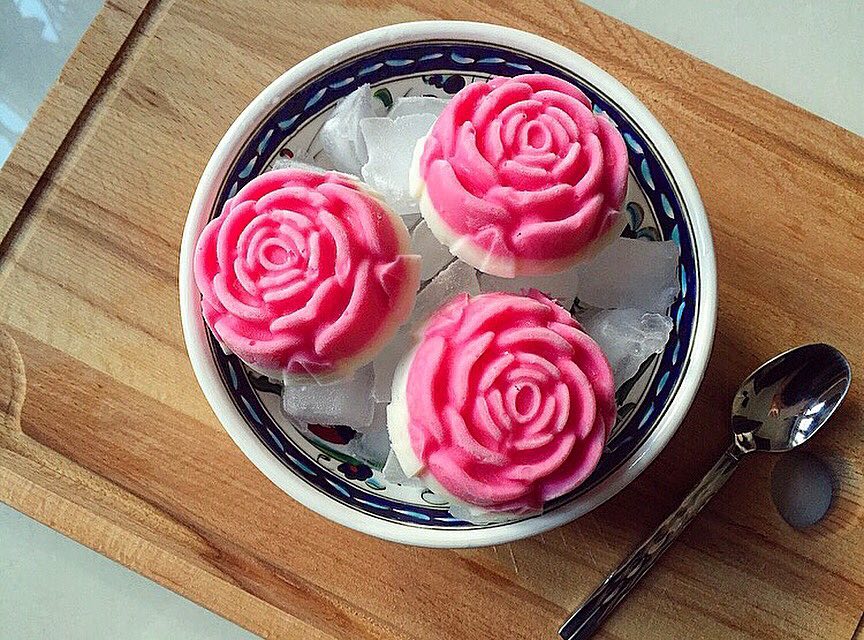 Ingredients
 For rose lassi
– 8tbsp vanilla or plain yoghurt
– 6 tbsp rose syrup
– 4 tbsp milk
– 1 tbsp sugar
 For plain lassi
– 4 tbsp vanilla or plain yoghurt
– 2 tbsp milk
– 1 tsp sugar
Instructions
1. Mix rose lassi ingredients in one bowl, and plain lassi ingredients in another.
2. Add rose lassi to your mould so that it is ⅔rd full.
3. Freeze for about 40 mins (it doesn't have to be completely frozen, just a little hard so that the plain lassi doesn't mix with the rose).
4. Top up the mould with plain lassi and freeze for at least 2 hrs.
Notes
– You could add vanilla essence to sweeten plain yoghurt.
– Even though I used rose moulds, you could use any shape … they would make great ice lollies!
---
5. Vermicelli Pudding
 
Ingredients
– 1 litre full-fat milk
– 1 cup vermicelli
– 1 level teaspoon agar powder
– Pinch of cardamom powder (more if you like a stronger flavour)
– 1 tin condensed milk
– 1 tin of Nestle Carnation topping thick cream
Instructions
1. Boil the milk, vermicelli, agar powder and cardamom until a thick consistency is achieved.
2. Remove from heat and add the condensed milk and thick cream.
3. Mix well and put into desired serving dish.
4. Sprinkle with crushed pistachios and allow cooling for 40 mins.
5. Once cooled, place it in the fridge until serving time.
Notes
– Leave for 40mins to cool before putting in the fridge.
---
6. Oreo and Caramel Dessert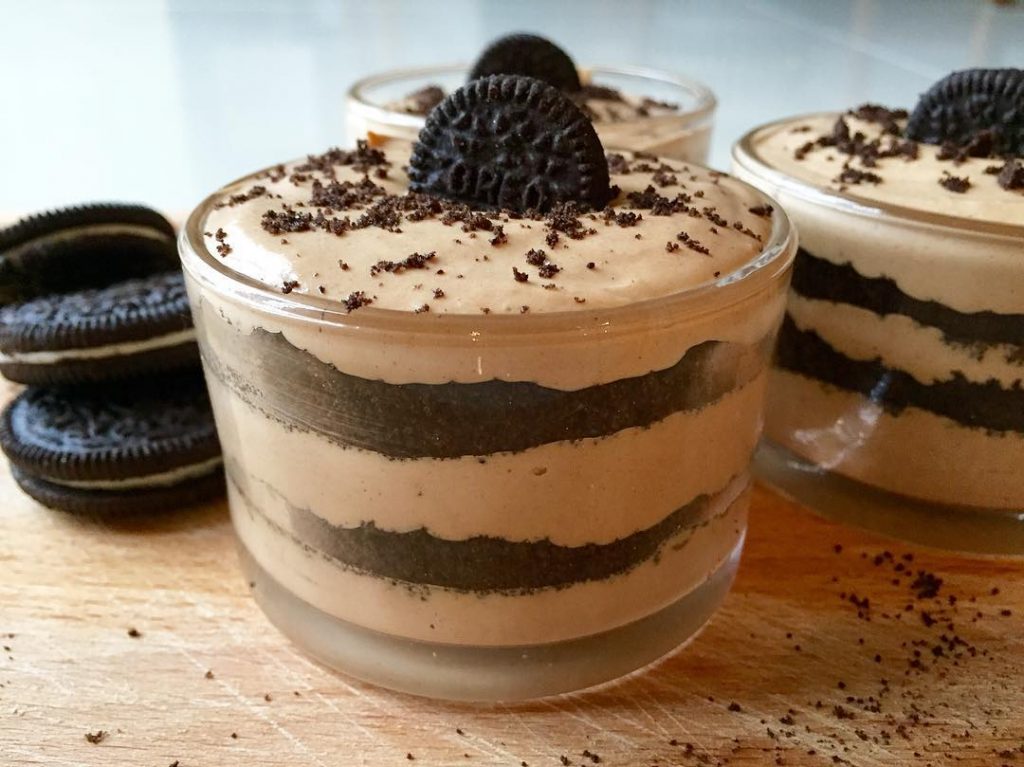 Ingredients 
– 280ml fresh cream
– 1 tin Carnation Caramel
– 3 tbsp cocoa powder
– 1 packet Oreos
Instructions
1. Whip the cream until it forms stiff peaks.
2. Add the caramel and cocoa powder until fully combined.
3. Crush the Oreos and layer it with the caramel mixture in a serving bowl.
4. Decorate with mini and crushed Oreos.
5. That's it – super easy!
---
7. Funfetti Cake Balls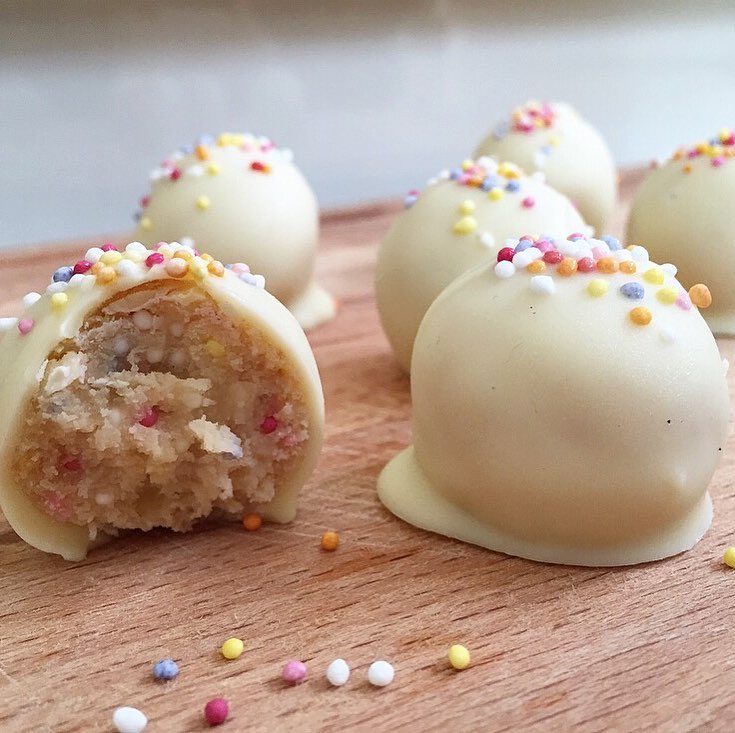 Ingredients
– 300g Madeira cake (or any sponge you prefer)
– 2 – 3 spoons Buttercream
– 250g White Chocolate
– Sprinkles
Instructions
1. Break the cake into crumb-sized pieces.
2. Add the buttercream one spoon at a time, and mix with the cake until a dough-like consistency is formed.
3. Add sprinkles to the cake and buttercream mix.
4. Roll into small balls and place on a tray lined with baking paper.
5. Freeze for 15-20 mins.
6. Melt white chocolate and coat the balls.
7. Add sprinkles to decorate while the chocolate is wet.
8. Leave aside to allow chocolate to set.
---
8. Mango Panna Cotta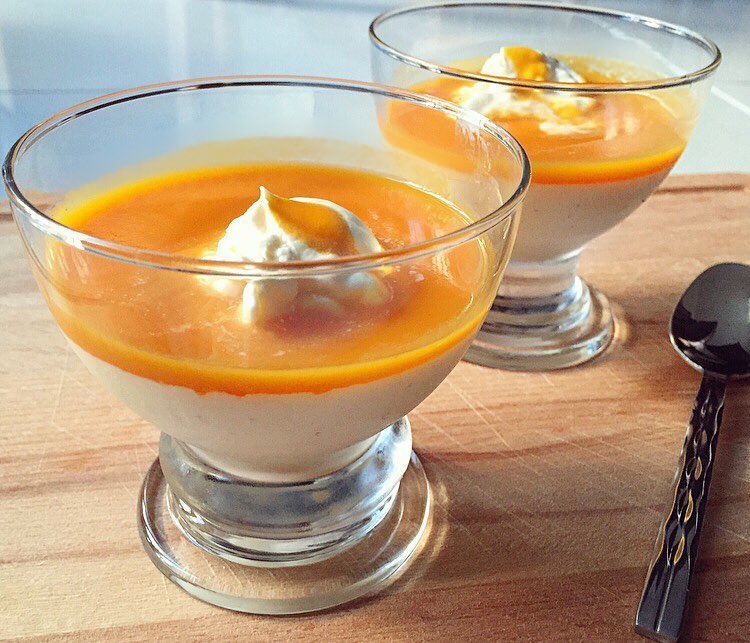 Ingredients 
– 1 1/2 pint double cream
– 9 tbsp sugar
– 1 tsp vanilla paste
– 3 tsp of halal gelatine granules
– 3 mangoes
Instructions
1. Begin by mixing the cream, sugar and vanilla paste and bring this to a boil.
2. Carefully add the gelatine granules, making sure everything is blended well.
3. Set in dessert bowls and chill for several hours in a fridge
4. Liquidise and chill the mangoes
5. Once the Panna Cotta has set, top with mango and some cream.
Notes
– You could use sweetened mango pulp if fresh mangoes are not available
---
Hope these come in handy! For more recipes please visit my blog here.