Saeed and his family ran a small and humble restaurant outside the Fudan University Campus halls. Typical of these small 'Lanzhou Lamian' places, the menus would be similar across all of these types of restaurants with only slight differences. The main thing they all had in common was that they catered for Muslims, serving halal meat. Seeing the halal sign on Saeed's restaurant before I entered the student dorms for the first time filled me with relief as it confirmed that I wouldn't have to be a vegetarian for my year long stay in China; not that being a vegetarian is bad or anything, but I like my meat.
Saeed's place really epitomised the stereotype I had of warm and friendly Chinese Muslims. They were my first experience of interacting with Chinese Muslims and this family run restaurant included three generations. This first encounter was the first of many that I would have with Chinese Muslims in my yearlong stay in the Middle Kingdom.
The more time I spent in Shanghai, the more relaxed I felt as there was a sizeable Muslim community and the more I learnt about Muslims in China. Muslims in China are as diverse as China itself, with as much as ten different Muslim ethnic minority groups. The most predominant Muslim ethnic group in China are the Hui people whom are concentrated in North-western China in provinces such as Ningxia, Gansu, Qinghai and Xinjiang. Although I didn't get the opportunity to visit these places, I was surprised to see myself mingling with Muslim communities here in Shanghai, all whom hailed from these places.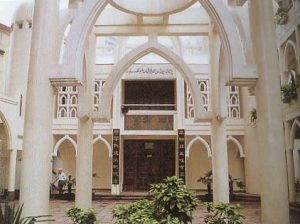 There are 7 mosques in Shanghai, one of which is a female only mosque. The most famous mosque is Huxi where every Friday, there was a halal food market open in the afternoon. I remember before going to China and during my stay there, my friends bombarded me with messages regarding certain restrictions on Muslims. It is true that the government are strict in certain places and regions, as you can read more about here.  It is also true that some Muslims who really want to go Hajj cannot because the authorities have a strict quota and usually, only those with the money and connections are able to visit Mecca. An owner of these typically family run 'Lanzhou Lamian' restaurants told me he probably can't go to Hajj in his lifetime.
On a bigger level, in our University halls, we were given a document for rules and regulations in the dormitory. It stated we cannot have private religious gatherings and if the school found out, students could be faced with expulsion. However, the government also ensures that every University canteen in China has to have a halal section. When I saw that sign for the first time in a section of the canteen, I was over the moon. Even during Eid Al-Fitr, Muslims in Shanghai were allowed to flock to the streets to pray their Eid prayers, and they were in huge numbers.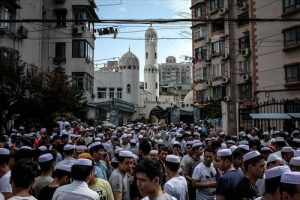 Speaking of Eid and Ramadan, we were extremely lucky to have iftar and suhoor free of charge for the whole of Ramadan at our canteen. Even owners of these 'Lanzhou Lamian' places would stay open until suhoor and they would not accept payment from you if you ate suhoor at their place. I mean that doesn't even happen in London! From my ignorant view, it just seems that the government are ok with you if you're Muslim, so long as the region you're in/or you as an individual are not causing trouble.
I have talked about how these 'Lanzhou Lamian' places are typically family run. The family typically migrates from the Northwestern provinces to open a shop in Shanghai, but their shop is usually their home too. If they were a big family, it would mean they'd be huddled up and cramped. I saw one instance of this when I was on my way to work one day; I stopped to have lunch and then asked if I could pray. They took me upstairs to what could be described as an attic with a low ceiling. It turns out this 'attic' was also the place the family of 7 would sleep. The celling is so low that I couldn't stand up straight for prayer and my neck had to be bent downwards. With soaring real estate prices in Shanghai, this is the only thing families coming from different parts of China can afford. It was incredibly saddening to see but it was amazing to see their contentment with what they have.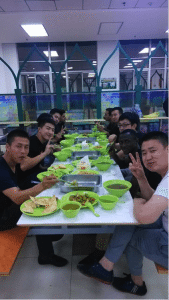 What was also interesting to see was how alcohol was prevalent in some of the Muslim cultures. Many of the top Xinjiang restaurants and even small Lamian places served alcohol, and not just for profit purposes, but also due to it being ingrained in their culture. In Beijing, I was in a small Muslim restaurant that served alcohol and saw it as a perfect opportunity to practise my Chinese and asked why they serve it. They said that they had grown up with it and were accustomed to it. It was interesting to hear and funnily that same night, I stepped into a taxi and the driver was a Muslim. I told him what happened and he's said for some it's a part of their culture, but he himself refrains from consuming it.
A lot of my experience was based on food because I feel that it's the halal food, known as 清真 (Qing Zhen), which really defines the Muslim culture in China. Even the Chinese people would quickly realise and understand that once I tell them I'm Muslim, they'd identify me with eating 清真 meat. Funnily enough, the concept of 清真 to many non Muslim Chinese people I've spoken to is the concept of not eating pork, but being able to eat everything else. Again, this was an opportunity to not only educate others, but to also practise my Chinese.
Saeed and his family eventually closed shop and moved back to their hometown. I hope my next visit to China would include travels to Saeed's hometown and the other Muslim regions in China to learn more about the culture and traditional customs of the Chinese Muslims.
by Ahmed Al-Balaghi