Who else is a fan of Rooh Afza?
" No Sharbat was made without Rooh Afza, and will never be made again"  – Urdu poet Zail Dahlavi 
For every taste, smell and colour, there are beautiful passages and memories of the past. In this way, we can discover from our own surroundings the flavors that have shaped the precise spaces of history and, in a subtle way, evolved into a culture.
That is, it can play a role in accurately determining the heritage and way of life of each people. Thus, Rooh Afza is a popular dish in the relatively tropical north of divided India and later in India, Pakistan, Bangladesh and the Middle East and Gulf countries. 
Ruh Afsa is a Urdu word that has a similar meaning to purifying/refreshing/calming the soul. Hakeem Abdul Majeed, the originator of Rooh Afza, derives his name from the character of Rooh Afza in the book Masnavi Gulzar-i-Naseem by the nineteenth century Urdu poet Daya Shankar Naseem Lucknow.
In addition, the influence of the weekly Rooh Afza, a weekly magazine published in Janpur, Uttar Pradesh in the late nineteenth century, has been observed by some to suggest that it was an independent work of Hakeem Abdul Majeed. 
In 1906, Hakeem Abdul Majeed wanted to create a medicine that would help the people of Delhi cool down in the summer and reduce water loss. Following this, he created a drink called Rooh Afza using selections from traditional Unani herbs and syrups.
The main sources of Rooh Afza are a variety of herbs such as khurfa, chicory, fruits such as oranges, pineapples, grapes, melons, flowers such as rose water and kewra, and vegetables and roots such as spinach and carrots.
There is no doubt that the Rooh Afza has become popular in a short period of time just because of its medicinal properties. The versatility of Rooh Afza available in the market should also be seen as proof of this popularity. 
Hakeem Abdul Majeed, a renowned Unani physician, established the Hamdard Laboratory in Delhi in 1906, a notable Unani study center in India, which currently manufactures and distributes Rooh Afza in the country. After his death in 1922, the institution was overseen by his fourteen-year-old son, Hakeem Abdul Hameed. He was later the founder and first chancellor of Hamdard University, established in Delhi in 1979.
Although Hakeem Abdul Hameed's Rooh Afza became more popular, the Partition of 1947 divided his family on both sides of the border. However, Hakeem Mohammad Saeed, Abdul Hameed's younger brother, arrived in Karachi, Pakistan in 1948 and started a branch of Hamdard (Hakeem Mohammad Saeed, Pakistan's highest-ranking civilian honorary Nishan-i-Imtiaz, who served as governor of Sindh province in the meantime).
It should be noted that today Rooh Afza's exports to the Gulf countries are mainly from Karachi. His daughter, Sadia Rashid, the current president of the Hamdard Foundation, says that after the formation of Bangladesh in 1971, Hakeem Mohammad Saeed also set up a branch of Hamdard in Dhaka, which he founded in 1953, in his own name.
In this sense, Ananya Barova describes Rooh Afza as "a drink challenged by wars and the bloody births of the three nations as well as by foreign drinks as well as local drinks." 
Rooh Afza's old Delhi advertisements indicate that this syrup was used by the former Nawabs and kings who ruled Delhi. Consider this advertisement as an example: "When the Motor Car Was On Its Way In and The Horse Buggy On It's Way Out, Sharbat Rooh Afza was there".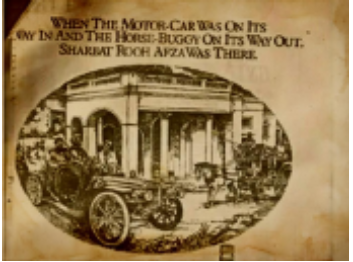 Rooh Afza is still a major figure in Iftar gatherings in northern India. And there are also many expatriates in the Gulf countries who say as the month of Ramadan is approaching, they look at the Rooh Afza markets. It has become a common way for Muslims not only in the subcontinent but across the Muslim world to enjoy this drink during special occasions or family gatherings. 
Rooh Afza tastes good with juices, milk, and cold water. For many, it's not just a drink, it's a legacy. During Ramadan, visitors to Delhi can still experience this through the streets of the Jama Masjid, which is filled with the scent of Rooh Afza. 
In the words of the Urdu poet Zail Dahlavi: "Its color captures your heart, and its fragrance transcends the fragrance of flowers ".