Nobody seems to know quite how old Fatema is; certainly old enough to remember a time before the occupation. If you care to read the lines on her face, you will find stories upon stories, years upon years.
Amongst the tales she has to tell and the wisdom within her, there is an enduring love and respect for her people, and her land; Palestine. Fatema has decades of experience growing olive trees, but when her family's trees were destroyed, she was afraid that her expertise may die with her.
Penny Appeal's recent project in Gaza helped reach 64 Palestinian families, including Fatema's, providing them with olive seedlings as well as fencing and protection for their land. Now, Fatema is enjoying working the land with her granddaughters and is passing on to them her love of the land and the knowledge of how to care for it.
Olive trees are symbolic of Palestinians' identity and attachment to their land, resistance and resilience. The tree means a lot to Palestinians; it's as fundamental to their lives as the soil of their land and as beloved as a brother.
Olives are also the main financial source of income for around 80,000 Palestinian families. According to UN figures, around 48% of the agricultural land in the West Bank and Gaza is planted with olive trees. Olive trees account for 70% of fruit production in Palestine and contribute around 14% to the Palestinian economy.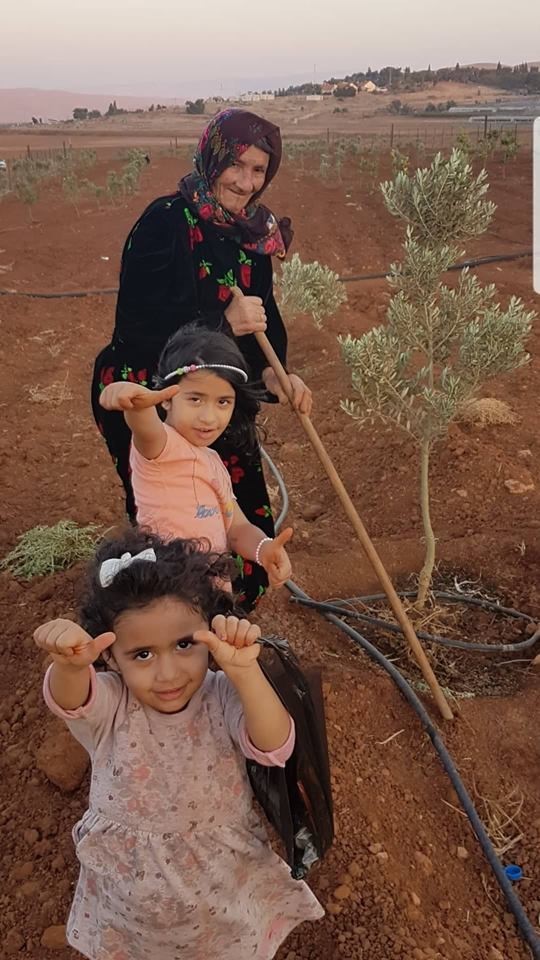 Palestinian farmers face several challenges in tending to their olive trees before the olives are harvested. If the land where the olives are planted lies in Area C – which is 60% of the West Bank – the farmers need permits from Israeli authorities to simply access their land. The same regulation applies to those farmers whose lands are in the "seam zone", which is the area between the Green Line and the Separation Wall.
Over the last forty years, over a million olive trees and hundreds of thousands of fruit trees have been destroyed. Most of these trees had previously survived hundreds and thousands of years; that's centuries of Palestinian history and livelihoods uprooted, burnt and demolished.
Approximately 2.5 million Palestinian owned trees have been uprooted since 1967, according to a recent study made by The Applied Research Institute Jerusalem.
The uprooting of centuries-old olive trees has caused tremendous losses to farmers and their families. More than 80,000 vulnerable families of small scale farmers depend on the olive sector. Olive farmers and olive oil production is the main source of living for poor families, women-led families and small farmers. But many of these already vulnerable families have now lost many of their olive farm trees, leaving them unable to support themselves and put food on the table for their children.
Palestinians have been living under severe restrictions, blockades and conflict for generations. Treated as prisoners on their own land, the people of Palestine endure myriad hardships.
Alongside the livelihoods that were destroyed alongside the 2.5 million olive trees, there are numerous other issues these people must contend with. 1 in 4 Palestinians have been forced to flee their homes due to the conflict, fleeing to other countries as refugees or becoming displaced in their own land. Unemployment, due to the destruction of crops and restrictions on movement, is extremely high – two-thirds of young people in Gaza cannot find work. Access to clean water, education for children, fuel and electricity and even healthcare are also limited, making everyday life into a constant struggle.
At Penny Appeal, we are working hard every single day to provide support to Palestinians, so that they can live out their lives with dignity and joy. We don't just want to help Palestine; we genuinely want to Love Palestine. To love the land, love the communities and – most importantly – love the people.
We've shown love to Palestine by supporting 353,710 Palestinian people with olive trees, education, healthcare, clean water, emergency relief, winter essentials, orphan care and women's empowerment programmes.
We've provided both emergency aid to those injured in attacks on Gaza, as well as sustainable projects such as our Rooftop Gardens, which allow women to grow their own crops, even in limited spaces, to feed their families and sell for a profit.
Olive trees are one of the best ways to Love Palestine; we've planted and protected hundreds of them in Gaza and the West Bank, providing a sustainable income to vulnerable families as well as a beautiful symbol of peace and prosperity.
When we met Fatema, she couldn't stop smiling. Despite the difficulties that she has faced, she is strong, resilient and passionate about preserving Palestinian traditions and knowledge. Fatema's joy over her new olive trees shows that with every olive seedling we plant, we also plant the seeds of hope.
You can support Palestinians like Fatema, by donating to our Love Palestine appeal or planting an olive tree for just £10.