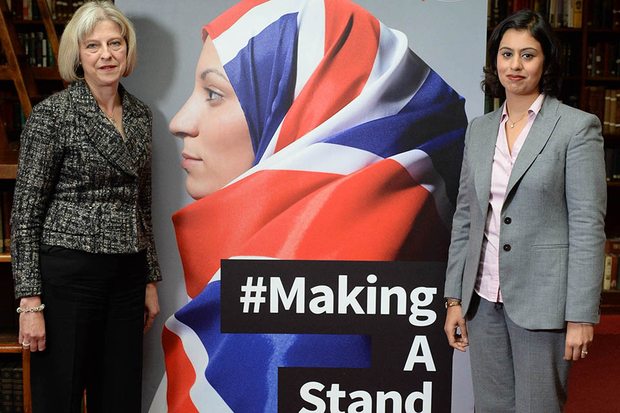 This is why we need to be concerned about the new anti-extremism chief, Sara Khan
It seems as though this move is something we should all be rejoicing; a Muslim woman has been chosen as the lead for the new Commission for Countering Extremism. In a time where Muslim women are increasingly under the microscope, it seems as though the government were finally listening to the concerns of their people by appointing Sara Khan as the new anti-extremism chief but the problem lays in her track record in the field of countering extremism. To begin with, her support for the widely criticised Prevent strategy has already placed her in a place of scrutiny and made her a controversial figure amongst British Muslims, as her role is likely to reinforce the scrutiny under which the Muslim community already lives with.
So who is she, and what does this mean for Muslims living in the United Kingdom?
Describing herself as a "born human rights activist," Khan has campaigned for women's rights within British Muslim communities for over 20 years. With a previous background as a hospital pharmacist, she launched the Inspire charity in 2008, an independent NGO working to counter extremism and gender inequality. With it, she visited schools and colleges to deliver training about safeguarding pupils from extremism, something which works well in line with the government's 'Prevent' – a counter-terrorism strategy designed to support people at risk from joining extremist groups and carrying out terrorist activities. Her new role includes examining the threat of extremism before handing out a plan to the government to tackle it.
Diane Abbott, Labour's Shadow Home Secretary, said: "It seems to be a very ill-advised appointment, based on the widespread perception that she has only come to prominence because of her support for the government's Prevent strategy. It is not an appointment that will build confidence across our communities."
The problem with what she is supposed to do is the lack of trust that Muslim communities have in her. How are Muslims supposed to feel like she is extending them a hand of understanding and inclusion, on behalf of the British government, if she previously treated all Muslims with suspicion, suggesting that, "there's a critical battle taking place between Muslims in this country who subscribe to very humanistic interpretations of the Koran, who advocate human rights and equality and oppose homophobia and anti-Semitism and Islamist extremists who promote vile views."
The Muslim Council of Britain responds to the appointment of Sara Khan as Lead for the Commission for Countering Extremism pic.twitter.com/J2EoTGBRBD

— MCB (@MuslimCouncil) January 25, 2018
As such, many Muslims distrust her appointment; with organisations such as the Muslim Council of Britain (MCB) expressing their "grave concerns" over her appointment as someone in a role such as hers should "have a track record of transparency, accountability and experience in garnering trust amongst the communities they serve."
When the likes of Melanie Phillips, Richard Kemp and the Henry Jackson Society come out in support of The Extremism Commissioner then the @ukhomeoffice @AmberRuddHR should realise how badly wrong they got the appointment 🤦🏽‍♀️ https://t.co/oKN20CXflk

— Sayeeda Warsi (@SayeedaWarsi) January 30, 2018
In a series of Tweets, Lady Sayeeda Warsi, the first Muslim woman to serve as a British Cabinet Minister, expressed her criticism at such an appointment, suggesting that her appointment was simply made to create a Muslim "mouthpiece" for the Home Office, as opposed to anything else.