9 Palestinian food recipes you absolutely have to try! 🇵🇸 🇵🇸 🇵🇸
"Food is culture, habit, craving and identity."
"Food is culture, habit, craving and identity."
There are thousands of recipes to be found on the internet, especially with the rise of quick as easy recipes from Tastemade and other such awesome video tutorials. With this, sometimes you crave a good and hearty authentic dish to warm the heart and home. Here is a roundup of some of our favourite Palestinian recipes for you to try out!
Breakfast and bread
Shakshouka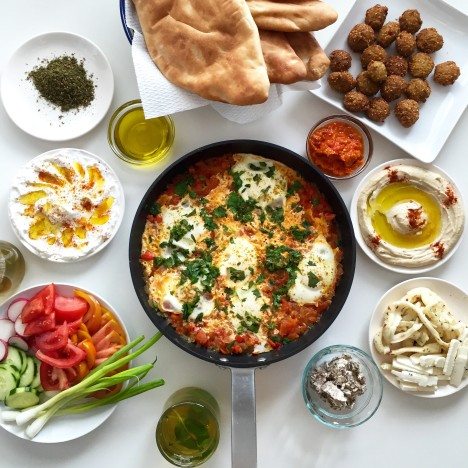 A hearty breakfast option comprising mainly of eggs and tomatoes, but often makes use of other vegetables. The best part of this is that it can be made in one skillet and you can dress it up and down, depending on how heavy you like your breakfast to be. Remeber, breakfast is the most important meal of the day and so there's no better way to start it than with Shakshouka!
Follow this link for our favourite tutorial on how to make it.
Ful Mudammas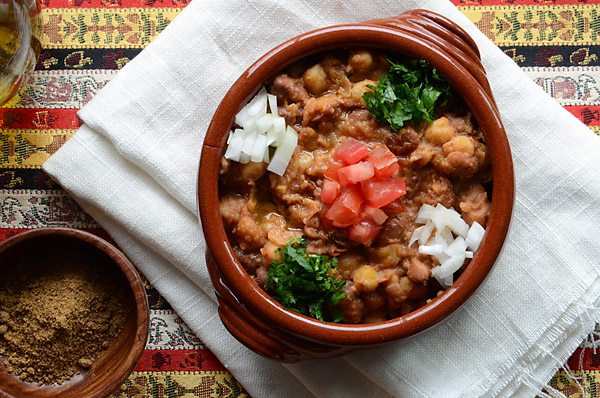 Often described as "the rich man's breakfast, the shopkeeper's lunch and the poor man's supper," Ful Mudammas is one of those versatile dishes that can be eaten throughout the day. Many Palestinian's eat Ful with freshly bakes pita bread and falafel over breakfast, and trust me when I say that it will keep you going throughout the day!
The best thing about it is that it's perfect for people opting for a vegan only diet and can also be adapted to include meat, if that's something you enjoy for breakfast. Follow this link for this quick and easy recipe from one of our favourite Arab foods cooking blog.
Ka'ak Al-Quds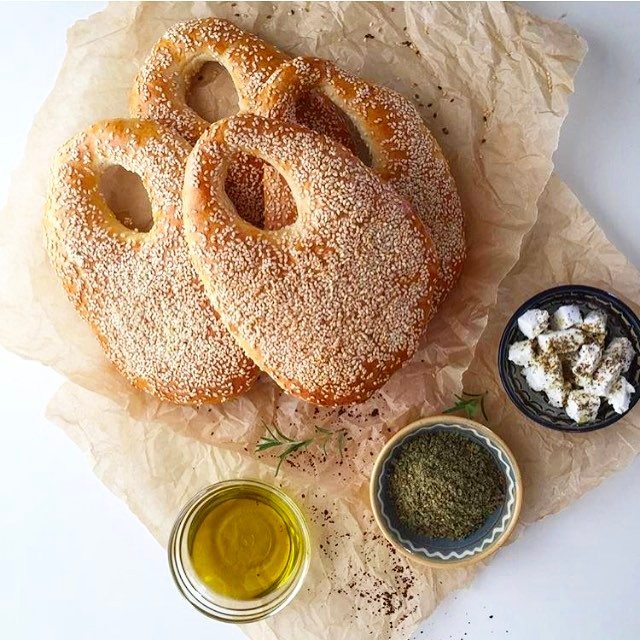 Ka'ak usually refers to a biscuit like bread which is truly versatile and can be made as a regular bread, stuffed to become a savoury option or dipped in honey or jam to become a sweet breakfast option. It's one of those dishes sold all over the streets of Palestine and is very close to pita bread, but with the addition of yoghurt and milk and is cooked in a hot oven to create a pocket in the middle.
It also makes use of a generous sprinkle of sesame seeds, which are rich in natural oils, and organic compounds that consist of calcium, iron, magnesium, phosphorous, zinc, vitamin B6, and protein, so not only is it a tasty start to the day but is also healthy and beneficial.
Follow this link to find out how to make this amazing bread!
Soups, salads and appetizers
Sfihaat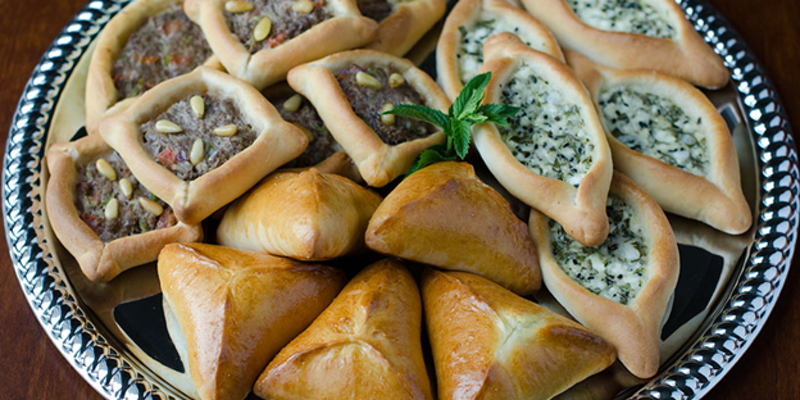 A sfiha (also known as fatayer) can be made with several fillings, from lamb to chicken, spinach, cheese or vegetables. They're light and tasty and can be added to any other menu as a side dish or for a quick bite with a cup of tea, especially since they can be served piping hot or at room temperature.
Follow this link for an excellent lamb option for this savoury dish and this link for one made with spinach.
Shorbet 'Adas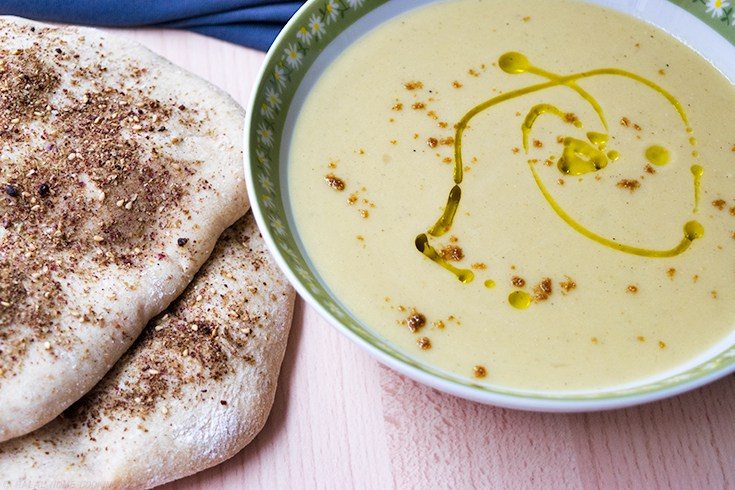 In a nutshell, shorbet 'adas is lentil soup and is perfect for the upcoming cold months. Lentils are a fantastic source of fibre, iron, protein, Vitamin B1 and B6, potassium and zinc, and so they are a great way to lower cholesterol, keep your heart in check, stabilise your blood sugar, increase energy and boost weight loss!
It is super simple to make and can be a great asset to any lunch or dinner menu, and is often a favourite starter to have over iftar in the holy month of Ramadan. Follow this link for a quick and easy recipe.
Chicken and freekeh salad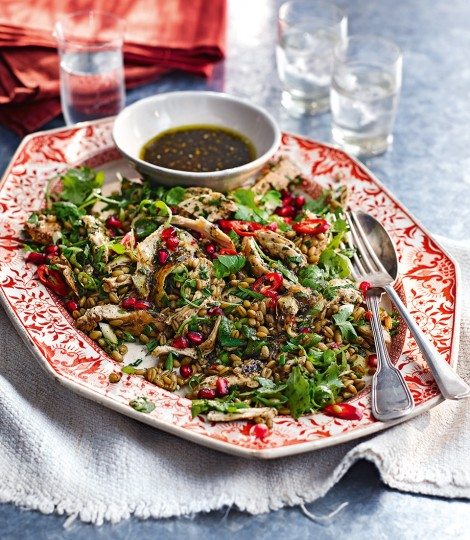 Well, you can omit the chicken in this one if you're looking for something vegan because freekeh is really the winner of this dish. Freekeh is young green wheat that has been toasted and cracked. It's a healthy whole grain food, much like bulgur and other whole grains. Again, this dish can work as a standalone dish or as part of a wider menu for lunch or dinner and can be served both piping hot or cooled down as a side salad.
Follow this link to find out how to make it.
Hearty dinners
 Maqloubeh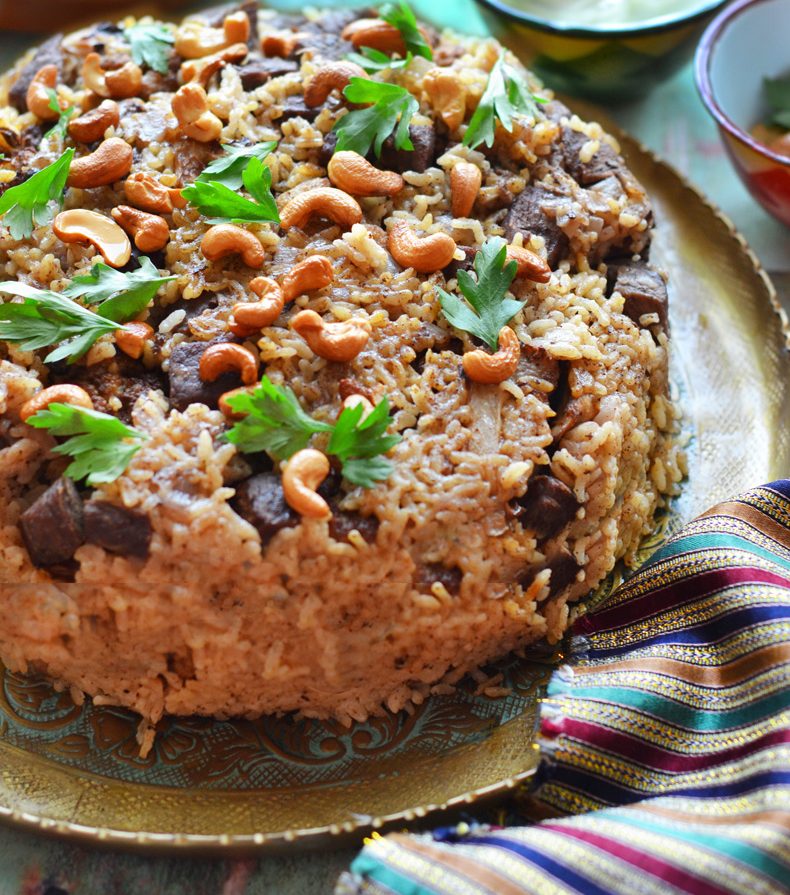 Maqloubeh (literally meaning 'upside down') is one of my favourite go-to dishes when it comes to trying to impress dinner guests and is a very popular Palestinian one pot rice, spice and vegetable dish. It can work as a dish with vegetables alone but is often cooked either with meat (lamb or beef) or with chicken and is often served with either yoghurt or with a curry.
Follow this link from our favourite blog to learn how to make it!
Shish Barak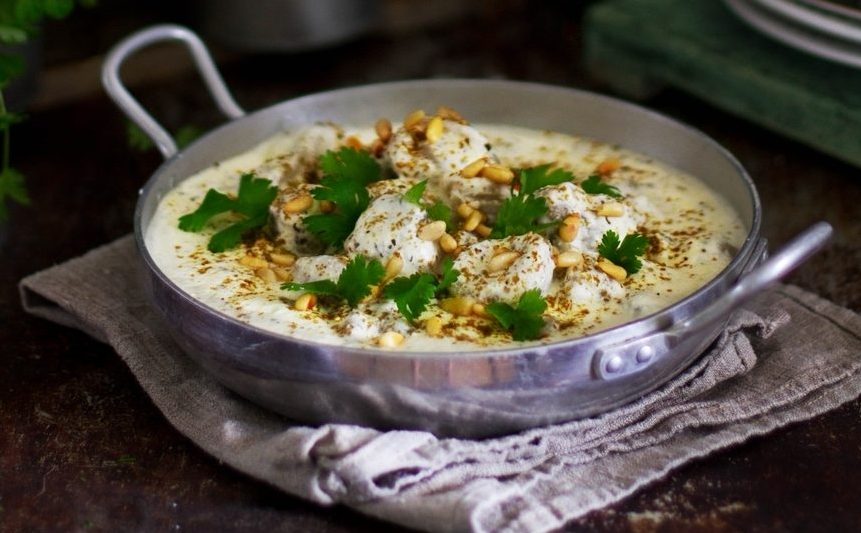 Shish barak is essentially lamb dumplings in coriander, garlic and yoghurt sauce and can be part of a bigger dinner menu. The making of the dumplings are the hardest part of this flavoursome dish, but that's what makes it the star of any dinner spread. If you want to make the process a little speedier, grab a friend and chit-chat over them to make the time fly by. Though it is potentially possible to make them with a vegetarian filling, I guarantee you that they taste better with lamb!
Follow this link for a fantastic recipe to this delicious treat.
Moussaka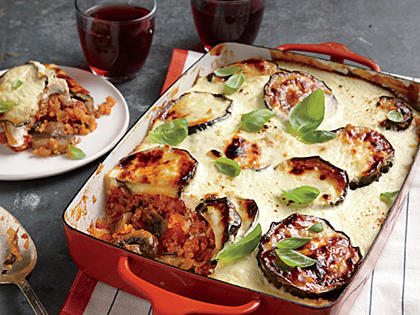 Yeah, you're thinking of the heavy Greek version of this dish, but this one is the real deal… think lasagne, but with a fantastic balance of lamb and vegetables. Pronounced  'musaqa'a' in Arabic, it literally means 'cold' in the Palestinian dialect which means it should be served cold, but I find it can be equally tasty as a hot dish and the star of your dinner table.
Follow this link to learn how to make this dish.
---
While there are many more dishes to choose from, these will definitely win the hearts of your guests and fill you as only a good home cooked meal will. For more ideas, be sure to check out Joudie Kalla's book 'Palestine on a Plate: Memories From My Mother's Kitchen' on Amazon or directly from her website.
Happy cooking and sahtayn!