"For a woman, education is her weapon"

Abu Kholoud (Judge Kholoud's Father)
Proudly draping a Palestinian flag over her shoulder as part of her uniform, Judge Kholoud Al-Faqih has arguably changed the course of history. Following her journey as the first female Sharia judge in Palestine, and possibly the first in modern Islamic history, this documentary looks into the struggles, joys, pain, and rewards of her journey through the conservative and male-dominated court systems of the West Bank.
In Palestine, women have been judges in the secular criminal courts since around the 1970s. While this may seem progressive in comparison to other countries, Judge Kholoud saw this as deeply troubling. After researching into Islamic law itself to back up her claims, she came to the conclusion that according to the Hanafi tradition of jurisprudence, women are in fact allowed to become judges in the Sharia courts. Taking this to the then Chief of Justice Sheikh Tayseer Al Tamimi, she was eventually allowed to take the tests, passing them and becoming the first ever woman judge in the Sharia courts of Palestine.
"Sharia means path, refering to religious law and a personal moral code", and deals mainly with family cases — which includes issus such as divorce and domestic violence.
Following Judge Kholoud through heartbreaking cases such as domestic abuse, lack of inheritance, and abandonment, the most surprising aspect of her attitude in court is her lack of it — Judge Kholoud is obviously the best judge in court, and puts Islamic law above her emotions or opinions. During interviews with her male colleagues, it is easy to see that many still believe that having a woman judge means that her emotions will cloud her judgment and ability to deal justly in court. Dr. Husam Al-Deen Afanah is one of her most outspoken critics, believing that it is simply wrong to have a woman in the Sharia courts. None of this, however, stops her from simply getting on with the job and remaining steadfast in proving to those who oppose her that gender has nothing to do with her ability to be one of the most well-acclaimed judges in the country.
"Why don't we start by teaching [children] that women have the same rights as men….we do indeed need to have a social revolution"

Judge Kholoud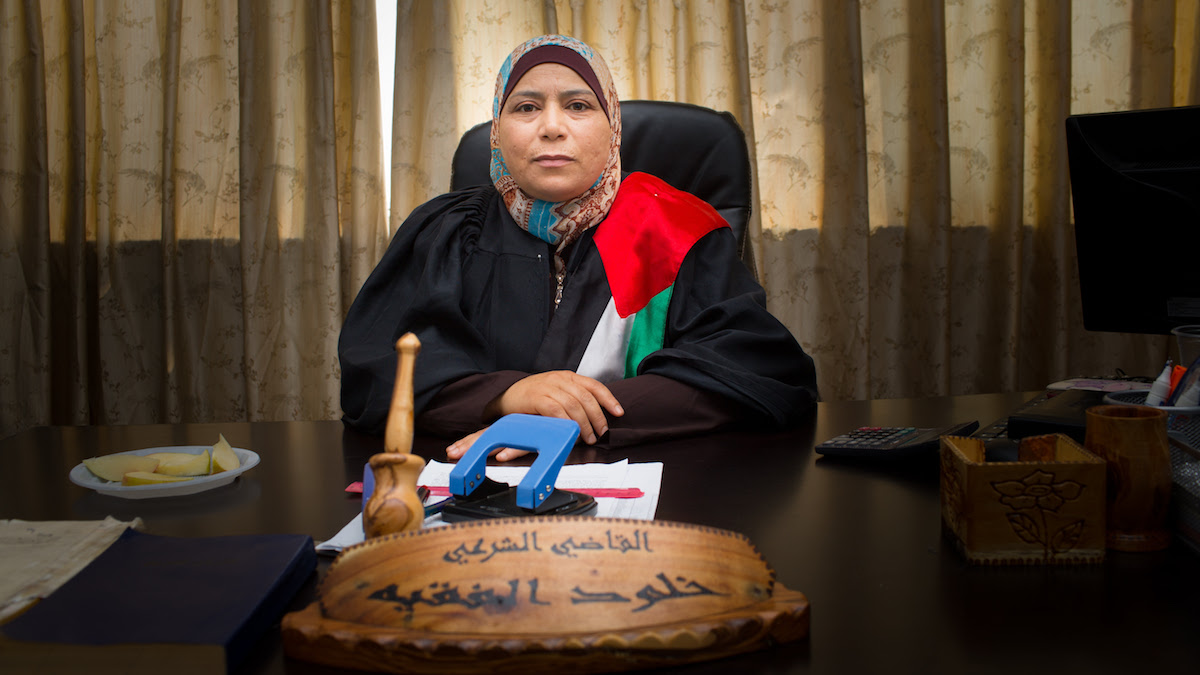 Weaving her way sometimes carefully, but mostly passionately through hardline conservatives and patriarchal traditions in Palestine, Judge Kholoud tries, again and again, to lead through example that in the courts, it is Sharia law and not traditional or cultural precedence that should dictate the outcome of cases. With more than 80% of the domestic violence cases being filed by women, Judge Kholoud cannot stress enough that it is important to have a woman judge to help more women feel comfortable to come forward with cases. In the cases of divorce, Judge Kholoud also sees a male-dominated bias when it comes to just decisions by the Sharia courts. Again, she stresses the importance of seeing all these cases through the Islamic law lense, and not through a patriarchal or traditional lense. In this, she is both groundbreaking and controversial — by proving to her male colleagues that it was them, more so than herself, who were letting their emotions and culture cloud their judgments.
"I live in the 21st century. It doesn't make sense to use 10th century customs [for divorce]"

Judge Kholoud
Directed and produced by Erika Cohn, this documentary is groundbreaking on numerous levels. The struggles of working in a male-dominated environment, as well as a conservative "Islamic" environment that actively bars women from joining, are painfully documented throughout — however Judge Khulood comes out as an inspiration to all. The discussion of women as judges in Sharia court, as this documentary leads towards, shouldn't be geared so much towards why we are so surprised by it but why, even as women, we continue to be shocked at learning how professional she remains in her job. Why indeed should we be so shocked that she is not biased in court because of her gender? Interviewing her male colleagues, one cannot help but notice how emotional and desperate many of the male judges seem to be, while she remains completely and totally in control at court. This is in part why this documentary is so groundbreaking — Judge Khulood is not celebrated because of her gender, but instead because of her intelligence and professionalism as one of the leading judges in Palestine. Yes, she is indeed a woman — and the first woman judge in Sharia court — but more importantly, she remains a powerful inspiration for all when it comes to justice and the protecting those vulnerable through the strength of Islamic law.
"Justice — justice is beautiful"

Judge Kholoud
Find a list of screenings for The Judge here.